Healthy salads that eat like a satisfying meal
Fresh veggies unite with Mexican spices, Caribbean flavors, and other lively ingredients to create light, yet satisfying dinners.
"Both beautiful in presentation and taste, this salad uses fresh berries in summer (strawberries, blueberries, raspberries, or blackberries), and orange segments in winter. Anytime of year this composed salad will bring rave reviews." -- Karena
Grilled steak and boiled potatoes top mixed baby salad greens and cherry tomatoes. A homemade vinaigrette ties it all together.
"This was the perfect warm weather meal," says pixiestix.
"Shrimp, avocado, tomato and sweet onions with fresh squeezed lime juice, nice on a hot day," says RCRENFRO.
"Great for a quick and easy meal! I grilled my chicken vs. pan frying and used a homemade fajita seasoning," says Jillian.
"This is a colorful and very tasty mix of chicken, mangos, and avocados in a spicy lime dressing," says GREENLIME.
"This tasty salad with Japanese buckwheat noodles is both quick and healthy; great for lunch or dinner. Most larger supermarkets have buckwheat soba noodles in the Asian food section," says donrmath
"This is an easy recipe that my Grandmother always made. It is simple and delicious. A sprinkle of cheddar cheese is a great topping," says Jennifer.
"This easy to prepare noodle salad has plenty of seeds, nuts, greens, chicken, and vegetables," says Xing Jin.
"This made a surprisingly delicious and satisfying dinner," says Christine W
"All the flavors of summer are packed into this arugula and strawberry salad," says France C. "Perfect for a light dinner on those days you don't want to heat up the house using the oven. Use any mild-flavored oil for the dressing and your favorite seasoning on the chicken. Feel free to divide the ingredients between four large bowls instead of arranging on a platter."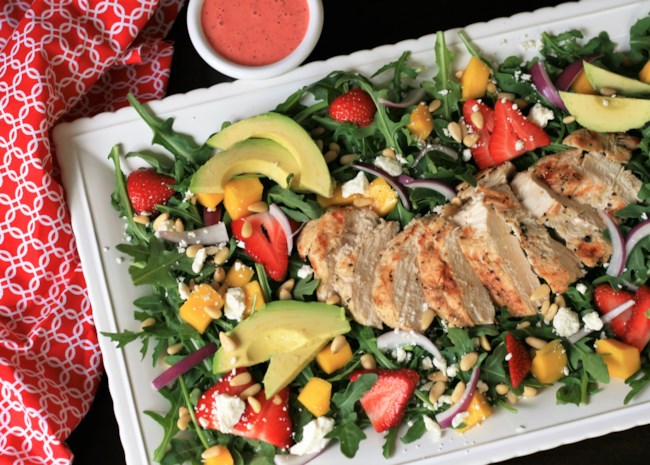 Photo by France C.
---
---
More to Explore