Autumn is when our appetites turn back to hearty dishes that cook nice and slow, building big savory flavors. But who has time for slow simmers? Turns out, you can have your savory favorites and enjoy them without delay! The Instant Pot® makes it possible, transforming traditionally slow-cooked meals into instant classics. So go ahead, live your busy lives and enjoy your favorite hearty meals of autumn. Here are eight of our absolute favorites for the fall and winter months!
This iconic Italian recipe has been translated into a quick and easy pressure cooker meal. "Using the Instant Pot®, you get an intensely flavorful meal made in minutes that will have your family thinking you simmered this all day," says Diana71. "Serve over spaghetti noodles, rice, cauliflower rice, or eat as a stew!" Want a thicker sauce? Remove the chicken pieces and bring sauce to a boil on saute mode. France C. raves, "This really does taste like it has simmered all day, and there is such depth of flavor. The herbes de provence really make this dish! Absolutely DELICIOUS!"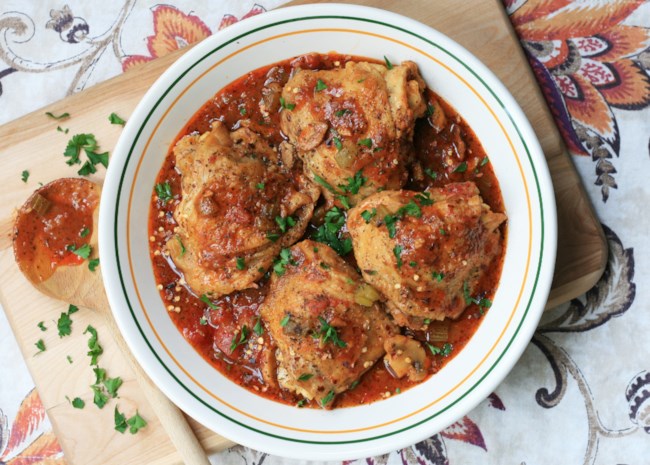 Photo by France C.
"These chili beans are delicious and so easy to make," says bd.weld. "Dinner is ready in 45 minutes or less! If your chili doesn't have beans it's not outlaw chili." Garnish with slices of fresh lime, chopped cilantro, diced onions, shredded Cheddar cheese, and diced avocado. Buckwheat Queen raves, "This method is too simple, just brilliant. I used a traditional pressure cooker, 7-quart. The flavor is exceptional and with all the garnishes this turned into a meal-in-one for the whole family."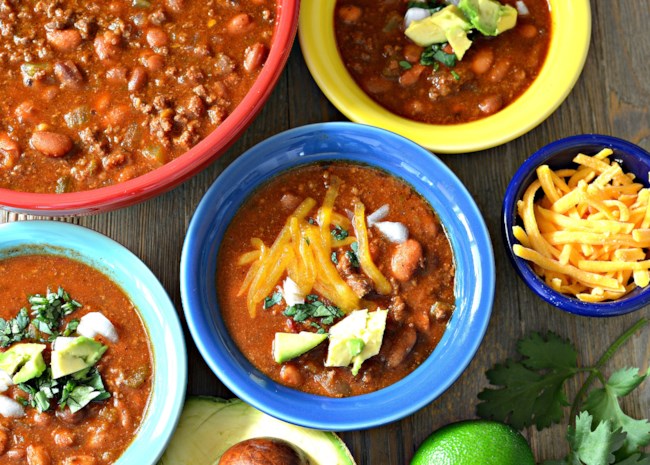 Photo by bd.weld
Lasagna in 30 minutes? Believe it? "You might feel like making lasagna in a pressure cooker is crazy," says Shauna James Ahern. "Don't you need an oven for those crunchy edges? Well, trust us -- this one is well worth making. If you have a 6- or 7-inch springform pan and you kept the trivet that came with your Instant Pot®, you can make a delicious layered lasagna pie in 30 minutes. And if you want to make it ahead, prep the lasagna, put it in the freezer, then put it right into the Instant Pot® for an easy dinner."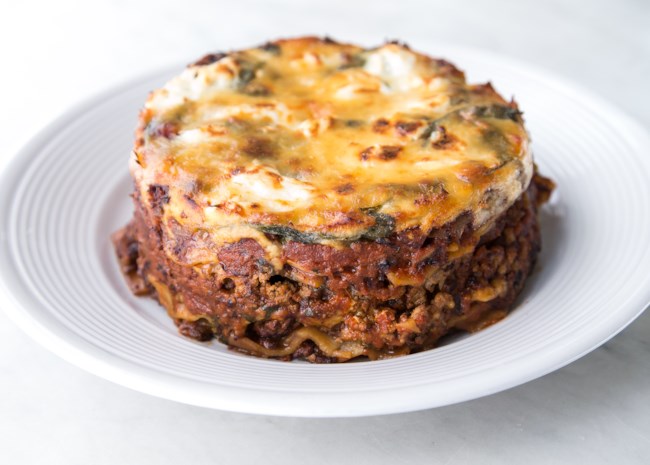 Photo by Shauna James Ahern
Here's a no crust, wheat-free, and gluten-free version of chicken-pot pie. "Make this delicious, flavorful, chicken pot (no pie) pie in your Instant Pot® pressure cooker," says Jane Cooks It Up. "Not necessary to pre-saute the chicken or onions. Serve in bowls." Lutzflcat added a cornstarch slurry to thicken the sauce. "One thing that I really like is that the ingredients in this recipe are ones that I always have on hand," says lutzflcat, "so I could see this turning into a go-to recipe."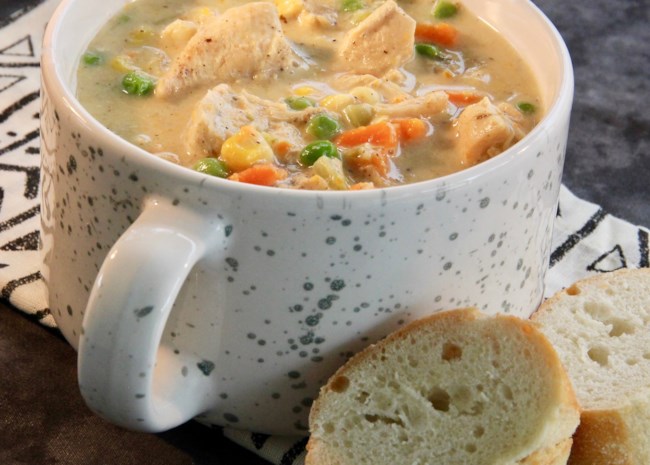 Photo by lutzflcat
It's mac-and-cheese as a meal! "Forget about the blue box (you know what I'm talking about) and make homemade mac and cheese for a weeknight dinner," says lutzflcat. "The ham, peas, and optional hot sauce add some pizzazz to classic mac and cheese. Adjust the consistency of the mac and cheese sauce to suit your personal preference."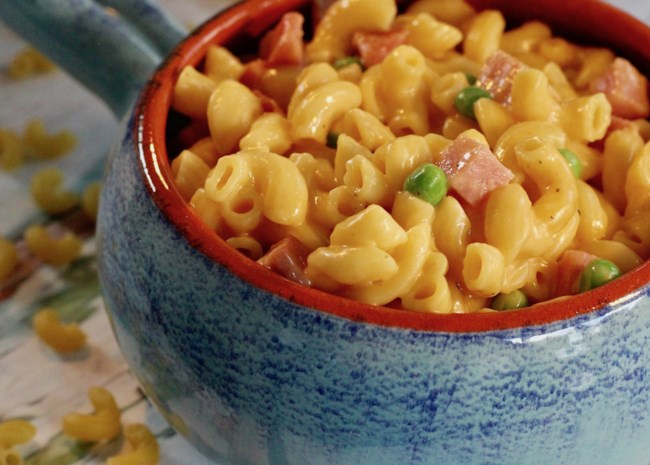 Photo by lutzflcat
"Fork-tender beef and mushrooms with egg noodles," says Lissa. You'll add the egg noodles at the very end for a truly one-pot meal! Many reviewers noted that they substituted Worcestershire Sauce for soy sauce.
"Try this quick, easy, and incredibly tender chicken stew cooked with diced tomatoes,' says Fioa. "I added kale for extra green power! Serve over cauliflower rice for a complete and perfect keto meal."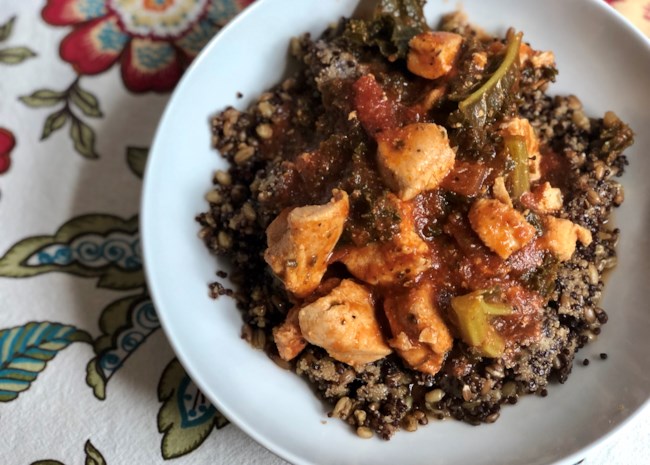 Photo by Fioa
Chicken cooks under pressure with green bell peppers, yellow onion, soy sauce, brown sugar, honey, garlic, and black pepper. Diana71 raves, "A++++ for flavor, just loved this recipe in the Instant Pot."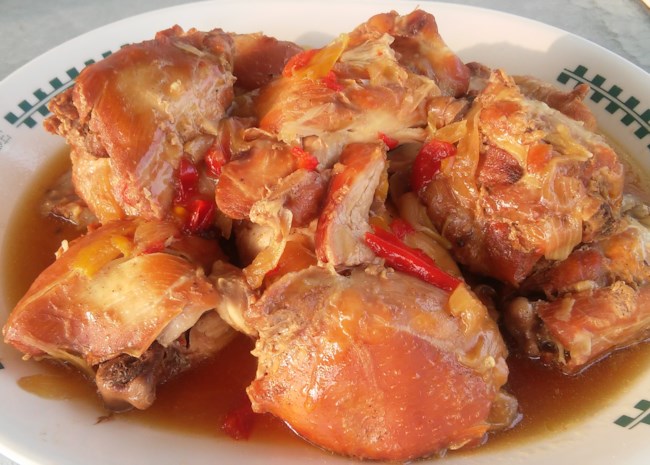 Photo by Tammy Lynn
Here's an Instant Pot recipe for the low-carb crowd. Cauliflower, turkey bacon, cream, Dijon, and Cheddar cheese are the starring ingredients here! "I prechopped my veggies during nap time, so all I had to do was add them to the Instant Pot®!" says Carla. See how to make it:
---
---
Related: