Ruby red cranberries are found front and center at almost every holiday table, bringing their intense color and sweet/tart flavor to a whole host of dishes beyond everyone's favorite cranberry sauce. Not that there's anything wrong with cranberry sauce, but we think cranberries really shine at the end of the meal, too—in desserts!
We rounded up our favorite cranberry dessert recipes, along with helpful tips for baking with fresh, frozen, and dried cranberries. So go ahead and wow your guests with cranberries this holiday season!
Tips: How to Bake with Fresh, Frozen, and Dried Cranberries
Fresh: Store fresh cranberries in the fridge and rinse them in cold running water just before you use them in a recipe. Fresh cranberries should be firm and plump; pick out and discard any soft or wrinkled berries. Drain well before folding them into your batter.
Frozen: Thaw and drain before folding frozen cranberries into a batter. If you're cooking with frozen cranberries, you don't have to thaw them first. Just be sure to pick out any berries that don't look plump.
Dried: You can rehydrate dried cranberries by soaking them for about 10 minutes or so in hot water or juice—or try warm brandy, bourbon, or rum for a boozy flavor. Drain and use in your recipe. If you're going to use dried cranberries without plumping them up, dust them with a little flour before folding them into your batter to keep them from sinking to the bottom as your dessert bakes.
13 Party-Worthy Cranberry Desserts
You can use fresh or frozen cranberries to make this luscious cake. Because it's an upside-down cake baked in a springform pan, you'll want to be sure to do two things: 1. Grease AND line the bottom of your pan with parchment paper to make releasing the cake much easier. 2. Wrap the bottom of your springform with aluminum foil around the outside to prevent leaks.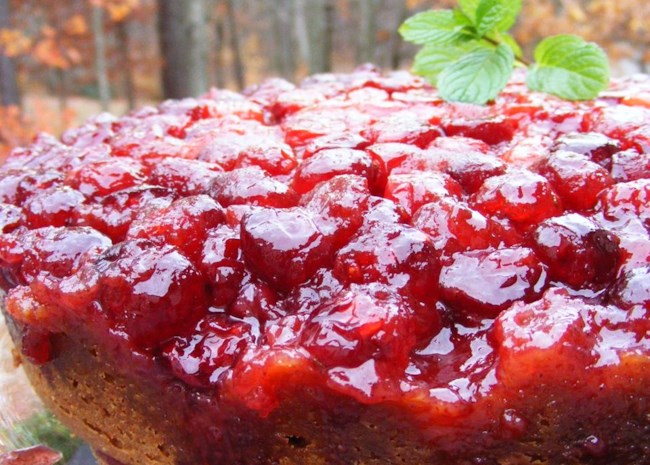 Recipe contributor isachadra says "A mixture of applesauce and coconut oil creates a light, moist crumb that mimics the buttery texture you'd expect in any good Bundt cake—and no one will realize this one's vegan." Wait, it's vegan?! Yes it is! Coconut oil stands in for the butter and applesauce adds just a hint of sweetness in this otherwise classic Bundt cake. If you want to distribute the flavor of cranberry a little more throughout, you can chop the cranberries before adding them to the mix.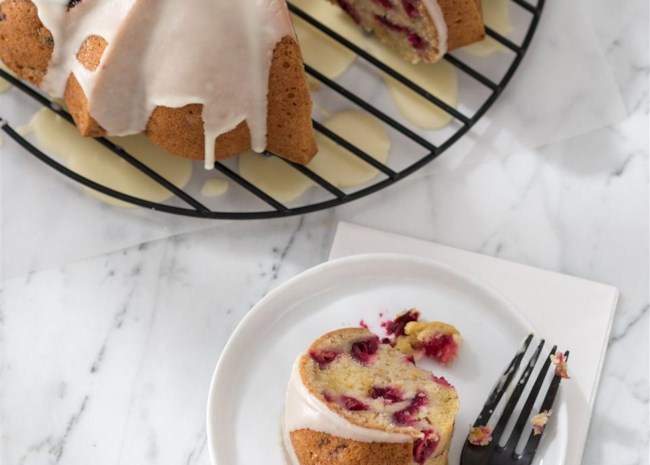 We can't talk about cranberry desserts without mentioning this winning recipe. With over 1,000 reviews, this pie is as easy as, well, pie! Leaving the cranberries whole cuts down on prep time and gives this dessert an elegant look. The recipe calls for fresh cranberries, but frozen cranberries will work, too. If you're using frozen, the batter will be thicker going into the pan, but the end result will be the same: Delicious!
Walnuts and cranberries team up with a splash of orange flavor in this tasty quick bread. To maximize the tart cranberry flavor, chop your cranberries before you measure them. Measuring them whole then chopping them will leave you with less. Some cooks have added even more cranberries to the mix. Home cook Sarahinthekitchen says, "Very tasty, fruity bread. I doubled the recipe and baked it in 'little loaf' pans, 5 3/4 x 3 x 2 1/8, for 30 minutes. It made 5 little loaves." Sounds like a great gift idea to us.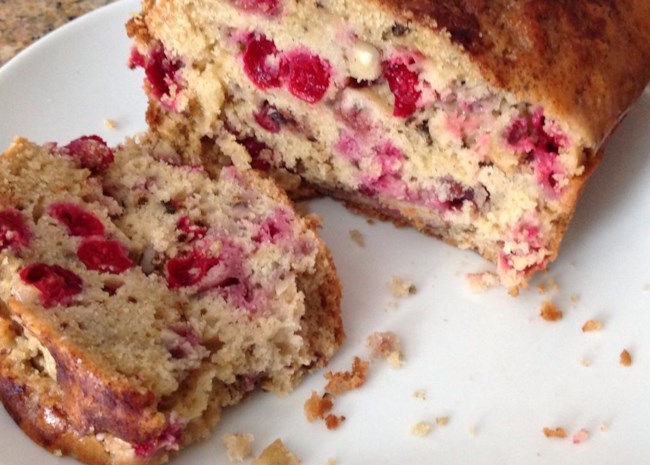 Cranberries are naturally loaded with pectin, which helps them create a thick sauce as they cook. That's a good thing when making a filling for bars like these, because it helps keep them from falling apart. The filling will continue to thicken as it cools, so let it cool completely before spreading. Then, you'll end up with what recipe contributor TWILLIAMS05 calls "A yummy bar that is tart and sweet at the same time. Easy to put together and your home will smell wonderful while they're baking!"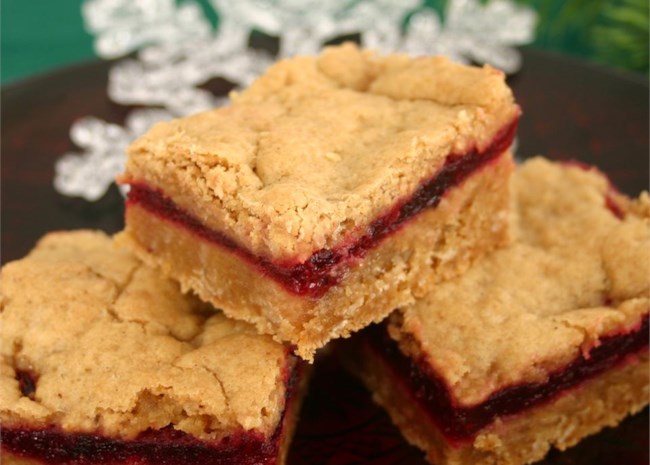 Recipe creator larkspur says: "These deliciously different cookies with their tangy cranberry filling are hard to resist!" We agree! Make sure your cranberries are finely chopped so your filling spreads easily. To make quick work of the chopping, try pulsing whole fresh cranberries in a food processor.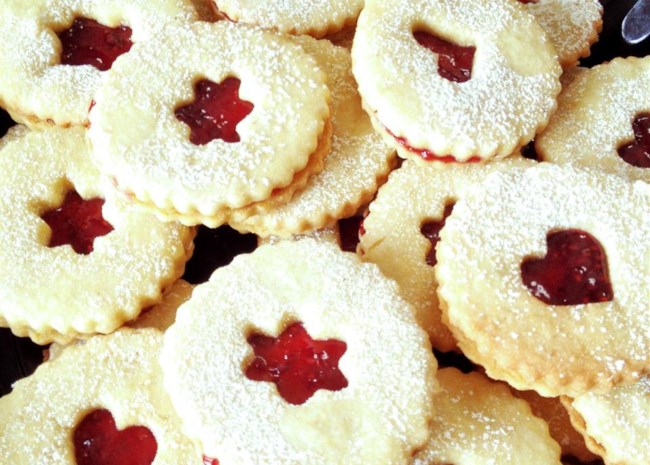 Dried cranberries and a generous scoop of orange zest flavor these popular Christmas cookies. Home cook redcop has a great tip for handling dried cranberries: "You know how they come out of the bag all clumped up? I put them in a bowl and sprinkle flour over the top, in this case using about 3 tablespoons, then, using my hands, I distribute the flour so it coats the cranberries and that helps to separate those clumps. It's so much easier chopping cranberries when they're un-clumped."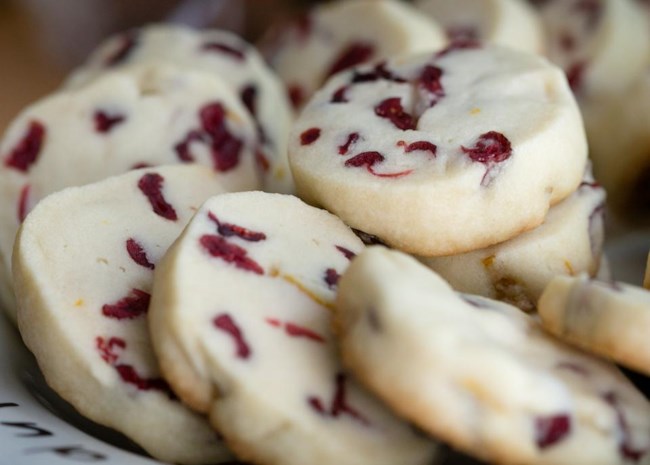 You don't have to cook down whole cranberries to get the vibrant red swirl in this delicious coffee cake. Instead just open a can of cranberry sauce (the chunky kind, not the jelly) and enjoy! Cook Karamel adds this tip: " I made this for Christmas morning and everyone loved it! Very moist and tasty.....I added a orange glaze to the top made with powdered sugar and orange juice....it was a good complement to the cranberry. Will make this one again!"
You know that coffee company that's taking over the world? The one that sells these dreamy cranberry bars only during the holidays? Well, here's a way to make your own at home. Some reviewers find them a bit sweet for their taste, but you can adjust the sugar to suit yours.
This stunning pie is for true cranberry fanatics. The filling is simply cranberries sweetened with sugar and thickened with flour (or you could use cornstarch, if you prefer) and topped with a walnut and brown sugar streusel. Some reviewers found the pie to be quite tart, so bump up the sugar to taste. Using your blender makes it easier to chop up the fresh cranberries.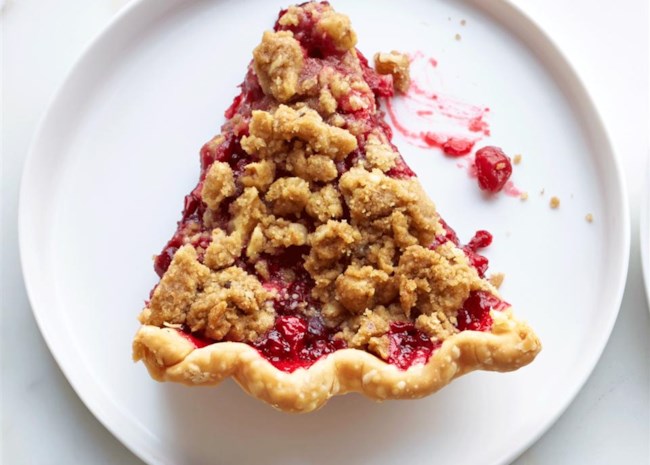 These buttery bite-size tarts are perfect for holiday buffets and dessert trays. Several reviewers said they plumped up the dried cranberries in warm orange juice, brandy, or orange liqueur and love the added flavor. "You can't eat just one, SO good," says home cook Rob Tanner. "I doubled the brandy, and used the zest and juice of a whole orange." For the shells, you can use frozen puff pastry shells, ready-made tart shells, or make your own pie crust to line mini muffin tins.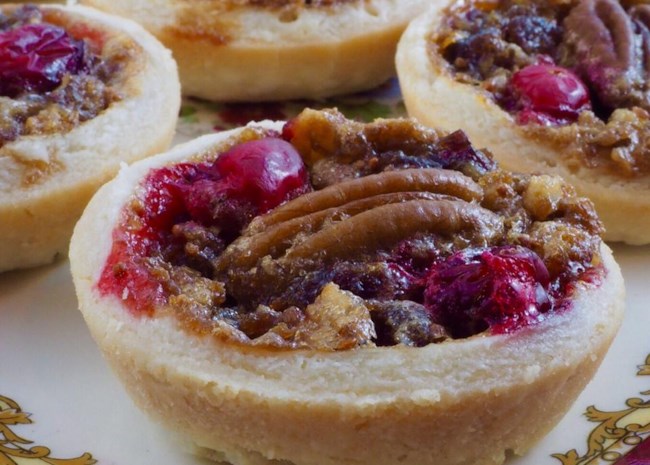 Cook arisa says: "I made this for a Thanksgiving dessert. Great hit with the family! Easy to make with a taste of elegance. I will be making this again." That's a good reason to love bread puddings! They're simple and comforting, and in this version, fresh cranberries add a delicious tang to every bite. If you can't find a whole vanilla bean, use a teaspoon of extract instead.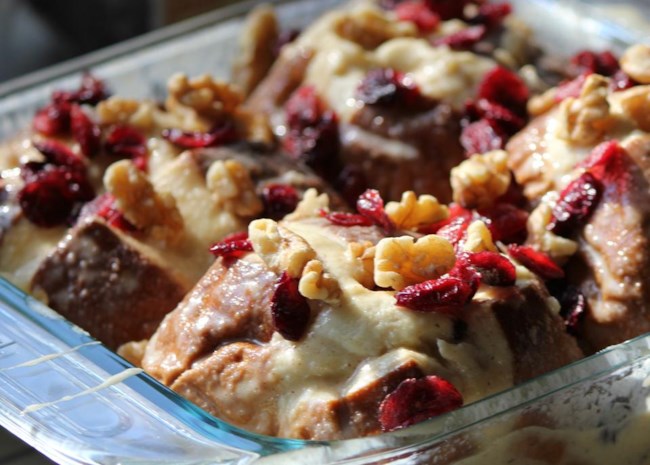 This layered Christmas cranberry treat is perfectly tart and sweet. The whipped cream perfectly complements the refreshing orange, pineapple, and cranberries. "Not your average cranberry salad," says KARATWORK. "Many fruit flavors are included, which give a zing to it."
---
---
You might also like...
Our Top 20 Most Cherished Holiday Cookies
12 Favorite Ways to Get Your Holiday Gingerbread Fix
The 12 Cakes of Christmas
Get More Ideas for Festive Christmas Desserts