Check out some of our very favorite Italian recipes, including authentic Old-World recipes and those inspired by Italian-American cooking. You'll see many familiar favorites here -- and likely find some new Italian treasures to try, as well. These are main dish Italian recipes; for side dishes, check out our Italian side dish collection.
We'll start with a traditional, rustic tomato sauce. "I've been perfecting this recipe for over 10 years," says NMP. "Melting just a little cheese in the sauce adds great richness without overwhelming the tomatoes. And it's easy to keep these ingredients stocked in the house! Makes for amazing leftovers!"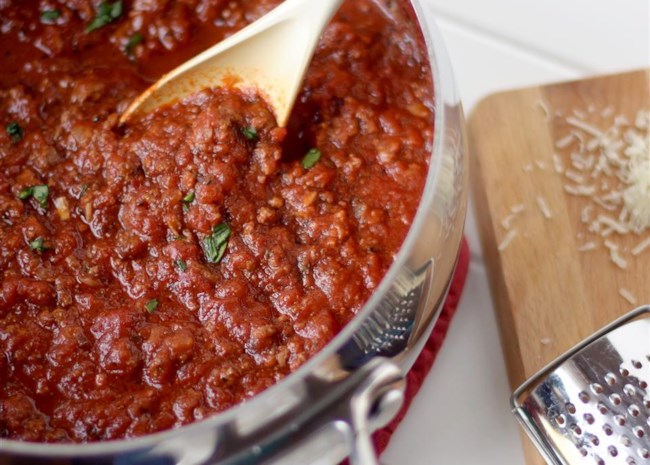 Photo by KGora
"Known as Saltimbocca alla Romana, these chicken breasts are a tasty second course, very easy to make, just a few ingredients are necessary but still delicious!" says Aldo.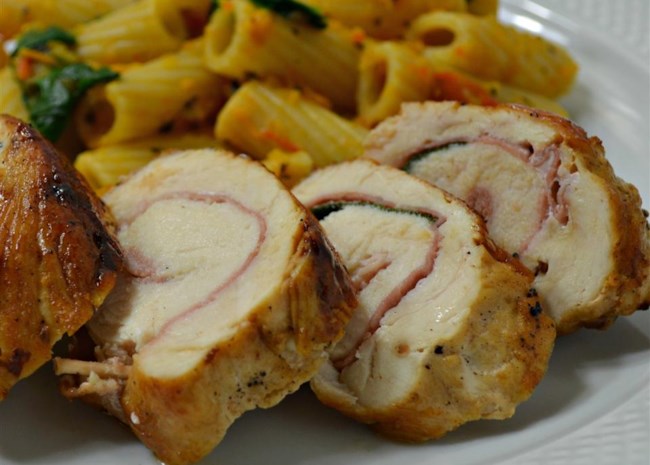 Photo by Kim's Cooking Now
This simple soup with cheese tortellini, Italian sausage, and chopped fresh spinach is quick-and-easy to prepare. "This soup only takes 30 minutes and is awesome on a cold night," says Stephanie.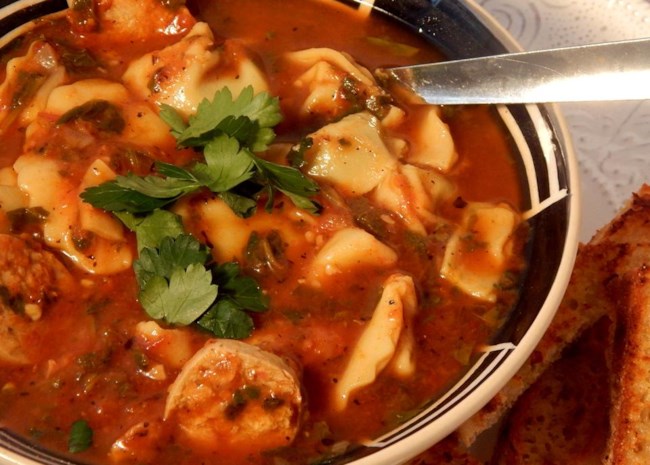 Photo by Linda T
Spaghetti sauce, cheese, and sausage is baked until bubbly in this hearty ziti. "This is quite possibly the one thing that I am constantly asked to make," says Ashley. "This is a ziti with a lot of flavor."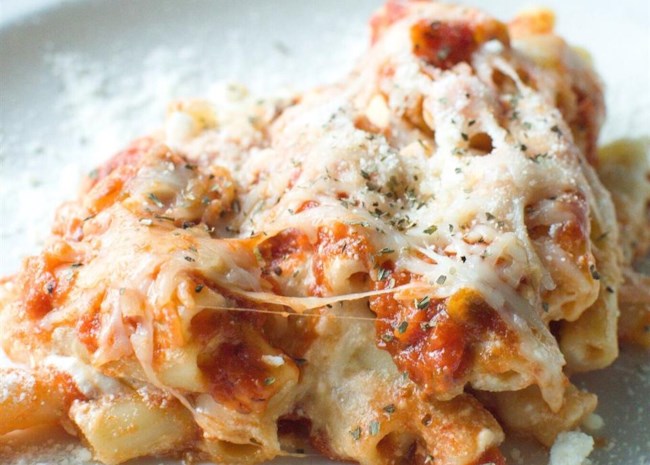 Photo by Cooking Monster Bryan
"Known as 'gnocchi alla sorrentina,' this classic Italian pasta dish that uses simple ingredients and tastes delicious," says saretta. "Use homemade or store-bought gnocchi."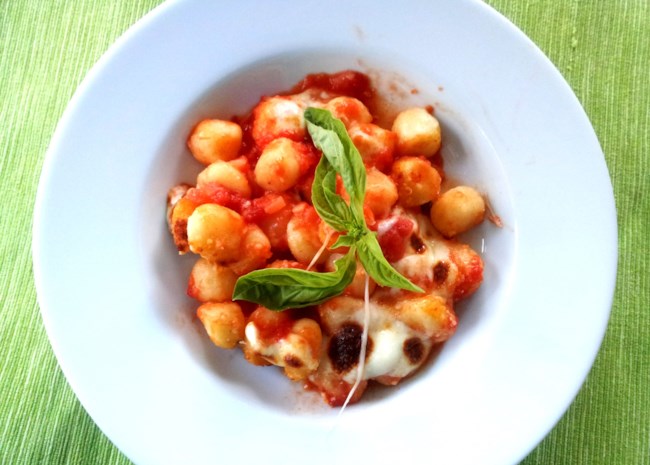 Photo by Allrecipes
"This dish was created in the Lazio region (the area around Rome) in the middle of the 20th century, after World War II," says ivan zeta. "We don't use cream, milk, garlic, onions or other strange ingredients; we use only guanciale, eggs, pecorino cheese, and lots of black pepper (carbonaro is the Italian for coal miner). This isn't the Italian-American version, it's the real, creamy carbonara and it comes right from Italy, where I live. Buon appetito."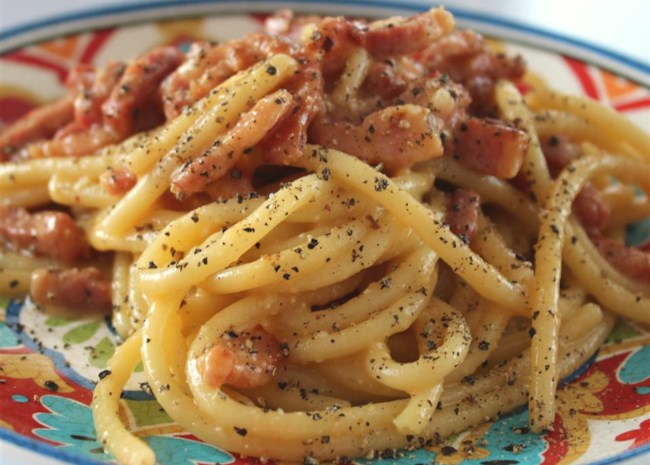 Photo by Buckwheat Queen
"This flagship Tuscan steak is made from the region's Chianina breed of cattle which are prized for their tenderness and flavor," says eat!. "In typical Italian style, simplicity rules the day; little more than olive oil, rosemary, and salt are needed to highlight the rich flavor of the grilled meat. With Italian food, freshness and quality are top priority, so I use nothing less than choice porterhouse, and much prefer prime!"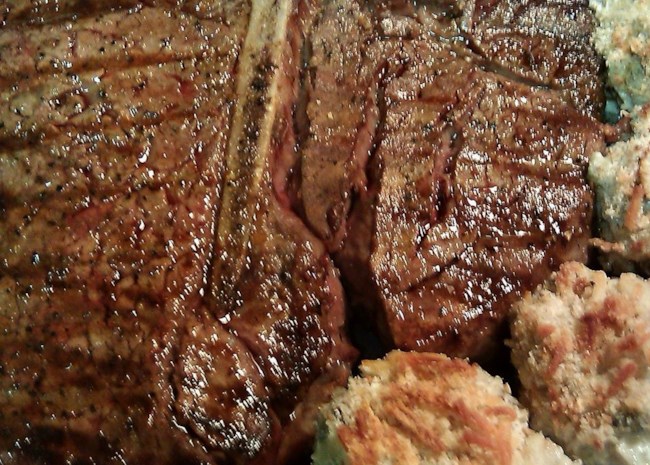 Photo by hungryallweighs
"Fast, fresh individually portioned lasagna bowls that please the stomach every time," says Sahara B. "I serve this with a small garden side salad and baked asparagus, but it easily could be a meal by itself."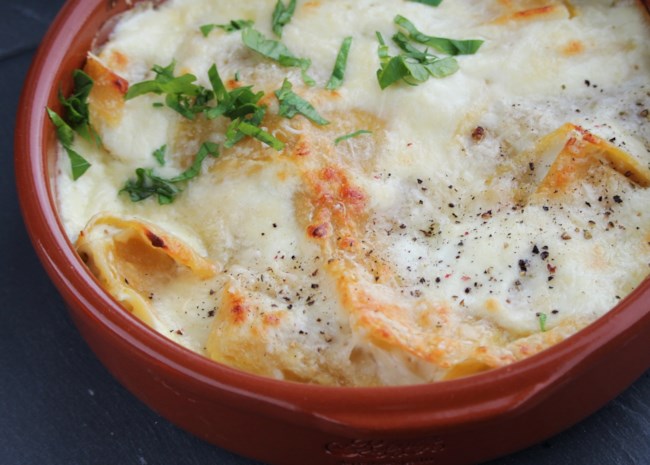 Photo by Buckwheat Queen
"In Italy, 'saltimbocca' means 'jumps in the mouth,'" says Chef John. "This tender, juicy and delicious pork tenderloin is finished with a rich meaty sauce and will certainly please your palate."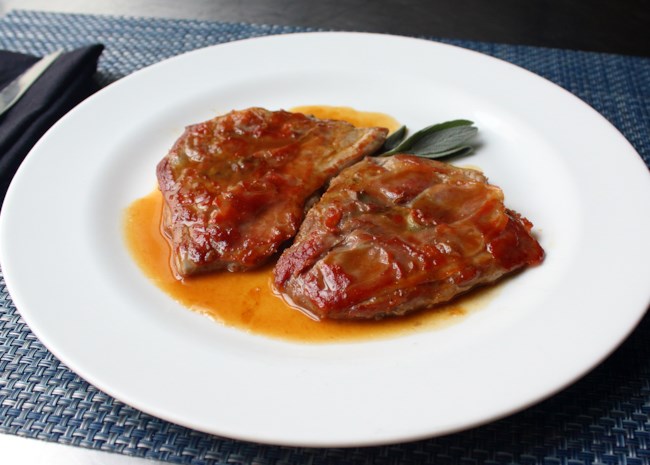 Photo by Chef John
"Eggplant parmigiana or eggplant Parmesan is one of the most popular and iconic vegetarian Italian dishes and this recipe is straight from Italy," says Beatrice. "Use ripe eggplant without seeds and salt them for 1 hour to remove the bitterness."
"Agrodolce, a generic Italian term for any type of sweet and sour condiment, really shines when used for braising chunks of succulent pork shoulder," says Chef John. "This soul-warming comfort food is amazing served on rice, pasta, polenta, or, as seen here, a big pile of ricotta mashed potatoes. I'm not sure if Italians barbecue like we do here in the States, but the sauce very much reminded me of something we'd brush on a rack of ribs while sipping a cold beer."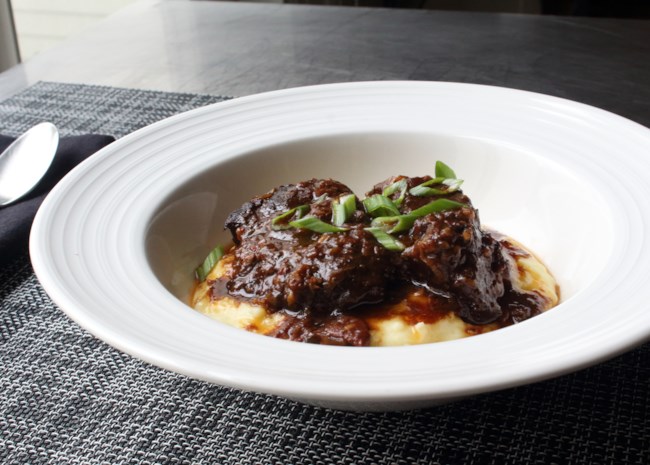 Photo by Chef John
"Unlike a lot of recipes out there for spaghetti carbonara, this is the true Italian recipe from an Italian!" says Andry008. "You can't get more authentic than this recipe! Top with extra Pecorino-Romano cheese, salt, and pepper. Note there's no cream, just eggs, and Pecorino Romano cheese is used, not Parmesan."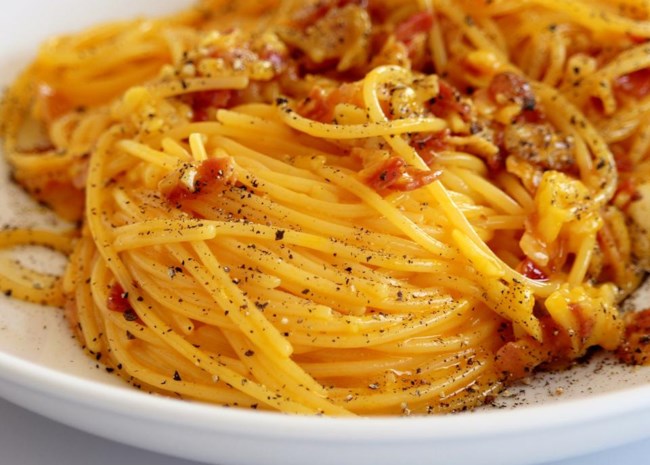 Photo by Buckwheat Queen
"Ossobuco is one of the signature dishes of Milanese cuisine," says clara. "Veal shanks are cut crosswise to reveal the marrow, a cut often just referred to as 'ossobucco'. The dish is finished with a gremolata, which is a mix of chopped parsley and lemon zest. In Milan, ossobucco is typically served with a saffron risotto."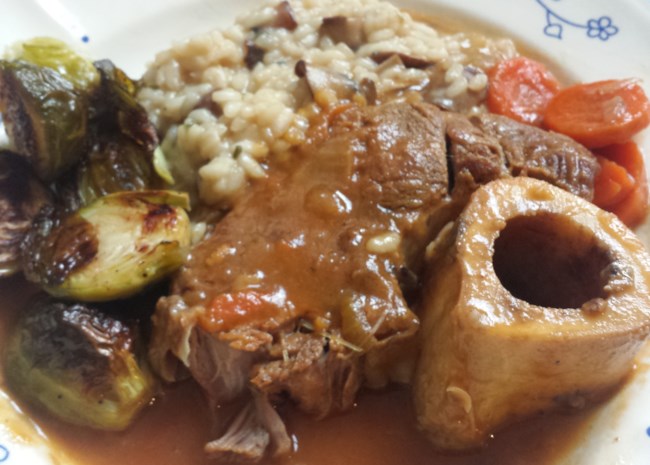 Photo by debbie eckstein
"This classic Italian-American comfort food works with any kind of sausage, but I like the fennel and anise flavors of sweet Italian sausage with the beans--it's a hearty soup that's fast and easy to put together," says Chef John.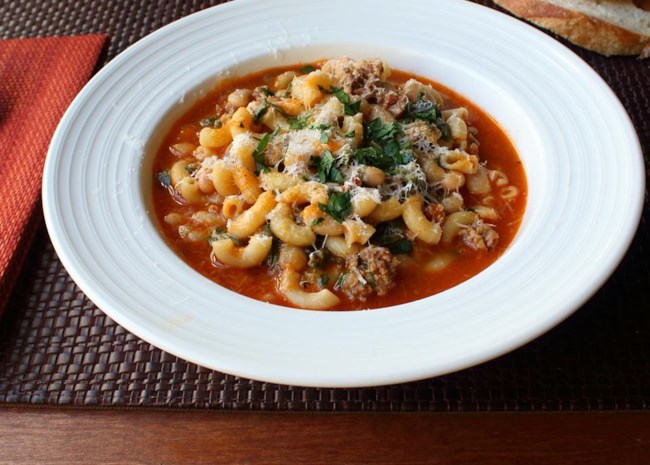 Photo by Chef John
"This recipe is a hit with my husband and everyone else I've given the recipe to," says Angie Shirk Williams. "It's very easy and satisfies that Italian craving."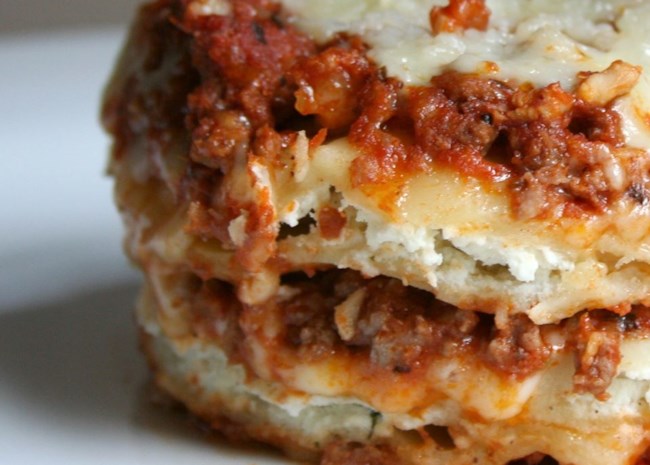 Photo by CandiceSteele
A simple tomato sauce with crispy guanciale is tossed with bucatini pasta for a quick, delicious, and authentic Italian dish for two. "This pasta dish is my signature dish, says Chef Carlo Apolloni. "I really enjoy making this pasta, especially with the right ingredients like guanciale. Top with freshly grated Parmesan cheese."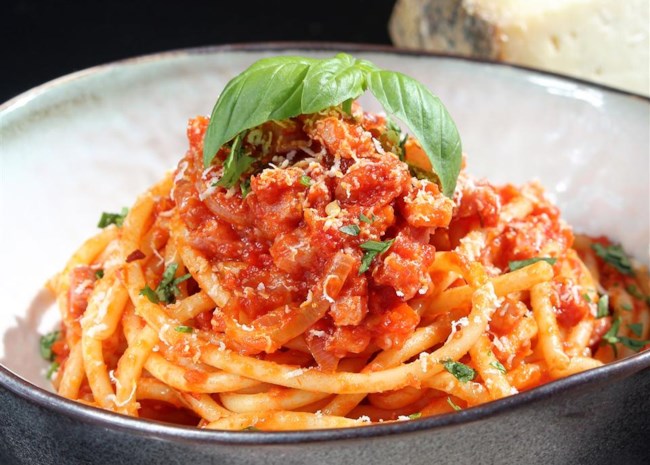 Photo by Buckwheat Queen
"I spent a few days in Florence about 30 years ago, and while I don't remember much, I do recall my surprise at how delicious the Tuscan fish stew was," says Chef John. "What I found so interesting was how herbs like oregano, sage, and rosemary, which I'd only associated with meat, were also used with seafood. Also, FYI just in case any old-school Tuscans are coming over: I hear that for this to qualify as an official Italian fish stew you need use at least 5 different types of seafood, which is both insane and adorable. Serve with crusty bread."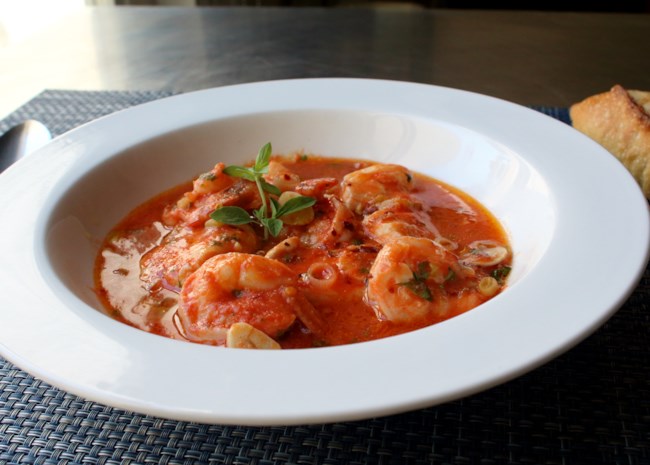 Photo by Chef John
"Well-rounded seafood and pasta dish," says JustJen. "Good with any pasta; angel hair is less filling."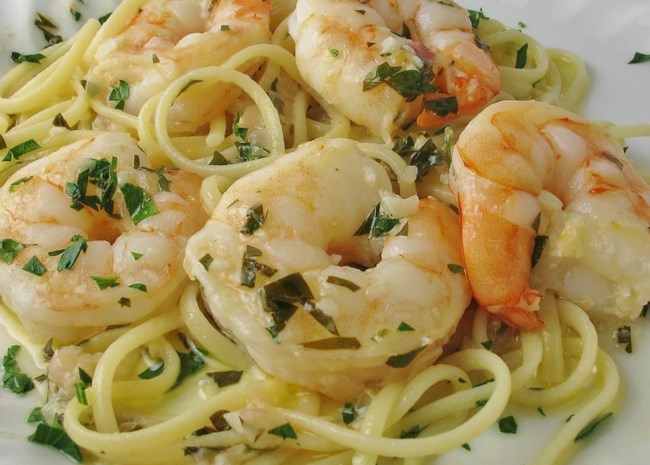 Photo by naples34102
---
---
Related: