We have more than 5,000 pasta recipes. Now, I'm no mathematician, but at the rate of one recipe a day, it would take someone almost fourteen years to try all of the pasta dishes on Allrecipes!
You've got to start somewhere! Here are 15 top-rated dishes. Start here, and if you have a few years, we have a few more...
Laissez le bon temp roulez and bon appetit! Chicken dredged in Cajun spices, sauteed with vegetables, and served in a basil-cream sauce over linguine is fit for royalty. ROSERICO says "I would serve this dish to the Queen of England!"
Rave Review: "I was shown this recipe by a Navy chef who served this to presidents at Camp David. I have served it to my family many times, and it is certainly fit for a president. Best with a garden salad and crusty garlic bread." – hungryguy
Rave Review: "It had to be hands down one of the best lasagnas I have ever made, meat or no meat. It came out picture perfect and tasted even better!" – Melissa
Rave Review: "This was WONDERFUL for a special dinner! Served with a crisp salad and warm Italian bread, this dish got great raves!" – DELANEYSMAMA
Rave Review: "Not only is this recipe easy and inexpensive, it is one of the best! I was very surprised to learn how wonderful creamy cottage cheese worked in this recipe. My only complaint is there were no leftovers!" – Susan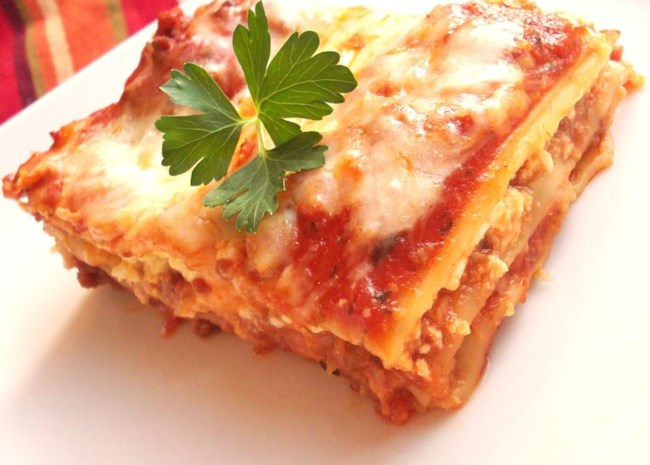 Photo by CookinBug
Rave Review: "A group of Allrecipeeps came together to create this sinfully delicious pasta recipe--each suggesting an ingredient to be included in the dish. The result? Hands down one of the best pasta recipes on the site!"
Rave Review: "This was awesome. I only did a minor change of adding chopped onion and garlic. The only danger with this recipe is of eating too much of it. Yesterday I had it for dinner, a snack, and then breakfast this morning." – Jennifer
Chef John says the key to this classic sauce is slowly toasting the garlic slices to a perfect golden-brown in the olive oil. If it's too light, you don't get the full flavor and if it's too dark it gets bitter. His advice? "Do it perfectly."
Rave Review: "Wow! Very easy to put together and no one realized there was tofu in this. I made one batch for dinner and froze the rest individually so I could pull them out to thaw in the morning and have an easy dinner for a weeknight." – Jen Reesman
Rave Review: "All the signs of greatness: Tastes really good, is fast and easy, and also pretty darn inexpensive! SERIOUS YUM, especially with a glass of red wine…" – LISAKP71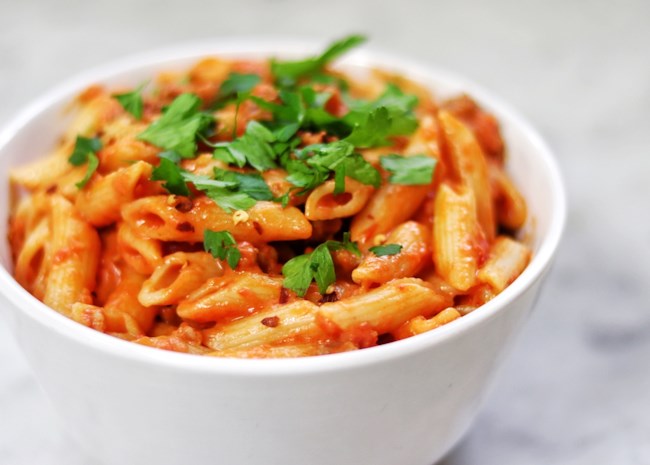 Photo by fabeveryday
Rave Review: "Made this manicotti tonight and it was delish and so easy!" -- SHRIEKINGVIOLET
"If you can't decide whether to make a BLT sandwich or a pasta, now you can do both. The combination of bacon, lettuce, and tomato has a proven track record of deliciousness!" – Chef John
Rave Review: "This is the best lo mein I've ever made. Some other reviewers said there was not enough sauce. Personally, I feel it was just enough. Any more sauce and it would have been too saucy. Lo mein isn't typically "saucy" like some other Chinese dishes." – Teri
Rave Review: "I made this tonight, as written, except used the oil from the jar of sun-dried tomato (rather than olive oil). It is full of flavor and delicious!" – KathyK
Rave Review: "This recipe was fun to make and even better to share with my honey. The creamy sauce is absolutely to die for! It's one of my top 10 favorites. I can't wait to make it again." – MiCoAmazing
---
---
Related: