The best roast chicken recipes
A simple roast chicken is the perfect Sunday dinner. Tender, juicy roasted chicken has it all. A roasted chicken is so simple to prepare, make two and save the leftovers for these delicious shredded-chicken dinners -- a simple meal that's perfect for weekdays. Check out these top-rated roasted chicken recipes.
A tangy, savory feta cheese filling garlic, lemon zest, and oregano is stuffed under the skin of this roast chicken. "Though the filling appears dry after baking, the taste and texture are anything but," says Chef John. James took Chef John's advice and used a creamy feta cheese. "I made it alongside oven roasted potatoes, says James. "The leftovers were just as good, using the leftover potatoes as home fries alongside a feta omelette. Super easy and super delicious."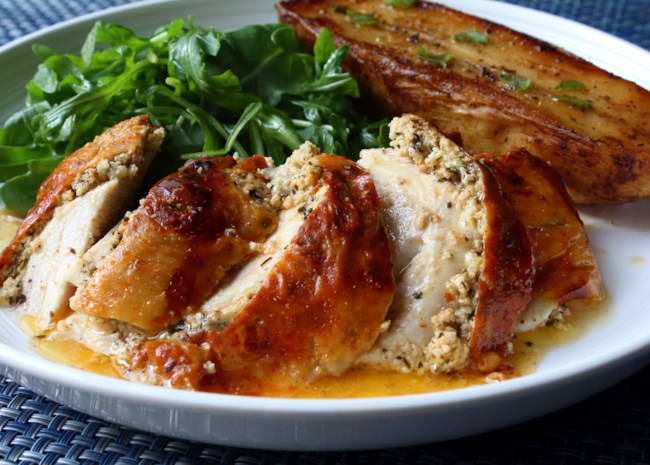 Photo by Chef John
To roast whole chicken quicker and more evenly, remove the backbone with a knife or kitchen scissors and flatten the bird. "The breast meat doesn't dry out, the dark meat is tender and juicy, and there's lots of crispy golden skin to enjoy," says foodelicious. "Here, it's simply roasted with lemon and rosemary, but butterflied chicken is especially good on the grill."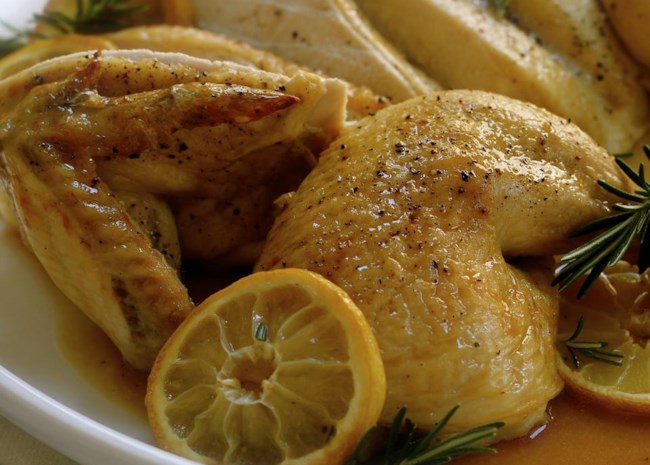 Photo by foodelicious
"This chicken is roasted on thick slices of sourdough bread and slathered with a creme fraiche glaze," says Chef John. "It looks like a million dollars. When you combine the chicken with that sticky, drippings-soaked bread, you're talking about at least a million-dollar taste."
This roasted chicken features tropical flavors of lime, ginger, thyme, clove, and rum. "This chicken dish was delicious," says meg1982. "Besides it tasting great, I loved the way it made the house seem so warm and cozy on such a chilly day."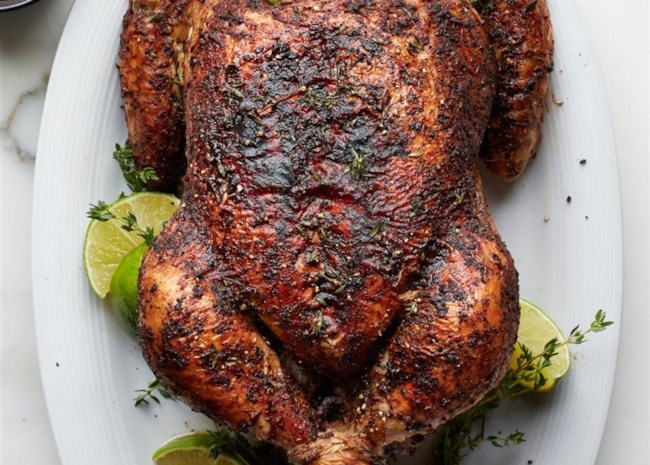 Photo by Allrecipes Magazine
This beautiful bird is stuffed with herbs and veggies, wrapped in shortcrust pastry dough, and roasted until the crust is gorgeous, golden brown and fused with the chicken skin. Chef John came up with this idea "after seeing a brioche-wrapped chicken selling for $100 at a restaurant." See how it's done:
A generous sprinkling of kosher salt is all you need to roast a chicken to crisp and beautifully brown. "This is one of those rare recipes where the name is the same as the ingredient list," says Chef John. "You're going to be so shocked at how flavorful, juicy, and amazing this roast chicken comes out." Serve with a quick thyme and butter pan sauce.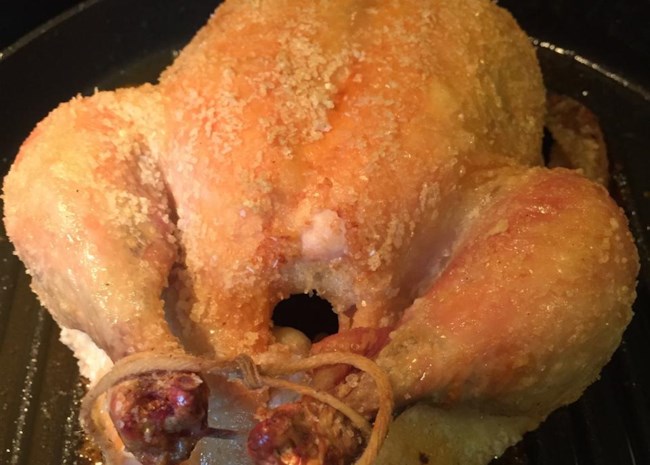 Photo by MJOHNSON27
This spatchcocked roast chicken goes from stovetop to oven. The bird sits over a carrots, onion, and lemon in a simple broth that creates a delicious gravy while the chicken roasts. "This is a terrific one-pan meal," says Elizabeth. "I love it during the winter months."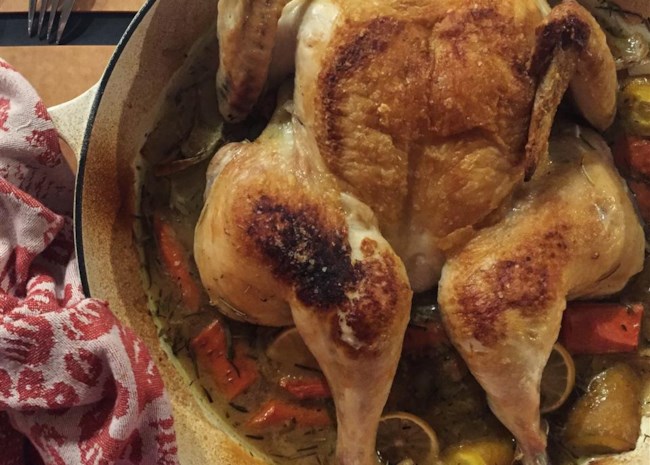 Photo by hello angie
"I made up this one to resemble the rotisserie chicken I love so much," says BramptonMommyof2. Wayne raves, "This is an excellent, simple recipe. I followed the recipe but it would be easy to change the flavors."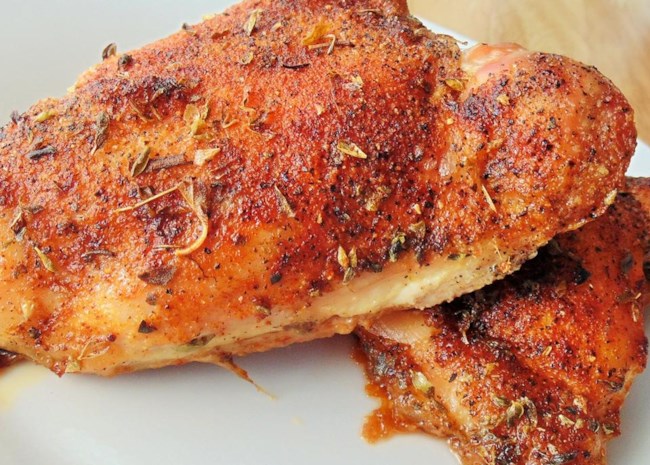 Photo by Christina
Here's an impressive roast chicken with potatoes, carrots, and celery. "An easy-to-prepare one-dish recipe," says Chonchos. "A combination of blue ribbon recipes I've found all over the internet and fused together. Feel free to substitute a bit here and there to make it your own."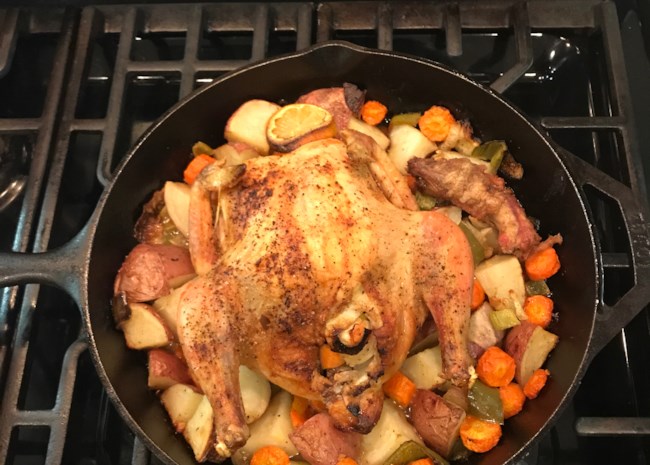 Photo by Frank Trujillo
Just a few simple ingredients and no-fuss prep create a super-juicy roast chicken. "I never have had a chicken this juicy before; this little trick works and makes the people eating it go silent," says ROBINROCKINGBIRD.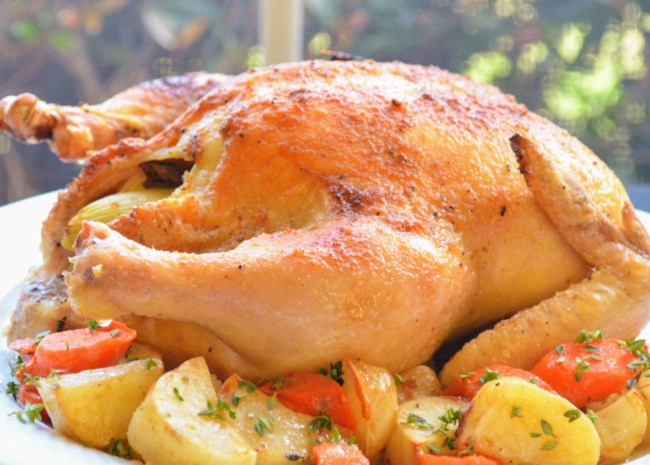 Photo by Kim's Cooking Now!
"This is a very basic recipe for chicken on a brick," says Bren. "Feel free to brine the chicken beforehand or season it with extra herbs or spices."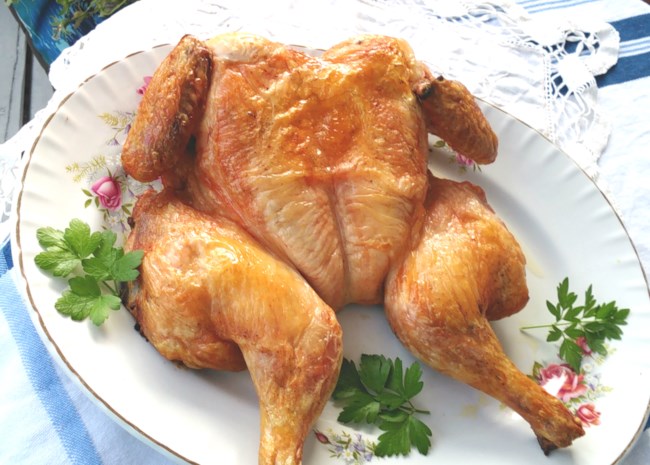 Photo by Bren
---
---
Related:
---