The Mediterranean diet is all about healthy whole foods, eating lots of fresh vegetables and fruit, and limiting added sugars and processed foods, including refined grains. It's also about reducing saturated fats and favoring healthy seafood over meats like beef and pork. To make it easier to add more fish into your diet, we've gathered together some of our favorite seafood recipes for the Mediterranean diet.
The Best Mediterranean Diet Seafood Recipes
"Here's an easy yet tasty fish soup made only with the best fresh Mediterranean fish and seafood," says Giulia. "Use the remaining fish stock for a seafood risotto."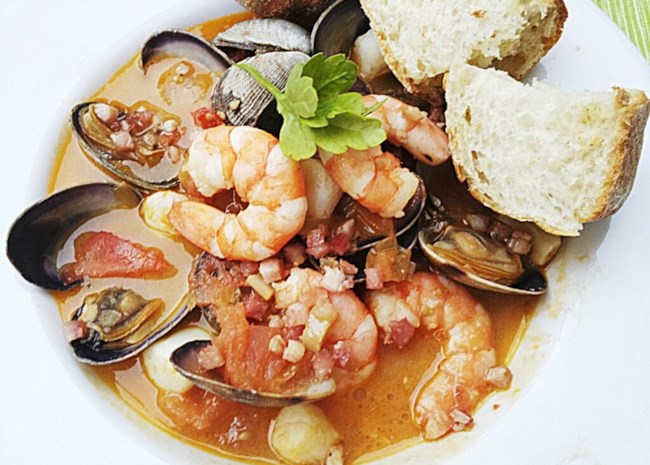 Photo by saretta
White-fish fillets are grilled and finished with a homemade fresh pesto sauce.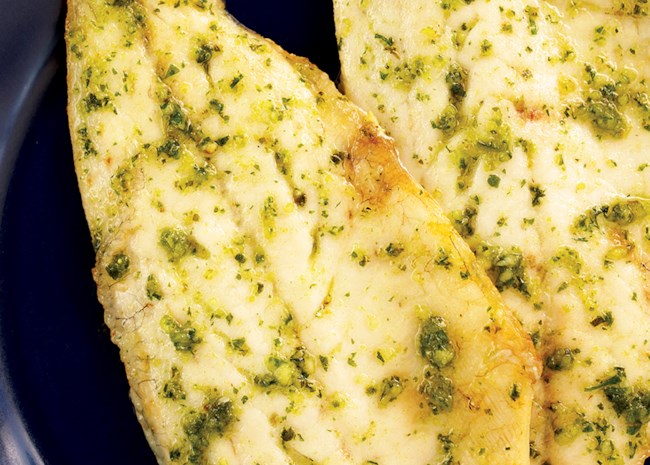 Photo by Allrecipes
Parcels of salmon, cherry tomatoes, and a flavorful tapenade are grilled or baked.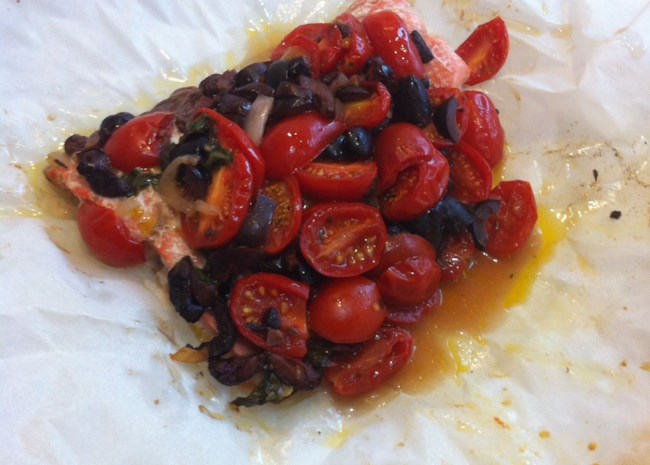 Photo by FrancescaM
Loaded with wholesome fresh ingredients, this classic Mediterranean salad is a complete meal. It truly makes canned tuna taste like something gourmet. And it's all tied together with a simple mustard dressing.
Another quick and easy recipe here. This classic grilled shrimp recipe features a marinade and serving sauce made with fresh herbs and crushed garlic. "This was one of the best grilled shrimp recipes I've ever made!" raves tcasa. "My family loved it and said it was restaurant quality."
White fish cooks on a bed of sauteed onions, garlic, bell peppers, carrots, tomatoes, olives, and garbanzo beans. "This Moroccan recipe was passed down for generations in my family," says Hanna R. "It is a favorite! Serve hot or cold according to taste."
"Tenderized octopus, char-grilled and drizzled with extra virgin olive oil, a squeeze of fresh lemon, and a sprinkling of fresh parsley," says Kim's Cooking Now. "Simple, yet deliciously satisfying!"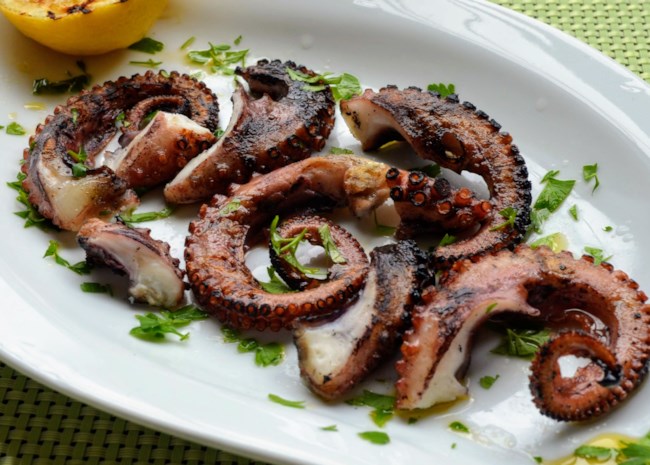 Photo by Kim's Cooking Now
"An Italian-style vegetable (zucchini, tomatoes, onions, garlic) and feta cheese topping is the perfect enhancement to delicious baked halibut," says dakota kelly. Jeremy recommends adding a nice pinch of crushed red pepper flakes and a splash of lemon juice at the end.
Here's a Mediterranean-style poached whitefish recipe that's paleo-friendly, too! Chris Denzer recommends "any firm, white-fleshed fish, like halibut or cod."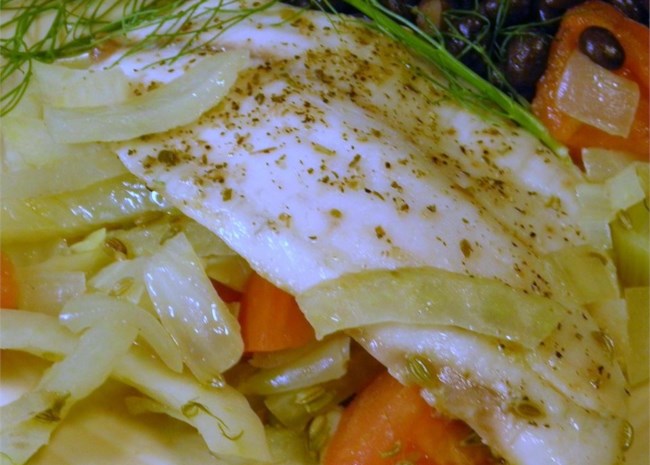 Photo by Joey Joan
"Besides being very tasty, this is also a quick and easy recipe," says Richard Denker. "This has become our favorite fish recipe. We use black cod (US name) or sablefish. Pollock can be used. Serve with Pinot Gris and French bread."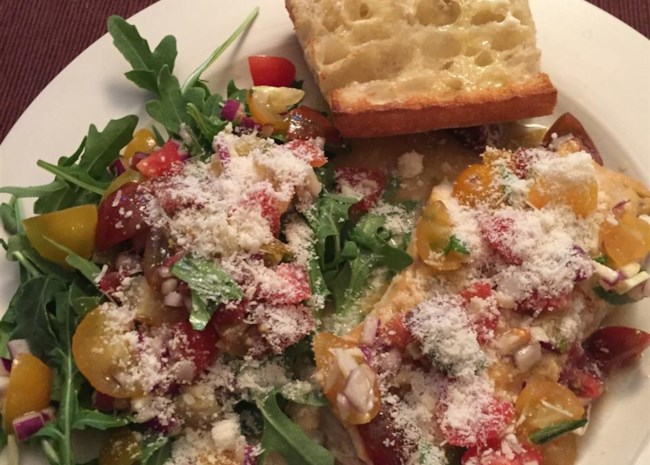 Photo by CookingWithLove
"Flounder baked with fresh tomatoes, kalamata olives, capers, onion, and white wine," says Martin Kaplan. Serve with white rice and a green vegetable."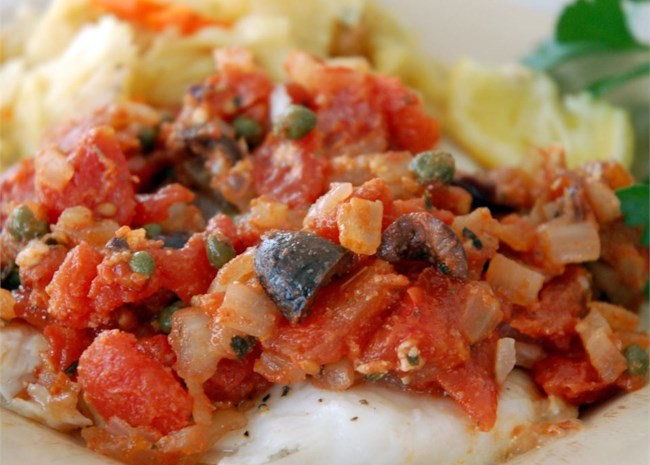 Photo by cookinmama
"This simple, healthy, and delicious Mediterranean fish, also known as 'Greek Sea Bass', should be cooked whole," says Christala. "The cavity of the fish can be stuffed with lemon and other ingredients for added flavor. It is a very mild-tasting and versatile fish. The oregano and lemon make it truly Greek cuisine that many will enjoy. Can be found wild-caught in many stores. Enjoy!"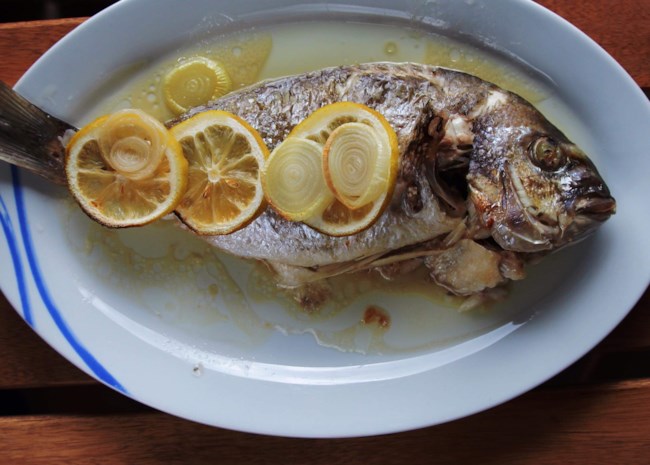 Photo by Buckwheat Queen
---
---
Related:
---