We've picked a veritable peck of stuffed pepper recipes, each filled with assorted savory delights, from Mexican-style chicken and and enchilada sauce to Cajun-inspired andouille sausage and shrimp, to orzo pasta with mushrooms and chicken, to classic ground beef and rice in tomato sauce. These top-rated stuffed pepper recipes are always delicious, and budget-friendly, too.
Use red, green, orange, or yellow bell peppers (or a combo of colors) to make these beautiful bells stuffed with savory ground beef and rice. Chef John estimates, "Ninety-four percent of all stuffed peppers are made because there's leftover rice around. You can adjust this recipe in lots of different places: the herbs, the meat to use, etc. Give these beautiful stuffed peppers a try!"
Stuff big Anaheim peppers with chicken and cheese; then pop 'em under the broiler and serve in a savory enchilada sauce flavored with chili powder, garlic, cinnamon, and a bit of bittersweet chocolate. "I must warn you," says kevin. "Once you make this for your family you will likely be making it again and again. Enjoy!"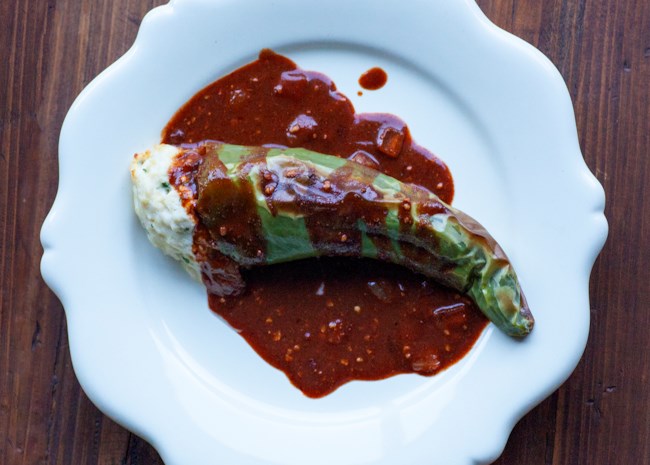 Photo by Geminai
These peppers feature a tangy but subtly sweet stuffing with rice, ground beef and pork sausage. "This recipe's roots can be traced back to the Great Depression, when farmers first began selling the unripe peppers out of necessity," says Chef John. "Of course, we did what Americans always do when faced with a new variety of food, we stuffed meat in it."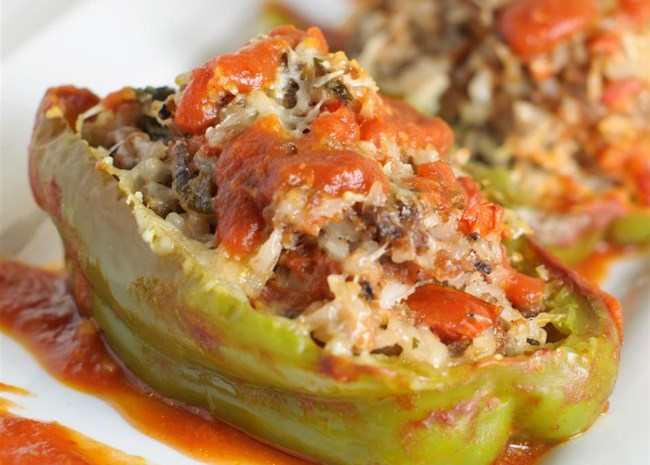 Photo by KGora
Fresh ripe tomatoes are the key to this recipe. "This is my favorite! The best time to make it is in August when the garden tomatoes are ready for harvest," says Denise Phillips Sarigianopoulo. "Hothouse tomatoes are just not the same. Enjoy!"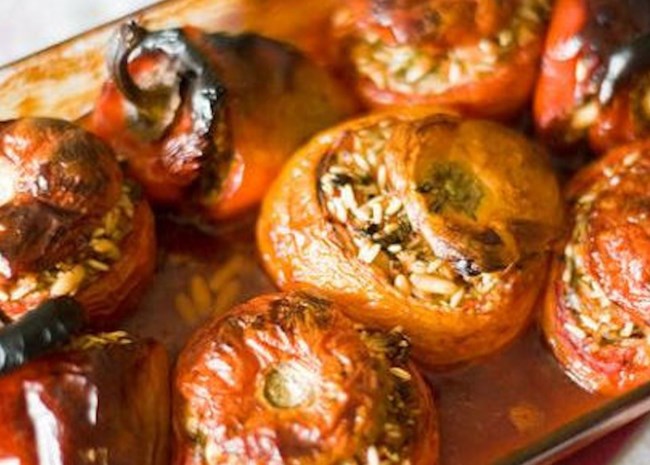 Photo by Denise
Red peppers are stuffed with ground turkey, quinoa, mushrooms, and tomato sauce and topped with melted Cheddar cheese. "Quite delicious and definitely kid-friendly," says Buckwheat Queen. "I used 1/2 Sriracha sauce and 1/2 tomato sauce for the adults. I added some zucchini, too."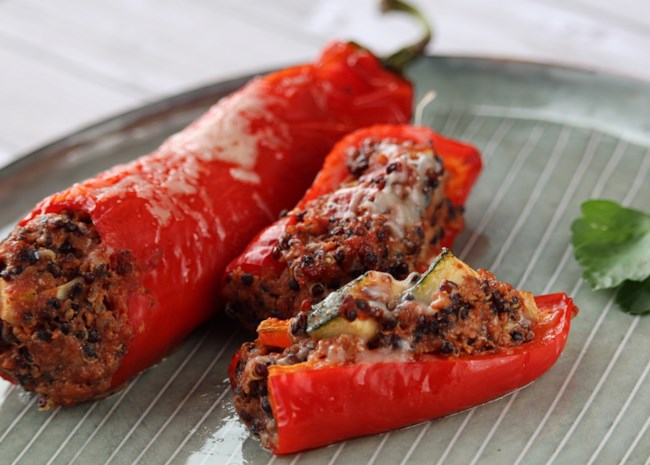 Photo by Buckwheat Queen
A Cajun twist on a classic. Green peppers are stuffed with andouille sausage, shrimp, and Creole seasoning. "Loved this recipe," says Tiffany. "It's a wonderful Cajun twist on stuffed peppers. Next time I'm going to try crawfish, shrimp, and sausage!"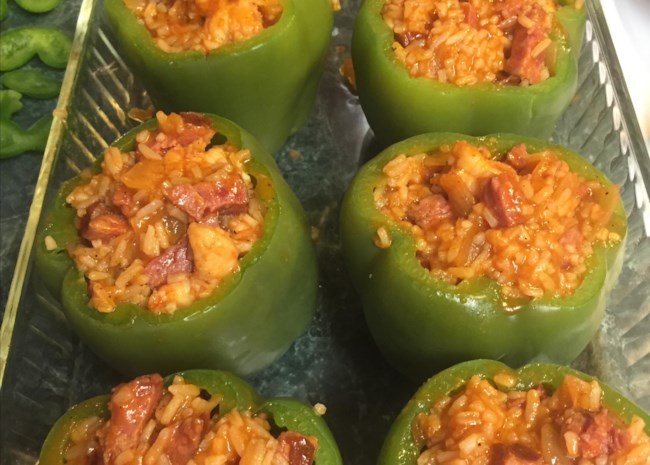 Photo by Janene Dixson
A seasoned chicken and orzo mixture is stuffed into tri-colored peppers. Top your peppers with portobello mushrooms and green onions. "This dish looks beautiful and tastes like you cooked all day," says Luv2Cook4Her. "Any combination of green, yellow, and red peppers works well; I use all three for color."
Ground beef and Spanish rice are baked in poblano peppers and topped with a seasoned tomato sauce and shredded cheese. "American comfort food done up Latin-American style," says IBETRAVLIN. "We used boxed Spanish rice, but there are a number of good recipes on this site (Spanish Rice II and Best Spanish Rice) that I have used with good results. Serve with garnishments of choice -- shredded lettuce, diced tomatoes, sour cream, guacamole, and salsa."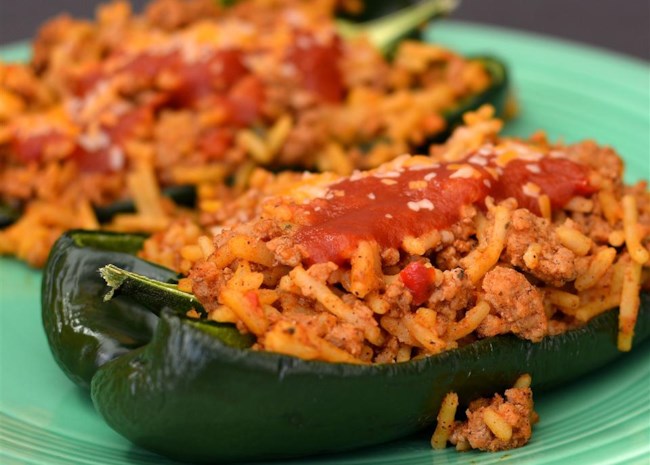 Photo by bd.weld
With the Instant Pot, you'll have these beef-stuffed bell peppers on the table in a hurry. "Since today's electric pressure cookers are so versatile, you can make versatile recipes in them such as these stuffed bell peppers," says bd.weld. "Top your bell peppers with your favorite garnish, such as pico de gallo. The stuffing can also be used for taco salads as well as tacos or burritos."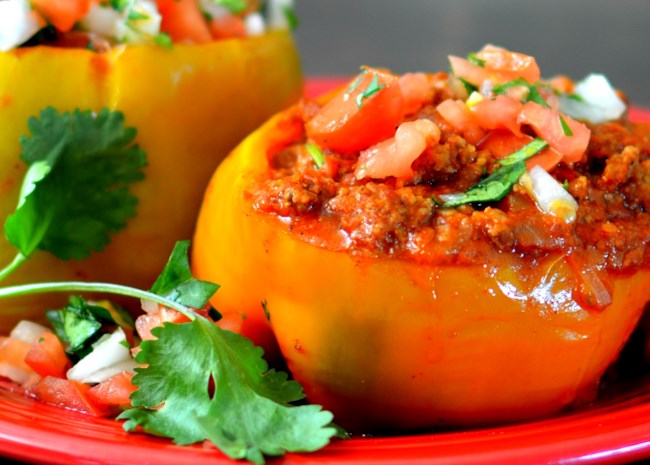 Photo by bd.weld
Creole seasonings, file powder help season a mixture of ground beef, chopped cooked ham, baby shrimp, and bread stuffing. "Momma's Peppers...Whenever my mother prepares this Stuffed Bell Pepper dish, everyone in the family finds an excuse to 'drop by' for a visit," says NinainNO. "Being a fourth generation native New Orleanian, my mother offers a plate of food to anyone who stops by for a visit...that's why this recipe makes twelve servings!"
Photo by SunnyByrd
"Rice is substituted with millet and the result tastes great!" says jamiet. "Millet is rich in B vitamins, calcium, iron, potassium, magnesium, zinc, and contains no gluten." Beef and feta cheese add savory richness to the stuffing.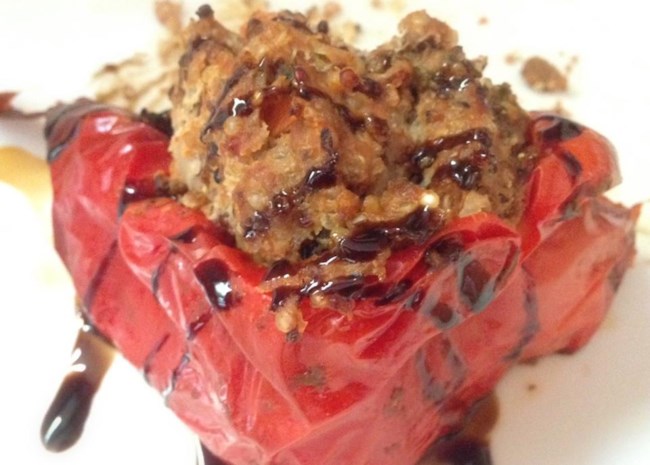 Photo by Buckwheat Queen
Here's a not-too-spicy vegetarian dinner the whole family will love. You'll fill green bell peppers with rice, chili-style diced tomatoes, and a Mexican cheese blend. "I created this so that it's not too spicy but is packed with flavor," says donnam. "My kids loved it! For variety, add corn or other vegetables or switch to other chopped tomato varieties. They taste great with a dollop of sour cream on top."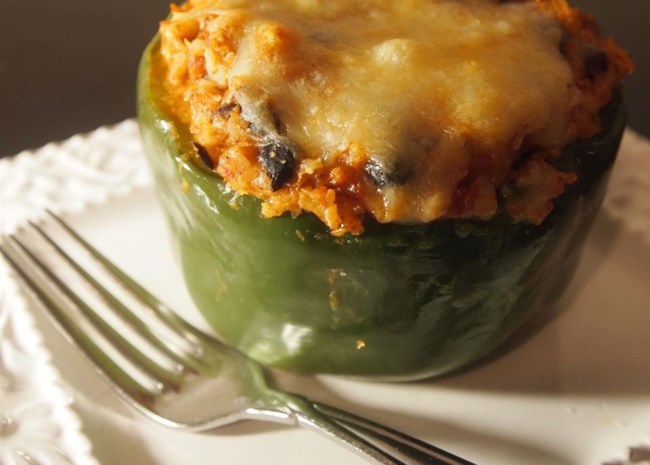 Photo by donnam
---
---
Related: