These cookies don't need frosting or icing to look their holiday best because all the visual appeal is baked right in from the start. Some of the recipes on this list use a combination of tinted doughs to gorgeous effect, and some use colorful add-ins. You'll even find a cookie that creates its own decoration as it bakes, and one that you shape with a cookie press before baking. Take a look and find a few to try this holiday.
More: See our entire collection of Christmas cookie recipes.
It's only fitting that we start this list with the first recipe we ever published on Allrecipes 20+ years ago. The tri-colored cookie gets its name from the old-fashioned ice cream it resembles. Home cook DAVIST says, "A great cookie. I've been eyeing this for awhile and finally made it and it was easy and turned out a light crunchy cookie with a great flavor."
Watch the video to see how surprisingly easy they are to make.
Peppermint green and chocolate brown doughs are squished together and rolled into these easy, colorful cookies. Recipe creator eatthelove says the green food coloring is optional.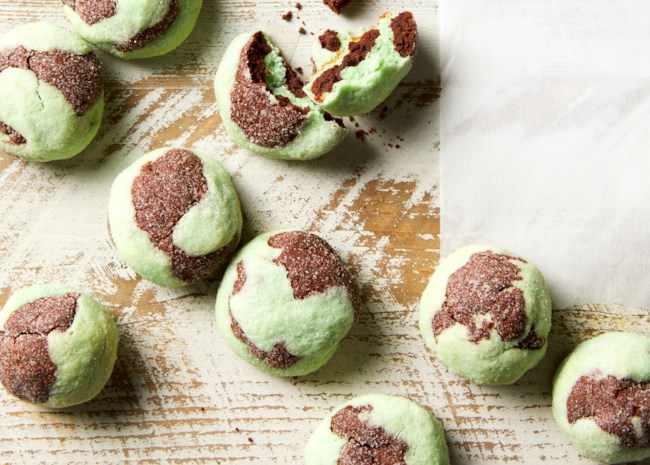 Chocolate and vanilla doughs are rolled up together like a jelly roll, then chilled, sliced, and baked. So easy! Tips: Chilling the dough thoroughly makes it so much easier to slice into nice round shapes. Home cook SMEILES slices the cookies by wrapping a length of thread around the roll, crossing the ends, and simply pulling the ends away from each other.
Chopped dried cranberries and orange zest are mixed right into the dough to make these sliced refrigerator cookies bright and pretty without any added decoration. Home cook mauigirl raves, "This cookie is wonderful. I did not change a thing. It makes a perfectly tender shortbread. The citrus and cranberries take it to another level. These will be on my Christmas cookie trays during the holidays because they are such a beautiful and simple cookie."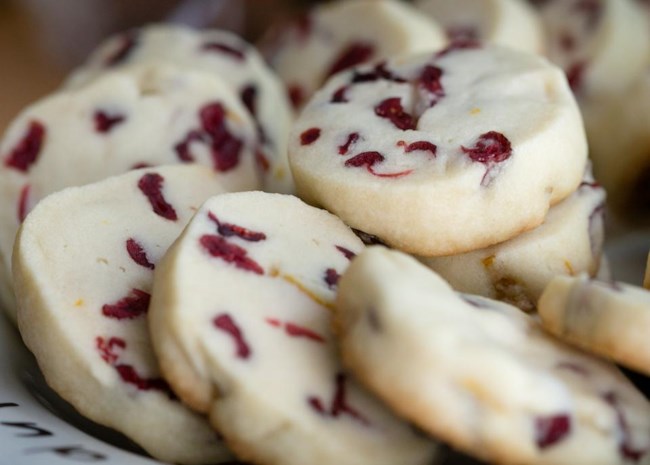 Butter cookie dough and chocolate cookie dough are sliced and stacked and chilled and sliced (whew!) to make an eye-catching cookie that'll win you raves in any cookie competition. Reviewers say the dough is easier to work with if you keep it chilled.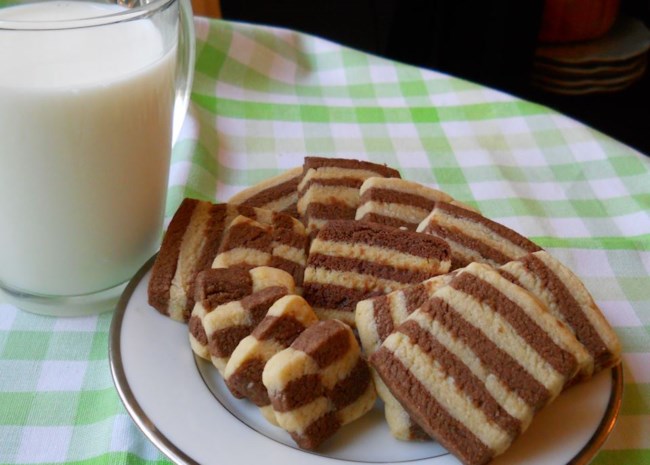 Green pistachios and bright red dried cranberries color these cookies naturally. Home cook MWalton says, "Excellent recipe that won me a baking contest! Soft enough that they can be eaten without being dipped in a drink. Make sure to let the logs cool before slicing them, otherwise they will crumble."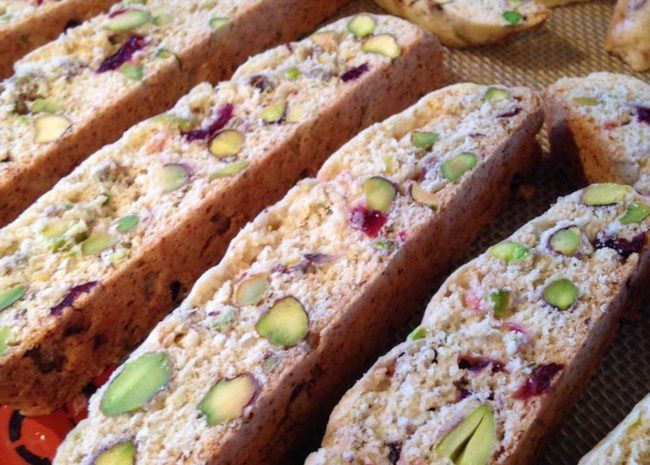 The recipe calls for a combo of green and white dough, you can change up the colors you use any way you want for these swirly cookies. Adjust the amount of coloring you add to suit your visual taste.
Home cook Yllsa offers these great tips for making perfect pinwheels: "Place waxed paper over a large cutting board. Spread 1 color dough over the waxed paper evenly. Place another sheet of waxed paper on top, and use another cutting board or something with a dull edge to smooth the dough. Try to fill in air gaps between the dough and the paper. Do this with all your dough, making sure you have 2 equal sized sheets of both colors per roll. Chill. Remove waxed paper from both sides of 1 color and top of the other. Place 1 dough on top of the other. allow to warm. Then roll with bottom sheet of paper, squeezing occasionally to press the doughs together. Chill again, then slice.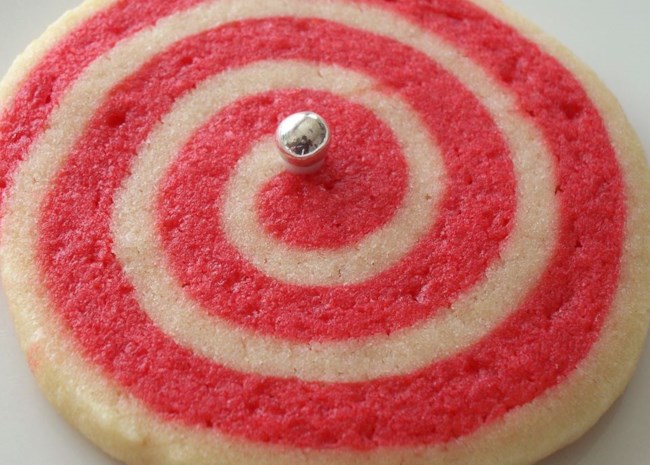 Here's another version of a red cranberry and green pistachio filling to give a cookie a naturally Christmas-y feel. Home cook Karen E Crespo raves, "Amazing taste, loved by everyone I took them to, getting ready to make for the third time and will become Christmas favorite for cookie distribution."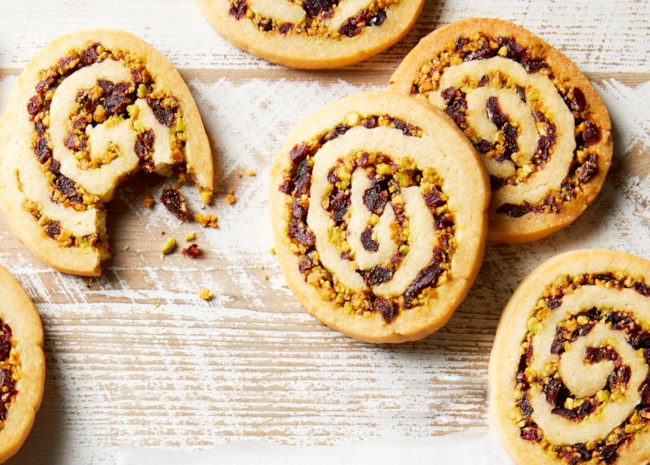 You probably know these beauties as "thumbprint" cookies. Baking the jam into the little indentations is all the decoration these Swedish cookies need. "Proof positive that the simplest recipes are almost always the best," says Baricat. "How can four ingredients come together to taste so darned lovely?"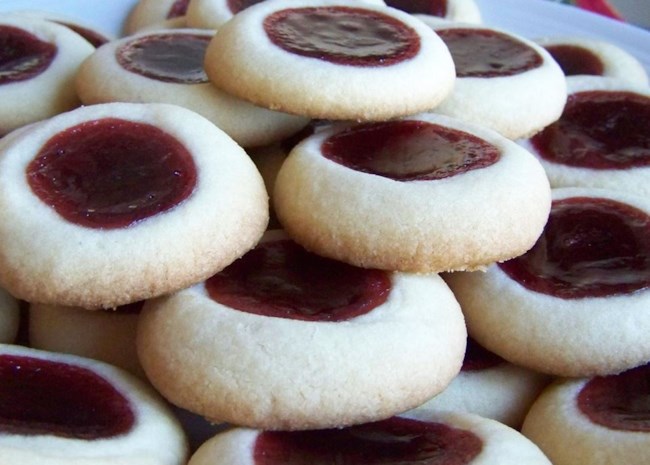 The lovely crinkled effect comes from rolling chocolate cookie dough in confectioners' sugar before you bake it. It's that simple. Home cook elttaes offers this tip: "I've made these so many times and they always turn out! Make sure to coat them with enough powdered sugar to get them to 'crinkle."'
Pushing the dough through a cookie press gives these spritz cookies their shapes before you bake them. You can change the shapes right on the cookie press, and you can add food coloring to the dough, too. Home cook DISCOBUNNY says, "This was my first time using a cookie press, so I wasn't sure what to expect. It was easy as pie, and so very delicious."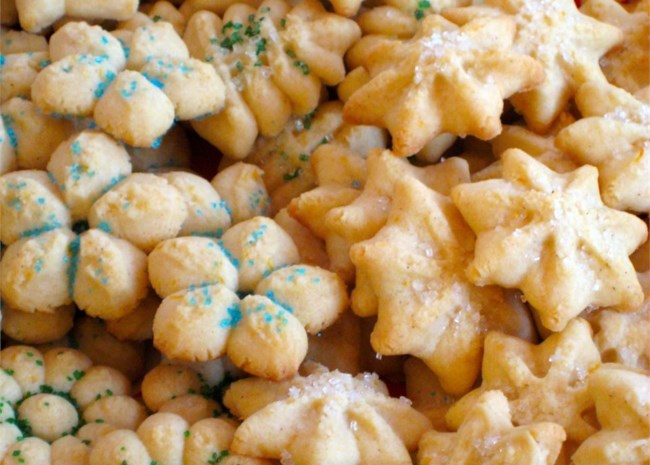 Once you get the hang of working with the dough, you'll be turning out perfect candy cane cookies. Top tips: Keep the dough chilled and work with only a small portion at a time. Roll the dough much thinner than you think you'll need to because you're twisting it with another piece of dough.
You might also like...