For many of us, fall means the return of routine, cooler temperatures, and harvesting the last of summer's bounty. It's also the time of year when ingredients like squash, potatoes, and root vegetables are at their very finest. Combine that with the seasonal chill in the air, and cranking up the oven suddenly feels like a good decision for the first time in months.
But we also know that fall can be one of the busiest times of year, with school returning, soccer starting up, and recitals coming around the calendar. Here are 10 of our favorite sheet pan suppers that take advantage of autumn's flavors and are easy enough for the hectic back-to-school season. They're fast and nearly effortless, and clean-up is a breeze. What's more, you can use Walmart Grocery Pickup or Delivery to get everything you need for these dinners shopped for you so you spend more time with your family and less time roaming aisles.
Before you get started, check out our tips for sheet pan success.
More: Get our entire collection of sheet pan dinner recipes.
Tips for Sheet Pan Success:
Don't crowd the pan: It's tempting to overdo it with competing textures and flavors, but let each ingredient shine—and avoid a mushy mess—by keeping your ingredients simple and spaced out on your sheet pan.
Pre-chop to save time: For some of us, peeling and slicing vegetables is free therapy. For others, it's a chore. Either way, use extra weekend time to chop, making assembly and roasting an easy weeknight task.
Line that sheet pan: Make clean up extra-easy by lining the pan with foil or parchment paper. Fold it up and toss in the trash to avoid scraping the gooey mess left behind by high-heat roasting.
Toss and season: Oil up your veggies with a high-quality olive oil (the flavor is worth it!) and don't hold back when it comes to seasoning. Sea salt, freshly ground pepper, and dried spices can add a ton of taste.
10 Easy Sheet Pan Recipes for Fall
These recipes prioritize two things: the best seasonal produce and easy prep steps. Because let's face it—this time of year is hectic. All 9 of these recipes are simple enough to throw together on a weeknight so you can savor all the season has to offer—both in and out of the kitchen.
It takes only 15 minutes of easy prep to get these chicken thighs and potatoes into the oven. Be sure to choose small red potatoes and cut them into quarters to make sure they cook through. To make this into a true one-pan meal, SHORECOOK added baby carrots to the baking sheet.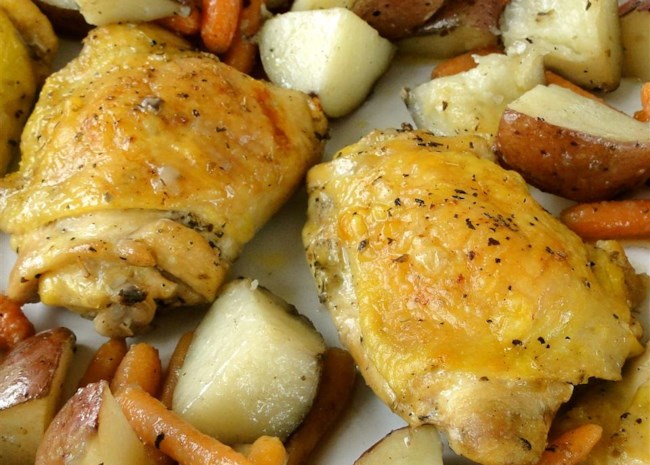 Both sweet and savory, this easy sheet-pan dinner brings together classic fall flavors. Molly Gilbert says, "A honey-mustard marinade gives pork a tangy-sweet punch." Recipe reviewer Marilyne Hauser added potatoes and carrots to the cabbage for "a complete dinner in one pan."
Roasting all the fajita ingredients together on one sheet pan allows the spices to really marinate into one authentic flavor—and it's way easier than stovetop prep. You can also save a few minutes of night-of meal prep by prepping the chicken, onions, and peppers the night before and letting the mixture marinate in the fridge overnight. Then all you have to do is spread your ingredients out on the pan and roast for 15 to 20 minutes. If you like, you can make your own baked tortilla chips—or simply serve with cilantro, lime juice, and your favorite toppings. Ruth's kids asked her, "Why haven't you made this before?"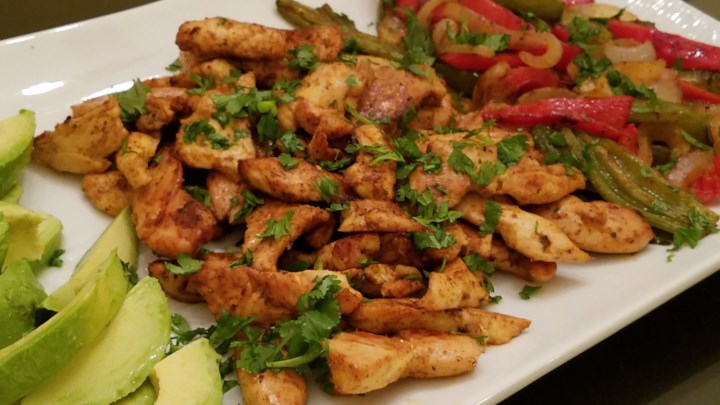 [Photo by Casablancaise]
The apple, pancetta (or bacon), and rosemary really shake up the flavors in this classic fall supper. "This was easy," says carecarl. "Just like the directions said." Coco Puff suggests using a tart-juicy apple like Granny Smith or Honey Crisp, and likes to add the vegetables and fruit after the chicken has cooked for 20 minutes. To make it a meal, recipe submitter My Stir Crazy Kitchen serves it with rice and a salad.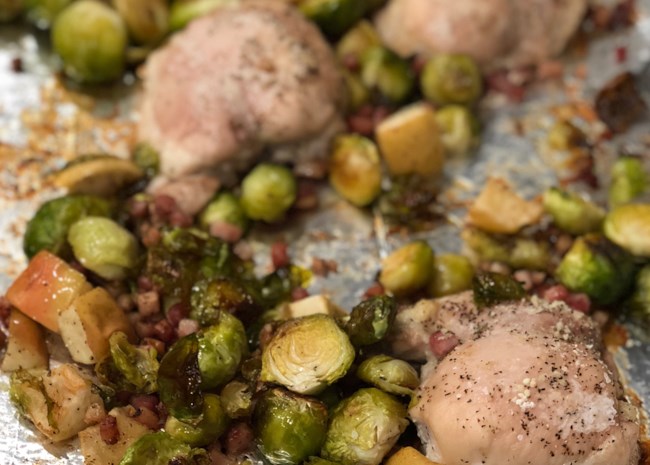 Recipe submitter Betty Soup says, "Spice up chicken dinners with a touch of harissa. The North African red pepper sauce adds depth and kick to this one-pan meal perfect for weeknights." Ready in about an hour, this one-pan chicken dinner includes carrots, cauliflower, and potatoes.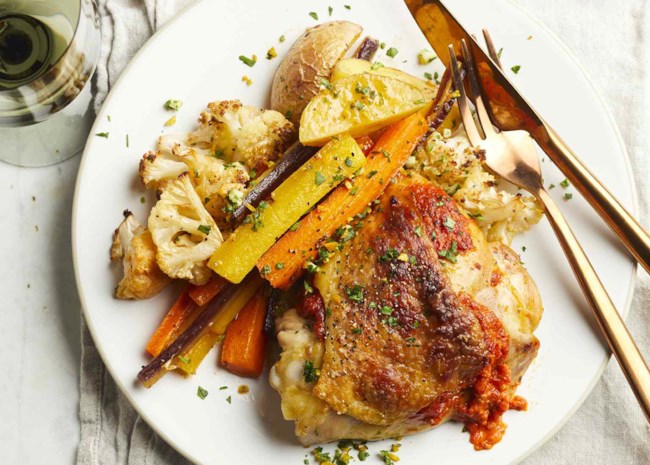 Your plate will be bursting with color when you make this super-healthy, super-quick fish dinner. Tip: add a starch, such as small red potatoes, for some extra volume, and don't skimp on the fresh parsley!
Not a fan of potatoes? Go for a grain, as Barbara did: "An easy recipe for a quick dinner for weeknights with salmon, bell peppers, parsley, and lemon that is ready in about 30 minutes. I usually serve it with rice."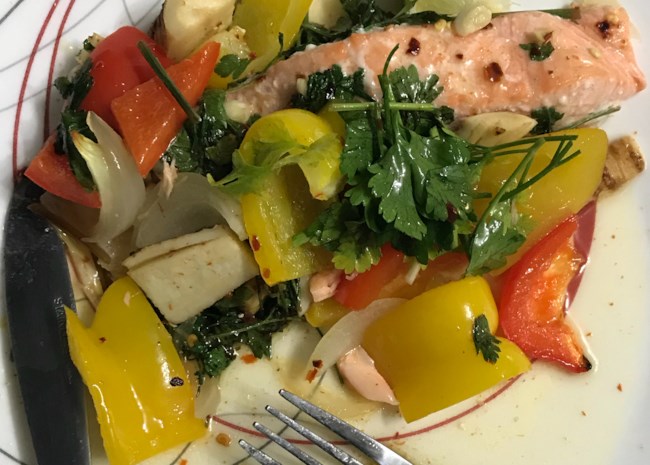 This classic French dish is ideal for using up what is most plentiful in the fall: eggplant, heirloom tomatoes, zucchinis, and peppers. Simply toss, roast, and enjoy the caramelized flavors! Serve this as a vegetarian main dish, or with the protein of your choice. "I followed the method exactly as written (even at 7,000 ft) and loved the outcome," says Buckwheat Queen.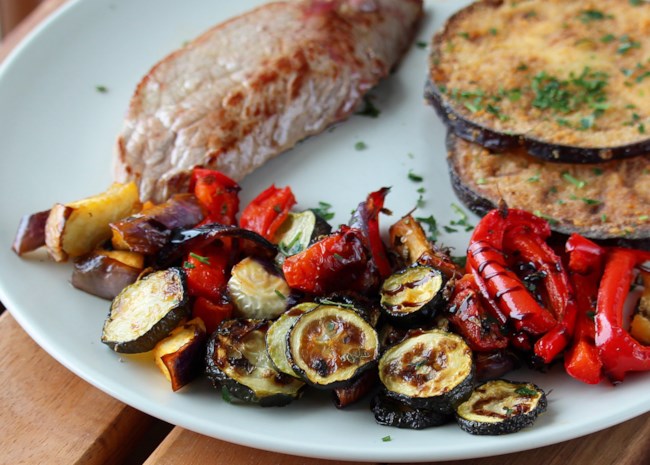 The prep could not be easier for this satisfying one-pan meal. Note that you'll add green beans after the chicken and potatoes have been baking for a while. It's how everything turns out perfectly at the end. WestCoastMom says, "This smelled so good while baking! You know it's good when your picky 13 yr old boy tells you it's the best chicken he's ever had!"
Slice the chorizo into rounds for this recipe, or take a hint from Allrecipes home cook Susan MacFarland, who says, "I make this dish with hard dry-cured Spanish chorizo. It is very different from Mexican chorizo and is great for this recipe. I cut the chorizo with scissors and fry it until the oils run, then I add the other ingredients except for the garlic. The chorizo has enough spice for us."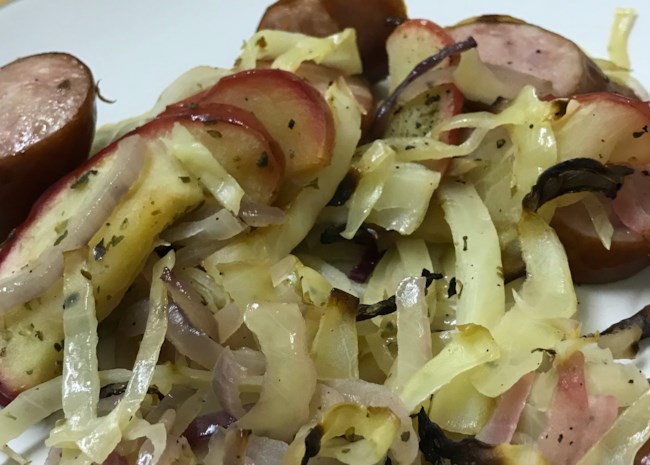 Citrus-marinated chicken breasts are bake on a sheet pan with butternut squash, Brussels sprouts, baby carrots, and apples for what recipe reviewer Teresa Knoess says is a "perfect fall dinner." If you can't find the bottled marinade suggested in the recipe, here's an easy homemade version of a rosemary, garlic, lemon marinade.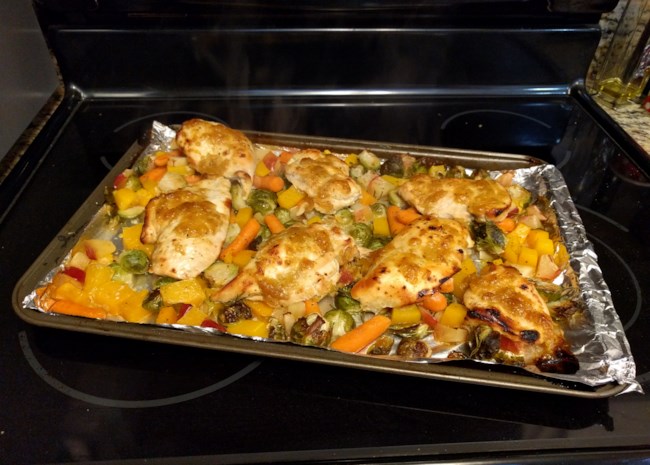 Related
Try these super easy sheet pan supper recipes.
Get easy tips to make the best sheet pan dinners.
Here's how to make easy weeknight sheet pan fajitas.