A low-carb alternative to rice. (Sorry, rice.)
Whether you're eating low-carb, going paleo, crazy for keto, or just want to sneak more vegetables into your daily meals, you'll want to check out these top cauliflower rice recipes. If you haven't already embraced this nutritious, high-fiber rice look-alike, these dishes are enough to make a cauliflower rice lover out of you.
What is cauliflower rice?
No, it's not rice cooked with cauliflower. Rather, it's what you get when you grind raw cauliflower into morsels the size of grains of rice. Then you take these "grains" and use them in dishes where you'd normally use rice. It's become such a popular rice substitute that you can find fresh or frozen ready-to-cook cauliflower rice in grocery stores. But if you're interested in saving a little money, here are how to make cauliflower rice -- featuring four easy ways you can grind your own cauliflower rice at home.
10 Meals to Make with Cauliflower Rice
These top-rated dishes show you how to cook cauliflower rice in 10 delicious ways.
Love the convenience and easy clean up of sheet pan dinners? Then you'll love how this full-flavored recipe comes together.
"Yes, I made it as written and enjoyed the flavors of the herbs & bacon," says Marlene. "I don't eat enough veggies and the cauliflower was good with this because it absorbed the various flavors! I will make it again and have already shared with others."
Two ingredients, and one of them is cauliflower. This recipe gives you a simple how-to for grinding your own cauliflower into grains using a food processor before roasting it at high heat to amp up the toasty flavor.
"I can't stand cauliflower but this was very tasty," says NiWelder. "Added butter spray every flip but other than that stayed with recipe. Would recommend for those trying to eat healthy and add cauliflower to the menu."
Cauliflower rice visits India, comes home with delicious new ideas. For this easy side dish, you'll cook riced cauliflower with garlic, cumin, coriander, garam masala, turmeric, ginger, and cayenne. Recipe creator Ryan Feagin suggests serving it with sliced red onion, boiled egg, and avocado.
"This was delicious," says Lessa. "I have had cauliflower rice before and was sadly disappointed. This recipe has changed my mind on it. Even my daughter loved it."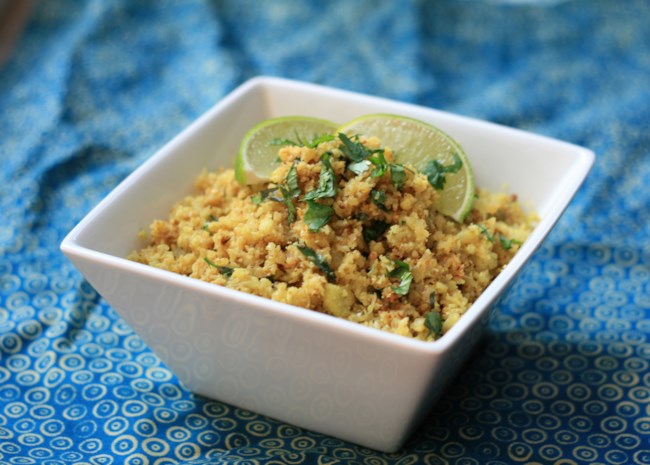 Got 20 minutes? That's all it takes to get this easy dinner on the table. "THIS WAS FABULOUS! We will be making this one again," raves amy.
Cindy logan says she'll try it with thinly sliced beef next time, "but it was very good!"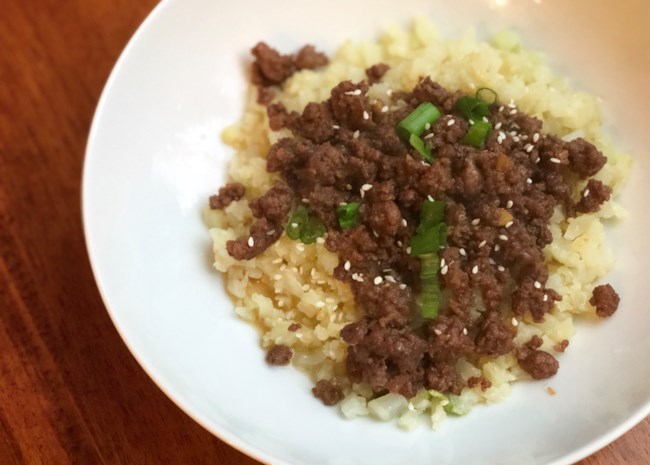 "This was a big hit! Making the riced cauliflower was so easy and it fooled everyone in the family!" — Maya
jhnndaz adds, "Very good. I didn't tell my husband that the "rice" was actually riced cauliflower. He never noticed. I will definitely make this again. Fast and delicious!"
This recipe was prepared in a countertop induction oven, but you can follow Buckwheat Queen's lead and use your oven and grill instead.
France C. says, "Absolutely delicious! Just goes to show you that few ingredients can indeed make a flavorful meal! Genius idea to cook the cauliflower first, then 'rice' it. I will use this method from now on."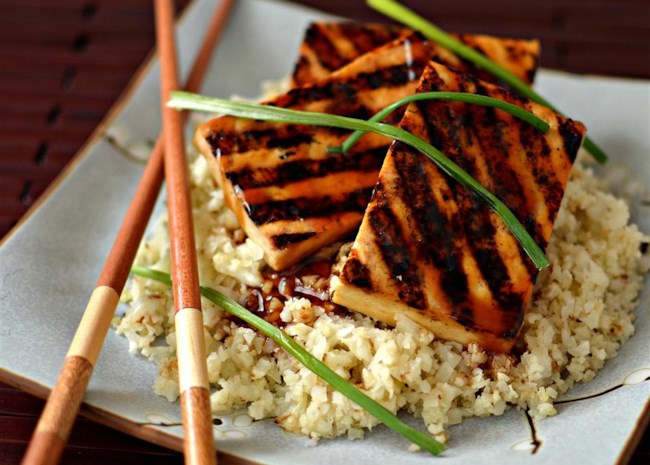 Here's how to cook cauliflower rice, risotto-style. Onions, garlic, and mushrooms flavor this easy risotto-style dish, without the time-consuming stirring you'd do with regular risotto.
Gigi says, "Awesome! Even my rice loving hubby loved it. I just added more onions and garlic ('cause you can never have too much!). Will definitely make again!"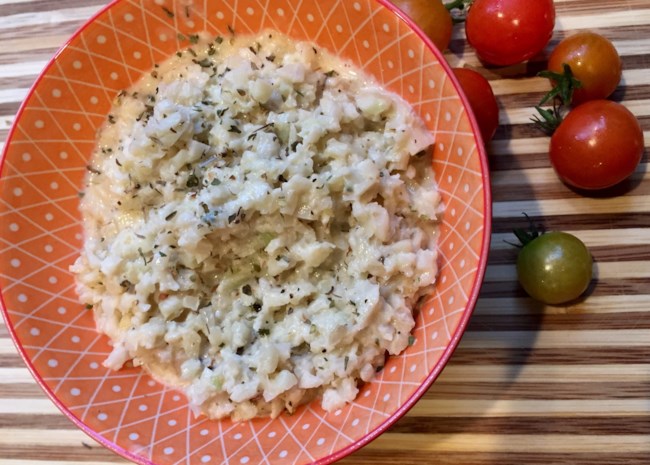 Yes, another risotto-style dish, but this one's with bacon and mushrooms, and comes together quickly. The recipe calls for you to use ghee (clarified butter), but you can use regular butter or oil if you wish. You just won't get the same buttery flavor.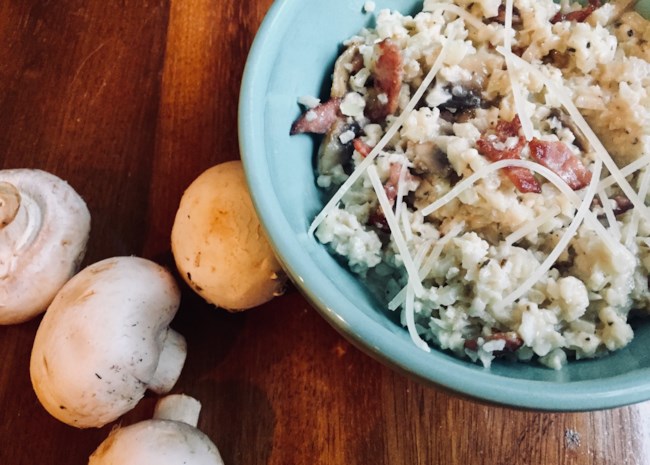 Here's how to make cauliflower fried rice. Recipe creator John Melinte says, "This is a low-carb option for those who want all the flavor of Chinese fried rice but none of the guilt."
Vollyballmom adds, "This recipe is unbelievable. I served it to 2 cauliflower non-lovers and didn't tell them what it was until they were finished raving about it." So sneaky!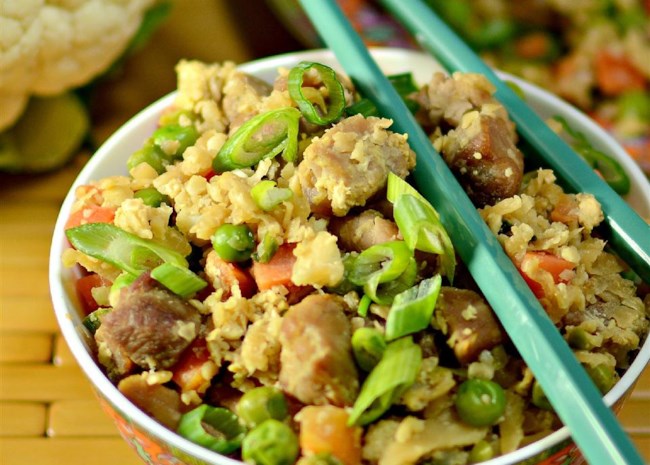 This cauliflower fried rice recipe has a few more components, so recipe creator Julie Hubert recommends that you "make sure you have all the ingredients chopped, prepped, and ready as this cauliflower rice stir-fry comes together in 10 minutes!"
Maria says, "I always follow the recipe the first time out. This is fantastic! (I should say here that I did find the cauliflower 'rice' at my local grocery store & I believe this made prep easier)."
You might also like...
10 Deliciously Different Ways to Eat Cauliflower
How to Slice Cauliflower Steaks for Roasting
Chef John's Cauliflower Pizza Crust