Sun's out, grills out!
When you've already got the gas on or the coals lit for your barbecued or grilled main dish, smart cooks like you create sides that can be made right at the same station. Preparing side dishes over the same heat as your barbecue or burgers infuses them with a smokiness that both pairs well and keeps sides from getting overshadowed. And when everything happens in one place, there's no more running back and forth into the house, and guests can gather around to ooh and aah about all the goodness on the grill.
I'll share tips to make grilled side dishes and top-rated recipes to try.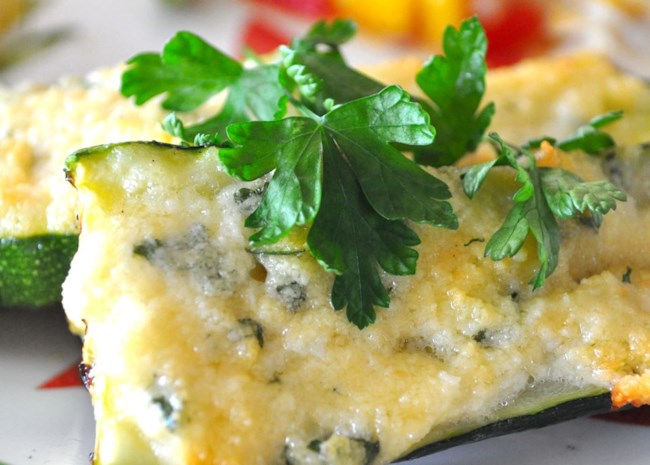 Related: Get top-rated recipes for BBQ & grilled side dishes.
5 Tips to Make Perfect Grilled Side Dishes
1. Oil the Grill
Oiling your grill before you cook matters for whatever's cooking, but with fragile-skinned vegetables, it means even more: Give the grate a good once over with a high-smoke-point oil, such as peanut oil or sunflower oil, before you turn on the heat, and you'll end up with better-looking food with gorgeous grill marks — and less mess on the grate.
2. Soak the Skewers
If you're planning on making grilled vegetable skewers, make sure to start the skewers soaking at least 20 to 30 minutes before you cook — that way you won't run the risk of fire and the skewer won't char up and break.
3. Foil is Your Friend
Don't shy way from the foil; it can be used for almost everything when grilling. Lay it down on the grill to keep smaller vegetables from falling through, wrap and grill vegetables in foil to create flavor packets, and use it to wrap food just off the grill to keep it warm while you finish up.
4. Use a Pastry Brush
Whether buttering bread or basting veggie skewers with sauce, a pastry brush applies liquids evenly and smoothly, especially to something already on the hot grill. Choose a brush with a long handle if you're going to apply a basting liquid or sauce to food that's on the grill.
Related: The Grilling Tools You'll Need to Tame the Flames
5. Know Your Heat
Burgers and hot dogs often go over direct heat and cook quickly right over hot coals, but big slices of grilled bread and thicker vegetables, like corn, potatoes, onion, and eggplant, will do better on indirect heat — meaning on an area with no coals or flames below. Pay attention to the temperature on the different parts of your grill and use them to your advantage.
Related: Top Tips for Grilling Successfully
Best Grilled Side Dish Ideas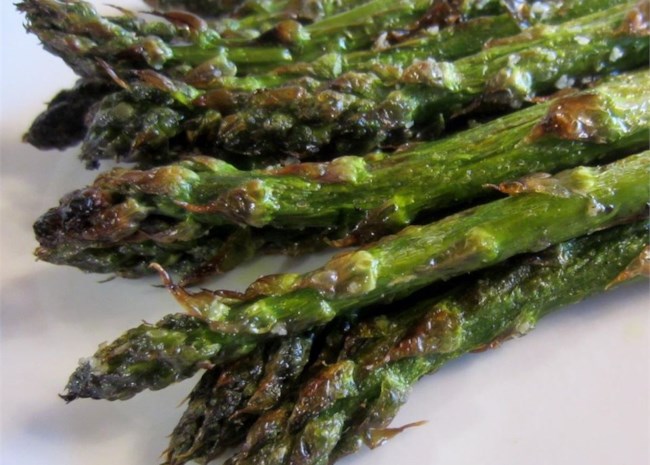 The easiest sides to grill are whole vegetables that simply need oil, salt, pepper, and a quick grill over the coals:
For heartier vegetables, even cooking and good char require slicing and skewering. Some smaller vegetables need skewering to keep from falling through the grill. Try:
Related: See our complete collection of grilled vegetable recipes and get tips to grill vegetables for amazing flavor.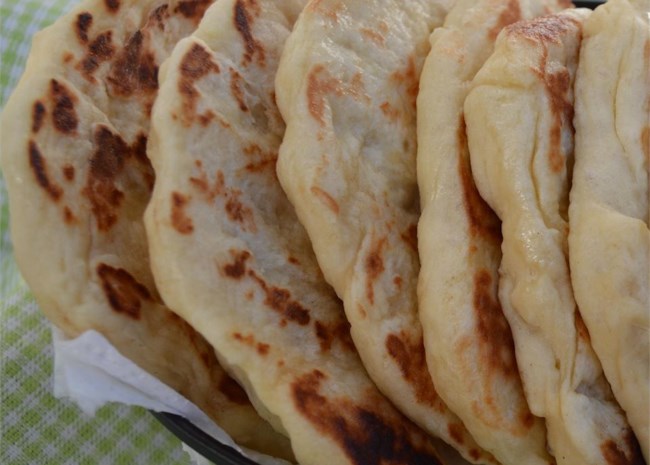 Nearly any type of bread, with a brush of butter or oil, crisps up on the grill and transforms to a heftier version of itself. Ambitious grillmasters can even put flatbread dough directly on a well-oiled grate for a restaurant-pizza-like char.
Related: How to Make the Best Grilled Pizza
Anything You Make in a Pan
Really, you can make almost anything you would on the stove—beans, stews, and sauces—in a pan right on the grill to save time and infuse it with that incredibly smoky scent. But don't feel limited to what's mentioned above: once you've grilled the main ingredient to your side dish—be it salad, slaw, or bread—it can slip right back into any recipe for an easy addition of extra flavor.
10 Grilled Side Dish Recipes To Try
This classic picnic-packer lightens up without mayonnaise, but also deepens the flavor from the addition of the grilled potatoes. It takes a little while for the potatoes to cook, but if you let them grill while you make the main dish, then you can dress the salad and serve right away—when it's best.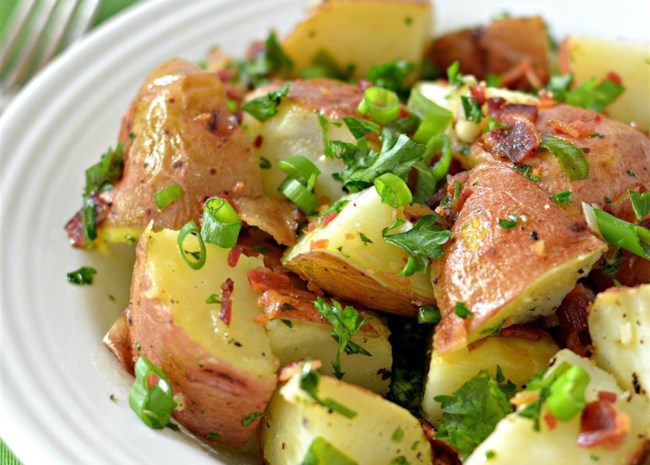 Home ovens don't reach the searing-hot temperatures that a pizza oven does, but a backyard grill can come close, so amateurs can replicate that restaurant char. The dough will cook quickly at such high heat, though, so be sure to use pre-cooked ingredients and be totally ready to go before you start. Get all the tips you need to grill pizza at home.
All over Mexico, you'll see people munching ears of corn on sticks. But at home, grilled corn can be the perfect side dish for carne asada or grilled tacos. If your corn isn't the sweetest of summer, give it a soak in saltwater before grilling—it will cook more evenly and taste better. Watch the video to see how to make this street-style treat.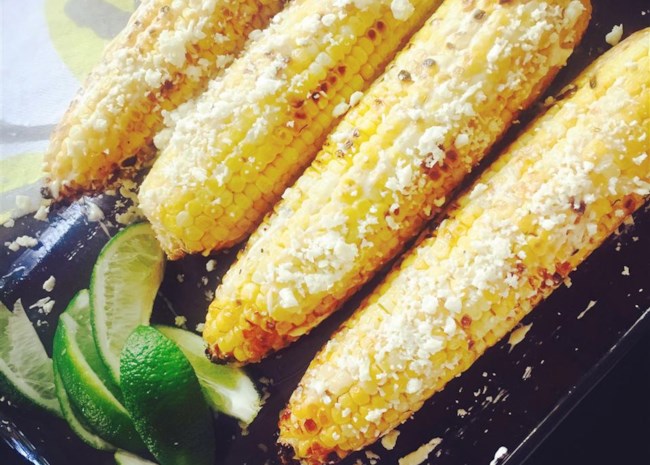 Bring the churrascaria (Brazilian steakhouse) right into your house with this sweet side dish. Grilling fruit brings out its naturally sweetness that complements the meatiness of steaks. Plus, the caramelized fruit is always a big hit with kids. If it's all adults, a sprinkle of cayenne will give the flavor some kick.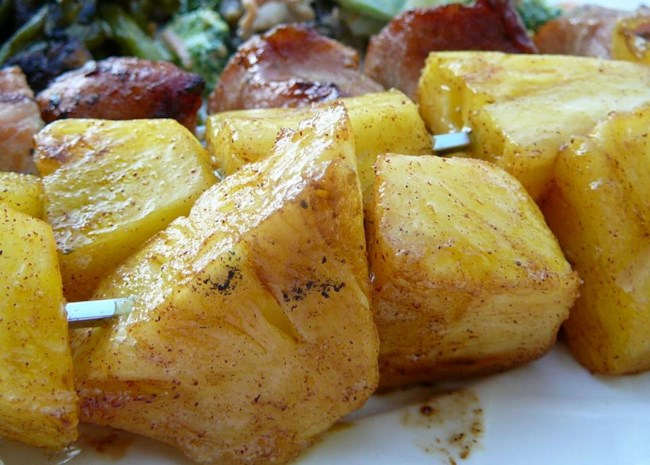 A light touch with the seasoning brings out the summery flavors of this light and simple side dish. If you have leftovers, toss with cooked pasta, rice, or other grain, cheese, and olive oil for an easy lunch.
Grilling any bread with just a smear of butter will wow guests, but this recipe takes everything up a step with a creamy, fragrant cheese spread. Feel free to be a bit messy—the crisped-up edges will be the best part. Add your choice of fresh herbs or thinly sliced scallions or chives to add extra color and flavor.
 
Spicy, crunchy, cheesy: all the essential flavors for a hit appetizer. These easy-to-make, easy-to-eat snacks always disappear first. For a vegetarian version, twist a leaf of well-oiled kale around the pepper in place of the bacon.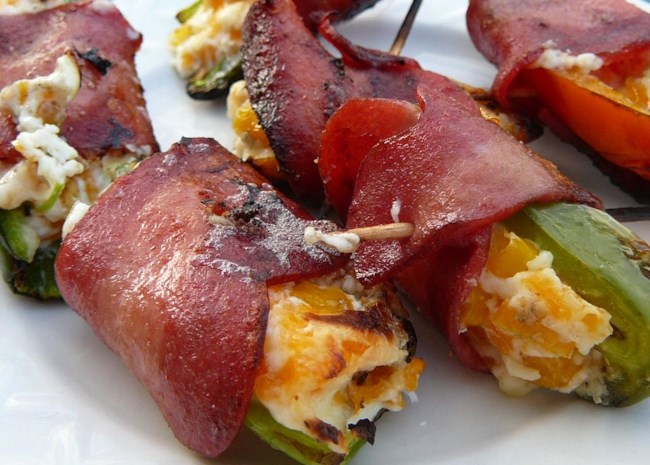 Long, green, and elegant, fava beans are beautiful but annoying to shell. For grilling, though, they make life easy. A few minutes over a hot flame, and they can be served as is, letting guests do the (now much less) hard work of removing the beans from the pod.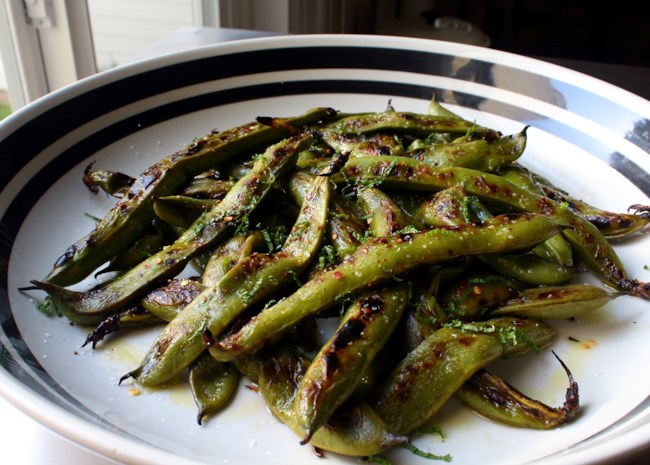 Few vegetables undergo such a marvelous transformation on the grill as cabbage. The high-heat shifts it from bland and water-logged to supercharged with caramelized edges and ruggedly crisp texture. Experiment with your favorite flavors, as it's a welcoming dish to miso, butter, (naturally), barbeque sauce, or topped with your favorite dressing to make a grilled salad.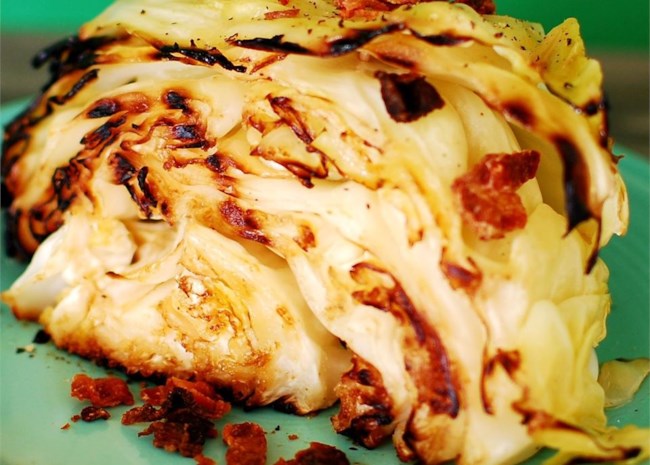 "Tasty grilled eggplant complements the flavors of goat cheese and roasted red pepper in this 'couldn't be easier' recipe that is good served hot, cold, or as leftovers," says recipe creator BUSYBEE25. "To re-warm, place on low-heat grill for 2 minutes."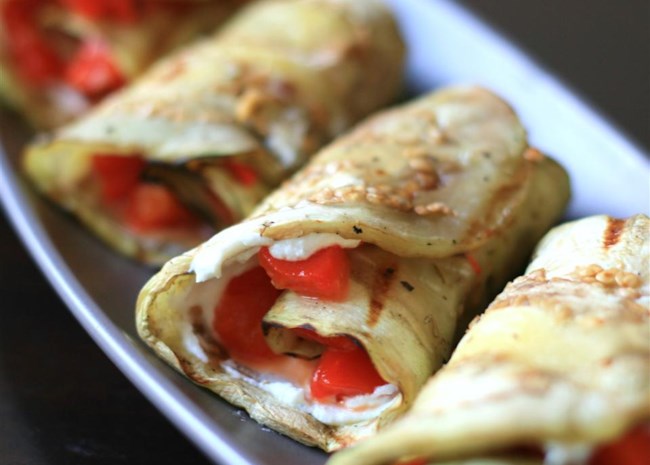 More to Explore: Check out our collection of BBQ Side Dish Recipes.
Related
The 10 Best Grilled Corn Salads of Summer
3 Easy Ways to Grill Corn on the Cob