At the first hint of spring, we roll the grill out of the garage, crank up the flames, and toss some lamb chops onto the hot grates. Nothing does more for rich lamb than the smoky, charred flavors of the grill. We'll show you how to cook lamb chops on the grill -- and because there's more than one way to love lamb chop recipes, we'll explore how to cook lamb chops on the stovetop and in the oven, as well.
How to Grill Lamb Chops
Give your lamb chops a quick soak in a flavorful marinade. What ingredients are best for marinating lamb chops? Try balsamic vinegar, garlic, a little olive oil, and seasonings. (We have many more marinade options below.) How long should you marinate your lamb chops? Give them anywhere from 2 hours to overnight, marinated in the fridge.
As it gets close to grilling time, preheat the grill to medium-high heat.
Next, it's chops to the grill! Lay them out on the hot grill and sear for about 4 to 7 minutes; turn, and sear for another 4 to 7 minutes -- for medium rare, an instant-read thermometer inserted into the center should read 125 to 130 degrees F (54 degrees C). TIP: To keep the exposed bones of your chops from blackening, wrap them up with a little aluminum foil before putting the lamb chops on the grates.
When grilled to your preferred doneness, remove the chops and let rest for about 5 minutes.
When done, remove the chops and let rest for about 5 minutes.
See how Chef John grills lamb chops. "Using a blend of Mediterranean herbs and spices and a touch of cinnamon, these tender grilled lamb chops are served with orange and fresh mint sauce," says Chef John.
Here's an easy recipe for lamb chops on the grill. The quick marinade of white vinegar, salt, pepper, garlic, onion, and olive oil is great for steaks, too.
"Marinated lamb chops get grilled and then topped with a wonderful tangy pomengranate-port reduction," says WannaBeChef. "Most impressive!"
Chef John explains the origins of this grilled lamb chops recipe: "Usually, I take an Italian approach, and marinade the meat with lemon, garlic, and herbs; sometimes I'll go with more of an Indian style, and use a yogurt-based marinade along with the associated aromatic spices like cumin, cinnamon, and coriander. I love both styles. This recipe combines both styles into one uber-recipe."
"This recipe for grilled lamb chops is superb," says Sweet Pickles Mom. "The lamb is succulent and the sauce is such a flavor combination you will want to make this frequently. This is a recipe for people who don't even like lamb -- as it made a true convert out of me. It is a great sauce for beef and poultry as well, with a definite East Indian flavor. "
How to Broil Lamb Chops
Broiling is like the mirror image of grilling, with the heat source above the food instead of below it. It's the same idea as grilling, essentially. To cook your lamb chops under a broiler, adjust the top rack so it's about 6 inches from the heat source. Then crank the oven to broil. Cook your marinated lamb chops under the broiler, about 5 to 6 minutes per side. An instant-read thermometer inserted into the center should read 145 degrees F (63 degrees C).
"Lamb chops to impress," says emmy. "These chops are restaurant-quality with just enough earthiness to evoke that 'I slaved all day' without slaving at all."
How to Braise Lamb Chops
We're going to slow-braise these chops. Start by preheating the oven to 300 degrees F (150 degrees C). Generously season lamb chops with salt and black pepper.
The key to a good braise is to build flavor by searing the lamb chops before adding the braising liquid. Heat a little vegetable oil in a Dutch oven or large, oven-ready skillet (with a tight-fitting lid) over high heat. When hot, sear your lamb chops until deep brown on all sides, about 4 or 5 minutes per side. Remove the lamb chops to a plate and cover with foil.
Saute some onions and garlic if you like. Cook the onions until slightly golden, just a few minutes, then add the garlic and cook for an additional minute.
Next, add your braising liquid, turn the heat to high, and reduce the liquid by about half, scraping up the luscious brown bits from the bottom and sides of the pan. What's the best liquid for braising lamb chops: stock, pomegranate juice, white wine, balsamic vinegar (combined with other liquids) all work well.
Return your lamb chops to the skillet or Dutch oven. Cover with that tight-fitting lid and slide into your pre-heated oven and cook until wonderfully fork tender -- give it about 2 hours.
Remove the chops and reduce the sauce on the stovetop if you like. Check for seasonings before serving.
Put a solid sear to these chops and then de-glaze the pan with pomegranate juice and a splash of balsamic vinegar. "This pomegranate braised lamb shoulder is about as seasonally appropriate as it gets, and one of the best things I've tasted in a long time," says Chef John. See how it's done:
These shoulder chops are slowly braised in beef broth and red wine seasoned with rosemary, garlic, onions, finished with a little Worcestershire sauce. "Lamb shoulder chops are one of the most inexpensive cuts of lamb, and slow-cooking them is the best way to get that nice lamb flavor," says kalphen. "The meat falls right off the bone with this recipe."
Here's a Basque-inspired braised lamb shoulder-chops recipe, featuring radishes braised with the lamb, sherry vinegar, anchovies, chicken broth, rosemary, and cinnamon.
How to Bake Lamb Chops in the Oven
Baking is another quick and easy way to cook lamb chops. You'll start with a simple marinade. Give the chops a couple hours in the fridge to marinate. Then place the chops in a preheated oven -- 375 degrees F (190 degrees C). Bake for about 35 minutes, turning once halfway through.
These lamb chops are quickly marinated and then breaded and baked in a hot oven. "I found a lot of great recipes out there for grilled lamb chops but only one for breaded, and it didn't have a lot of flavor," says MSAGGIEAMY. "So I came up with this easy recipe myself a few years ago. It's bursting with flavor and has become a comfort food staple in our home. Use plain or Italian bread crumbs. We like it with a Caesar salad and garlic mashed potatoes."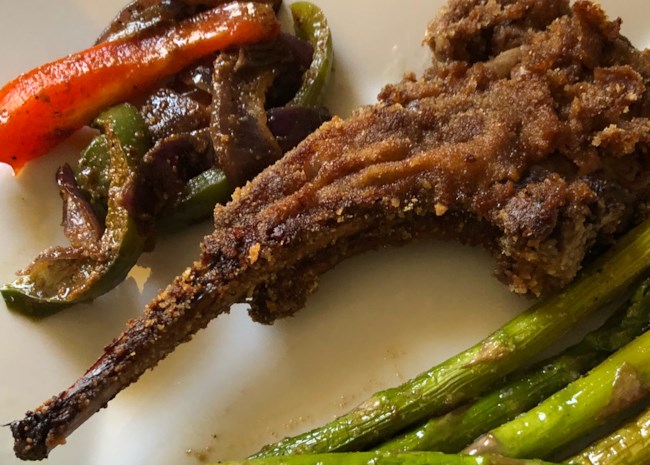 Photo by msyadyy1
"These lamb chops were the simple answer to what my husband and I were looking for," says SHRUBBIE. "These were juicy, crisp, and very tasty right out of the oven! Amazingly quick and easy to prepare. I would like to try flavored bread crumbs next time."
You'll marinate these lamb chops in the fridge overnight. Bring the chops to room temperature before roasting in the oven. "These are the most delicious lamb chops you'll ever taste," says Nelson_Huynh. "Plan ahead so you can marinate the lamb overnight."
How to Pan Fry Lamb Chops in the Skillet
Here's how to cook lamb chops on the stovetop. Begin by marinating the lamb chops. Add your ingredients to a Ziploc bag and give the chops a nice massage to distribute the marinade evenly. Pop it in the fridge for about an hour. Remove the lamb from the fridge and salt well on both sides of the chops, drizzle with a little olive oil. Sear the chops on a hot grill pan over medium-high heat for about 5 minutes on each side. The grill pan will create a nice char. If you don't have a grill pan, no worries, a standard heavy-bottomed skillet will work great too. When done, remove the lamb chops to a plate and let rest for about 5 minutes.
Note: Chef John uses chops from the shoulder of the lamb -- they're about half the price of chops from the loin. He quickly marinates his shoulder chops in pomegranate juice with fresh rosemary, freshly ground black pepper, and smashed garlic. And then adds them to the hot fry pan.
Impressive yet so simple to prepare, these herb-rubbed lamb chops are served with a delicious balsamic vinegar sauce starring shallots finished with a little butter. They get a quick fry in the skillet. "This recipe for lamb chops is a favorite in my house," says PGRAYMENDOZA. "It is an easy and quick recipe for two people (we eat two chops each). Rosemary and thyme give it great flavor. If you double the recipe, remember that the sauce will take longer to reduce."
This recipe highlights classic flavors. Lamb chops are simply seasoned with fresh rosemary and seared in a little olive oil and finished with a drizzle of homemade mint oil.
How to Cook Lamb Chops in the Slow Cooker
This will not surprise you, but cooking lamb chops in the slow cooker is extremely easy. You'll add the lamb chops, along with other ingredients, cover the Crockpot, set it to low, and then just walk away, folks.
With this simple recipe, you'll add onions and red wine to the slow cooker, along with lamb chops that you've coated with a honey, mustard, lemon juice, garlic, and herb mixture. "These are tender lamb chops slow cooked in a deep and rich red wine reduction gravy," says walliser.
---
---