A lattice-top pie crust may look a little fancy. But these easy-to-follow steps help you weave pie dough like a pro.
This numbered step-by-step follows along with the handy graphic below. And below that, don't miss ten of our top-rated pie recipes! Okay, let's get to it:
How to Make a Lattice-Topped Pie
First, prepare your pie dough: Before you begin rolling out the dough and making your lattice, it should be chilled at least half an hour. For best results, roll out the bottom crust and line your pie plate. Then roll out the top crust into a flat circle. Chill both halves of the pie dough before filling and baking to prevent shrinkage.
On a lightly floured surface, roll reserved dough out to a ¼-inch thickness. Roll it in a circle, as though preparing a double-crusted pie. Transfer the dough to a small cutting board, baking sheet, or other rimless pan that will fit in your refrigerator.
1. Cut the dough into strips approximately ¾-inch wide. You can use a sharp knife, pizza cutter, or scallop-edged pastry wheel. If you're worried about cutting straight, use a ruler as a guide. Cover the pastry strips with plastic wrap and place the pan of dough in the refrigerator to relax while you prepare the pie filling and transfer it to the pastry-lined pie plate.
2. When you're ready to weave, moisten the rim of the pie with a small amount of water. Start with the longest strips and lay the first two strips in an X in the center of the pie. You can arrange them at 90 degree angles or at a sharper 45-degree angle.
3-9. Alternate horizontal and vertical strips, weaving them in an over-and-under pattern. Use the shortest strips for the edges of the lattice.
If you're having trouble removing the dough from the cutting board or pan, roll the strips up like a rug and unroll them onto the pie. Press the ends of the strips firmly to the lip of the pie and trim away any excess dough with kitchen shears or a paring knife.
The amount of filling left to peek through the lattice is entirely a matter of style: thin strips of dough make a more elegant lattice, while a few wide strips give the pie a more rustic look. You can even twist the strips of dough as you form the lattice, so they look like festive paper streamers.
10-12. Once the pie has been covered with the lattice, brush the top with egg wash (an egg beaten with a tablespoon of water or milk) or milk for a brown, shiny crust. Dust the top with cinnamon-sugar, if desired.
How to Make a Lattice-Top Pie the Easy Way
10 Top-Rated Pies and Pie Crust Recipes to Try
"This is the BEST cherry pie I have ever tasted," raves duskyroses. "Very easy to make and very pretty, too!"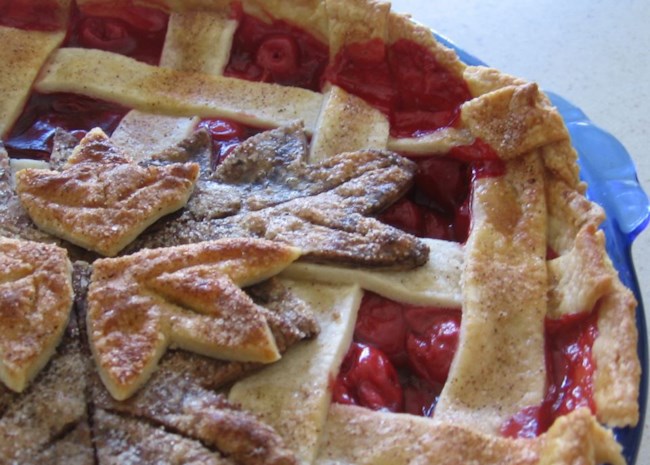 Photo by KARMAL8513
"The caramel sauce on the lattice crust makes this pie deliciously different," says LINDA NORRIS. "A really beautiful pie and so good. My family loved it."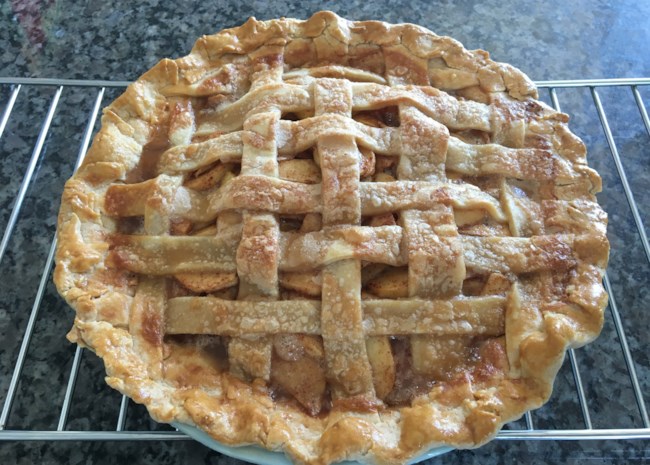 Photo by jmpenn7
"This is the best when made with fresh picked blueberries," says ASHESP. "It is a beautiful sight with a lattice top."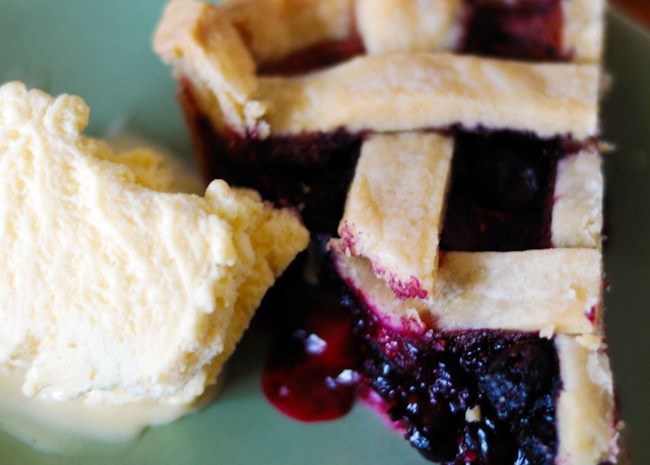 Photo by justamom
"A delicious tart and sweet combination," says Terri. "Nothing tastes better with vanilla ice cream. Use fresh or frozen rhubarb."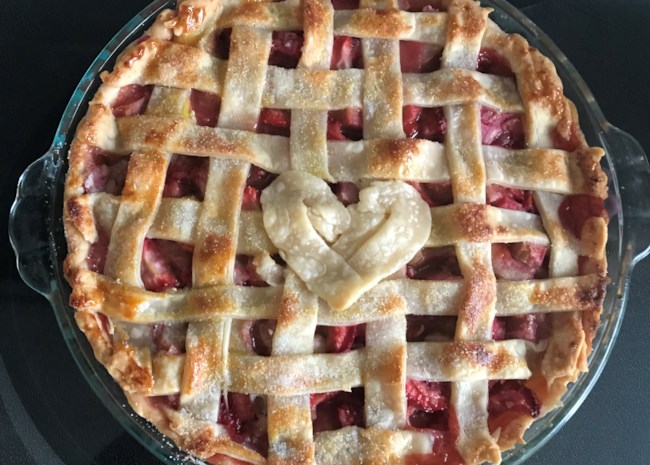 Photo by alazenby
Here's an old-fashioned peach pie using no eggs. "I'm not a baker," says Wendy Wilk, "but this pie is SO easy and tastes SO good! It's probably a good idea to let it sit for about an hour after you take it out of the oven, in order for it to set. You gotta try it."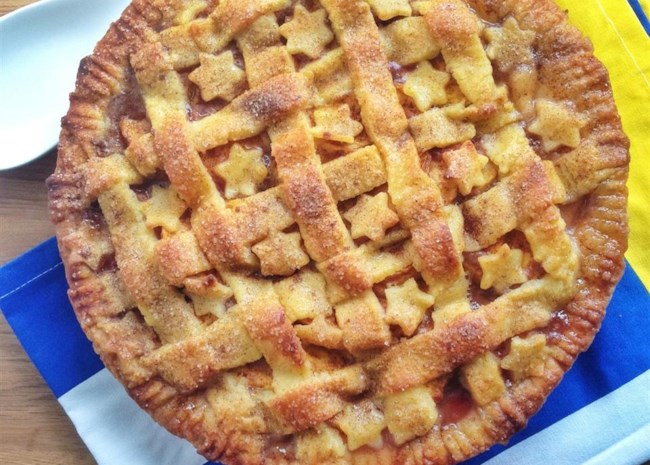 Photo by Jaded
"Good black berries are key," says JESSY HANLEY. "I loved this pie. I made a lattice top, which was absolutely beautiful. I found it needed to be cooked for the full 25 minutes with the lattice top."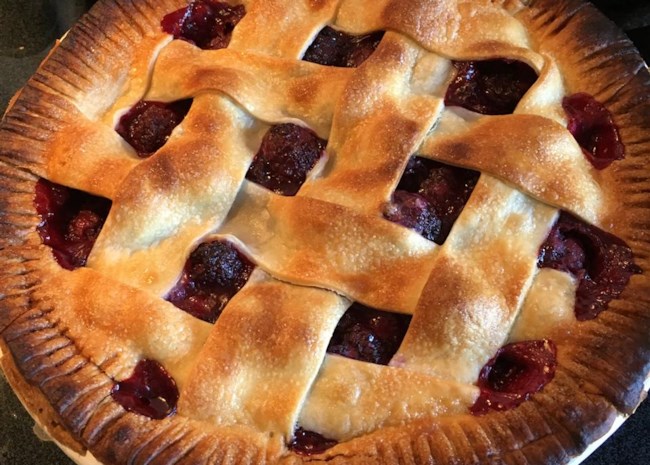 Photo by Sandra Silber
"DELICIOUS PIE!" raves GLAURA1. "There is just something a little different about a pear pie that is wonderful! And the recipe for this one is absolutely THE best!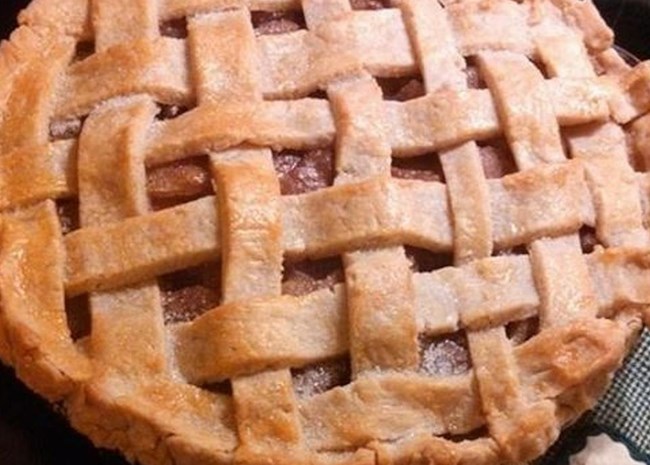 Photo by nurses-r-angels
Butter makes it better. "This is a foolproof flaky crust recipe," says MALTOMEEL. "The portions worked out perfectly for me. Thank you for a straightforward yummy crust!"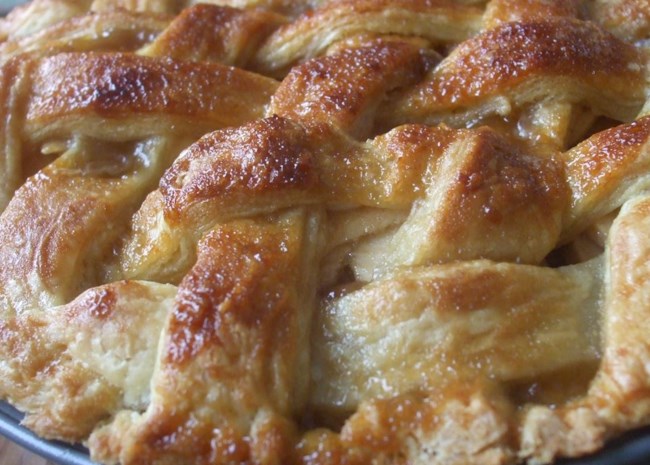 Photo by cook399
"An excellent pie crust recipe!" raves KOLBE. "I'd never made a pie crust using vinegar before; now I don't think I'll make one without it! Light, tender dough that's very easy to work with. Great for lattice top pies."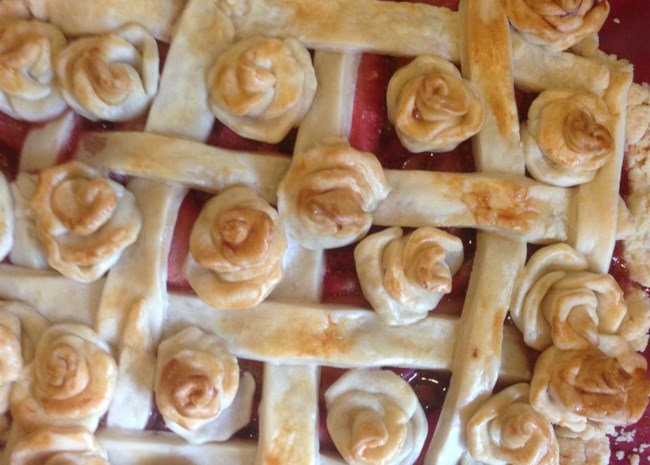 Photo by Nas
"This pie crust rolled out velvety smooth and was an absolute pleasure to work with," says KATYPI. "The crust is slightly sweet with a hint of lemon. This has to be one of the flakiest, most tender pie crusts I've ever made, and it will be my go-to crusts for fruit pies."
---
Check out our collection of Pie Recipes.
---
Looking for more pie inspiration?
Solve mushy peach pie syndrome with this Simple Peach Pie Trick.
Having other pie problems? Check out our Pie Troubleshooting Guide.
Something in a non-fruit pie? Find tips and tricks for Baking Custard and Pumpkin Pies.
Want to make a simple decorative border on your pie? Here's How To Make A Fluted Pie Crust.
Pretty up your pies with  Simple Pastry Cutouts.