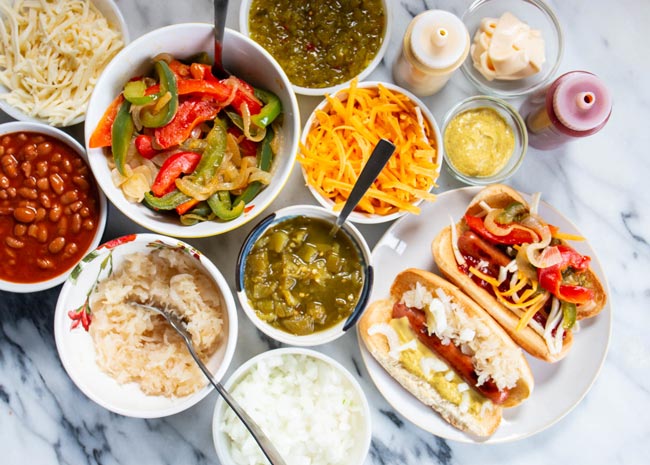 Choose your own hot dog adventure!
Create a little mid-week excitement by setting up a fun hot dog toppings bar where everyone gets to customize their dogs their way. Whether it's a way of getting the family around the dinner table one evening, or you want to host some of your favorite neighbors, setting up a hot dog bar is an easy, fun way to get the crew together even on a weeknight.
Hot Dog Topping Bar Planning Tips
From how to cook hot dogs for a crowd, to must-have toppings, check out our ideas below for how to put it all together.
Setting up the bar. When it comes to a hot dog bar, location is everything. Arrange ingredients in the order in which people will need them: plates, hot dogs, and buns on one end, then toppings down the line. Be sure to have enough forks, spoons, and tongs to make it easy for everyone to load up their dogs. And a lot of the toppings can be prepared either the night before or that morning, so that all you'll need to do is pull bowls from the fridge when it's go time.
Making hot dogs for a crowd. The easiest way to cook a lot of hot dogs is to bake them in the oven. First, use a knife to make a slit along the length of each hot dog, just ¼ inch deep. Then line a jellyroll pan with tin foil (for easy clean-up), load it up with hot dogs, and bake on 400 degrees Fahrenheit for about 15 minutes. Reduce the heat and keep the oven on warm (be sure it's at least 135 degrees Fahrenheit) to keep extra hot dogs warm.
Hot dog bun options. If you're feeling ambitious, try making Chef John's Hot Dog Buns from scratch. But, even if you go for store-bought, you still have some fun options: how about buns topped with herbs and spices. Or pretzel buns, anyone? If you want to really be able load up your dog, be sure look for oversized buns that can handle the awesomeness. And to warm your buns before serving, wrap them in foil and place them in a warm oven for about 20 minutes.
Must-have hot dog toppings. This could be debatable depending on who you ask, but we think you'll be in good shape if you have these items on your hot dog bar: ketchup, mustard, chopped onions, relish, and grated cheese. Just those items are going to add up to a pretty good dog, if you ask us.
Pick-and-choose toppings. How elaborate you get in the end is totally up to you, but here are some more hot dog topping ideas to inspire your bar: sauerkraut, coleslaw, pickled jalapeños, mayonnaise, chili, sautéed peppers and onions, bacon, additional mustard varieties, and pickles. Wanna get really creative? How about salami slices, kimchi, or unexpected types of cheese: feta, smoked Gouda…hot and cheesy queso?? Go crazy!
Simple sides. In an effort to keep the hot dog in the starring role of the night — and to keep your prep work to a minimum — keep the side dishes easy. How about a veggie platter, a fruit salad, or corn on the cob? Anything that allows you to serve a lot of people with just a little effort is what we're after.
Hot Dog Topping Bar Inspiration
Need some hot dog ideas to get you started? We've got you covered.
Guests can still doctor up their dogs however they like, but it never hurts to give them a head-start on the delicious with these bacon-wrapped wonders. Home cook macster60 says she set her deep fryer on 375 degrees Fahrenheit, and cooked the hot dogs for three minutes 20 seconds. They came out fantastic! I also used soft French rolls to handle a larger dog and to hold any condiments applied."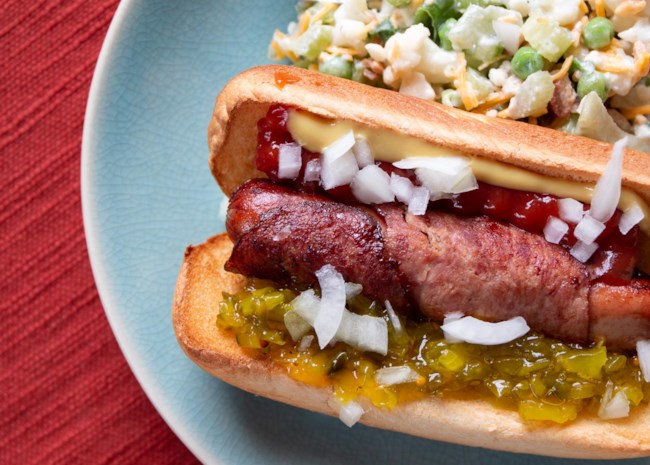 These hot dogs wrapped in tortillas are a great option for keeping thing simple with small children. You can easily change out the kind of cheese or tortillas you use, too.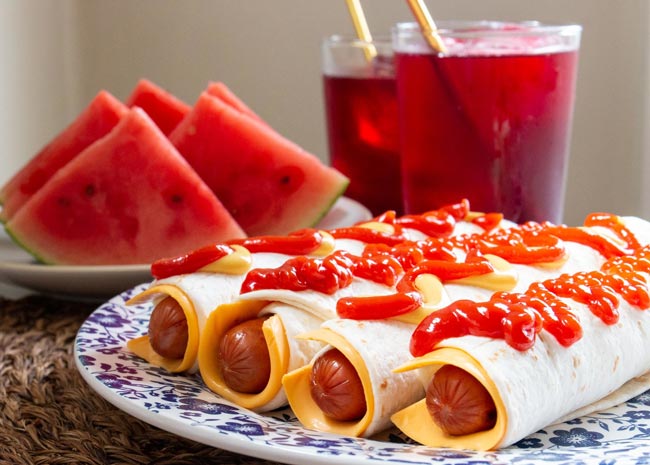 This easy sauce turns ordinary hot dogs into, well, a heavenly experience. For your hot dog bar, keep it in a saucepan on the stove top on low heat while serving. And if you have leftovers, good news: "It freezes great," says PBFITZ. "Five stars all the way!"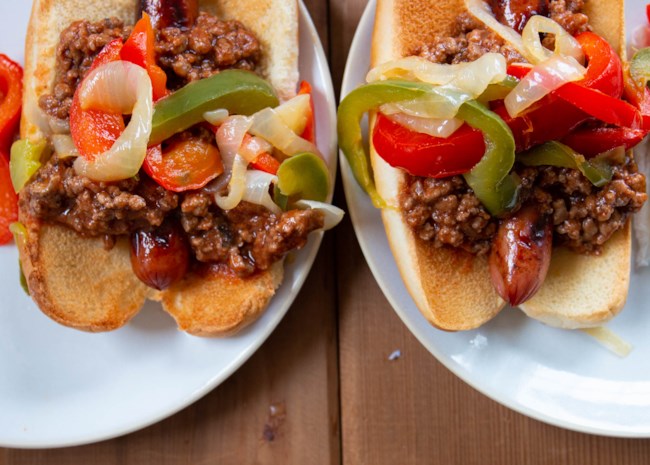 Recipe creator cchristie4 describes these as, "Southern-style hot dogs topped with coleslaw, barbeque sauce, and Dijon-style mustard." you can use a creamy slaw, such as this Sweet Restaurant Slaw, or slaw with a vinegar-based dressing, such as Angie's Dad's Best Cabbage Coleslaw.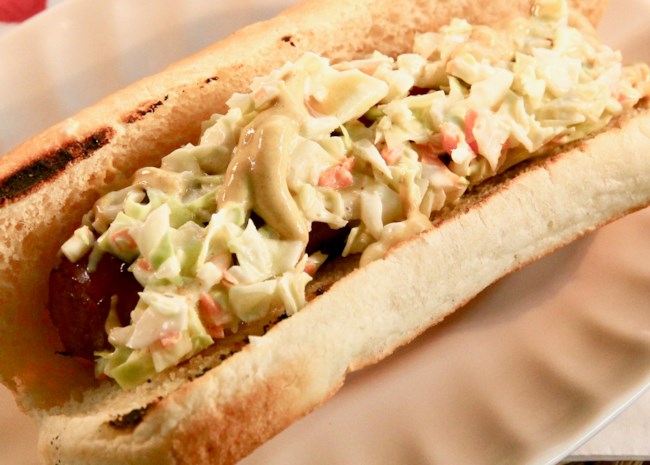 "Grilled hot dogs with pineapple, bacon chipotle slaw are the perfect summer holiday meal, combining sweet, smoky, cool, and crunchy!" says recipe creator Culinary Envy. She adds, "Other optional toppings: sliced red onion, red peppers, and yellow peppers."