There's a lot for you to juggle during the busy back-to-school season—and on busy mornings, filling your kid's lunch box with nutritious food that will stay fresh until lunchtime can seem like a daunting task. (We feel you!) Yet, armed with a few kid-friendly sandwich recipes as inspiration, you can dig yourself out of a brown-bag rut and start winning at lunch. Plus, as your kids get older, you can encourage them to pack their own lunches to help ease your burden (maybe that'll be a reality by the time they head off to college?).
Kid-Friendly Sandwiches and Wrap Ideas
Though there's nothing wrong with a regular PB&J, life is more interesting if you mix things up—and kids are less likely to get bored and start trading lunches with other kids. Get some inspiration with these recipes for wraps and simple sandwiches that are perfect for school lunch boxes.
If you want to take your peanut-butter-and-jelly game to the next level, try your hand at this simple and fun recipe that transforms a hum-drum sandwich into "sushi." Simply spread peanut butter and jelly on a tortilla, roll it up, and slice into several sushi-sized pieces. Recipe creator fabeverydayblog serves it with chocolate syrup for dipping and fruit on the side. If your kid's school is nut-free, simply swap the PB for sunbutter or another allergy-safe alternative.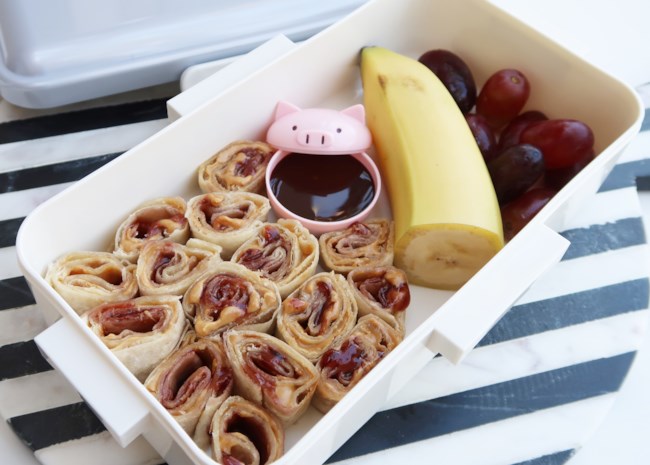 Though it may sound like a standard wrap recipe, this kid-friendly turkey wrap has a few elements that set it apart. Many users were initially skeptical of the chive cream cheese and Dijon mustard combo—but upon trying it, said it was a total hit (though some cut the mustard for younger palates). Plus, this recipe makes enough for the whole family and can be prepped ahead of time to make busy mornings that much easier. "I made them the night before and wrapped them in tin foil. They were outstanding and I followed the recipe exactly. Even our picky nine-year-old ate the entire wrap!" raves BDVE.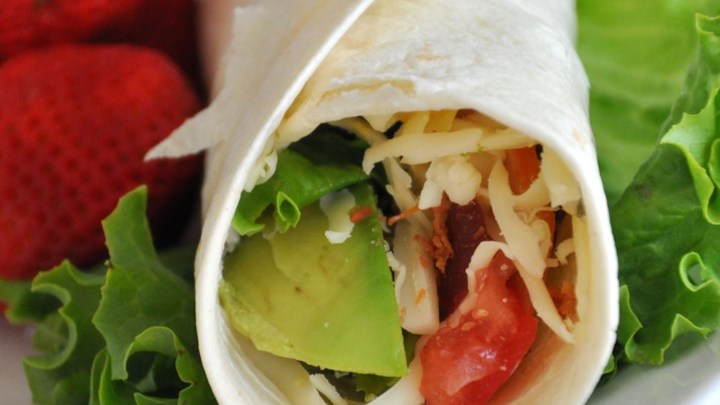 Photo by CC<3's2bake
Recipe creator Karen L. Baker says that this chicken salad—which is given a sweet taste boost with the inclusion of kid-friendly raisins, cut-up apples, and grapes—is even better the second day, making it an excellent make-ahead option (just put it on bread or in a pita in the morning before school for an easy-peasy lunch). Nell says, "My family loves this recipe. My two daughters can't get enough. I substitute yogurt for half the mayo and it adds a lovely tang to the already delightfully complex flavor." Watch the video to see how it's made!
Give these BLT wraps a try for the bacon-lover in your family. Super-quick to prepare on busy mornings, they hold together better than traditional BLT sandwiches—which makes them great for school lunches. Cris F. says, "My teenage son really liked this recipe without tomatoes and with ranch dressing. I also used the microwave bacon. This took about 5 minutes."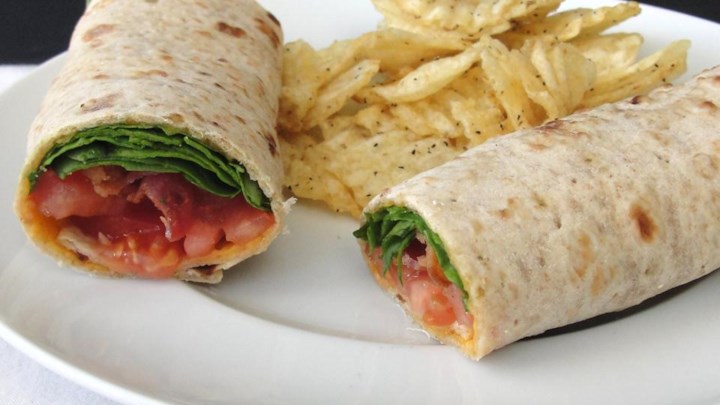 Photo by Rock_lobster
If your kids are into tuna sandwiches, check out this healthy fruit and veggie-packed version. A whole-wheat pita pocket holds everything beautifully. Lisa Moose Cagle-Oprel raves, "This was awesome!! My kids hated tuna....until this. Great blend of flavors. Nice and healthy—love it!!"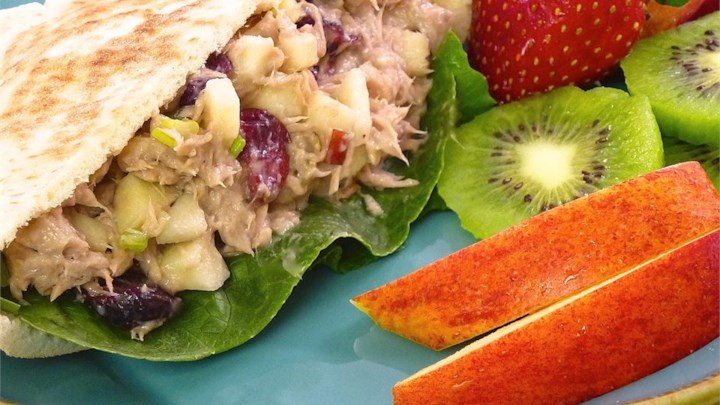 Photo by lutzflcat
Tips for Tasty, Simple School Lunches
Plan ahead: Just as meal planning can keep you on track for dinnertime, it can also be a huge help with school lunch prep. Take some time over the weekend—or before a big grocery shopping trip—to consider the ingredients you already have on hand, then fill in the missing pieces for a full week's worth of school lunches.
Get your kids involved: Help younger kids feel empowered by giving them some healthy options they can choose from. (Carrot sticks or cucumber spears? Yogurt or applesauce?) Older kids can start by making their own weekly lunch plan; as they grow and are able to get more involved in the prep, choose recipes together that they can make on their own or with some assistance.
Make it ahead: Avoid the morning rush by prepping as much as you can the night before. Many kid-friendly wrap ideas can be made ahead of time, then wrapped in foil and refrigerated. Most sandwiches should be assembled in the morning to keep the bread fresh, but the fillings can often be made ahead to help you get a jump on the hectic morning schedule.
Invest in quality containers: Buying great containers can help get your kids excited about lunch, while also keeping food cool and intact for hours. Have your kids help you pick out something fun, yet practical. Look for containers with lids that are tight-fitting, but easy enough for little hands to open. A small ice pack will help keep food fresh.
---
---
Related: