We love sweet potatoes any time. But they're always extra special at the holidays, when we gobble them up in classic sweet potato casseroles, in jazzed up twice-bakers, as mashers and more. Check out some of our favorite classic sweet potato recipes for the holidays -- along with a few exciting change-of-pace sweet potato recipes that we're loving.
Here's one that comes down on savory side. "Sweet potato side dishes are sometimes too sweet," says Chef John. "So here I've brought in lime, jalapeno, and sharp Cheddar, paired with green onions and bacon, to make it easier to finish a whole sweet potato. And by whole, I mean two. This is a delicious, easy-to-make choice for your Thanksgiving table, since you can prep it ahead of time, and then bake them when you're ready to serve. Garnish with green onions."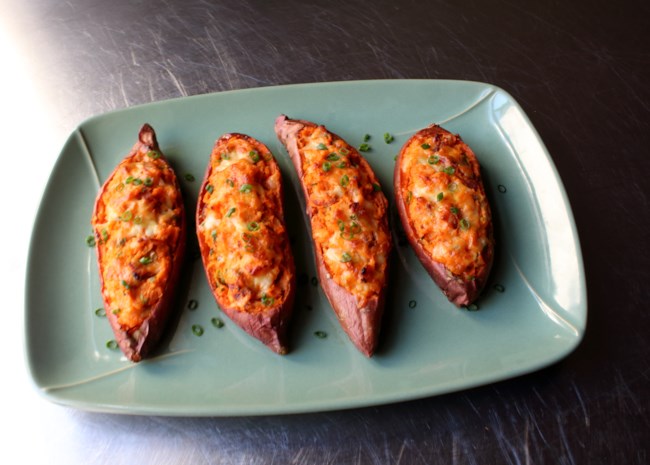 Photo by Chef John
Here's a classic Thanksgiving sweet potato casserole with a crunchy pecan streusel topping. "This recipe made me a sweet potato lover," says GinaS. "It is AWESOME! To be honest, I was not crazy about sweet potatoes in the past. My whole family raved over it! It was the most popular dish at our Thanksgiving table."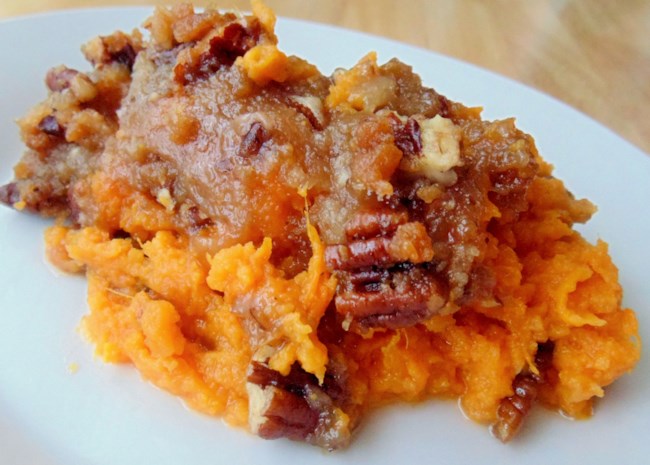 Photo by Christina
This is a great compromise recipe between the sweet and the savory. Smoky bacon and caramelized onions tilt this sweet potato side dish toward the savory, while pure maple syrup adds a sweet element that balances it all out wonderfully. "These are fabulous," says Rae. "I loved the salty smokey flavor of the bacon and the onions were a great addition."
Another one for team savory! These sweet potato boats feature ricotta cheese, shallots, ground ginger, fresh sage, brown sugar, and grated Parmesan cheese. "An excellent recipe," raves ALINDNIC. "I was surprised by the richness of flavor and silky texture that the ricotta lended to the potatoes without the addition of butter or oil." If you like, top them with extra ricotta and chopped sage.
Mix Neufchatel cheese into mashed sweet potatoes create rich and creamy. "I love that these potatoes aren't overly sweet," says JenFL. "They're super creamy and were easy to make."
Did you save room for one more classic sweet potato casserole? It's a sweet sensation with the classic marshmallow topping, along with brown and white sugar and cinnamon. Adjust the amount of cinnamon and sugar to your liking. "Easy recipe, fun to make, and totally delicious!" says iloveladiesman217.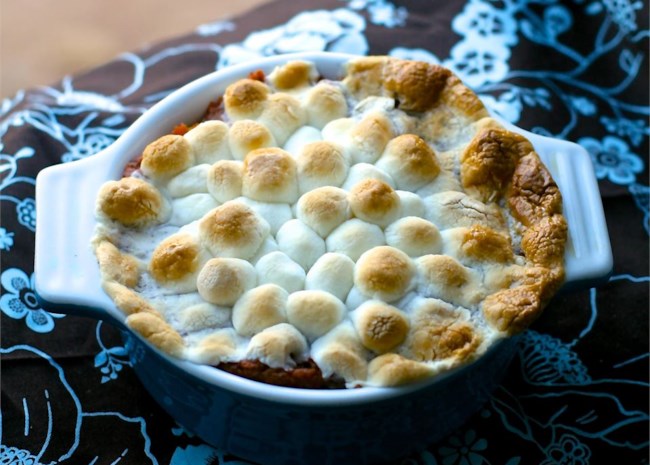 Photo by MyHotSouthernMess
Brandy-soaked raisins are the star of the show here. "This is a simple and perfect sweet potato dish," says mauigirl. "The brandy complements the potatoes beautifully and the raisins add a nice touch. Love the fact that they are NOT overly sweet. I will try this with dried cranberries for the holidays. This dish will definitely be on my Thanksgiving table."
Here's a great sweet potato recipe to partner with deep-fried turkey or grilled turkey. "Salty, sweet, spicy, all in one bite!" says France C. "These are delicious! Such an interesting blend of flavors." Adjust the spicy seasonings as you like.
Will finish off the list with a tasty break from tradition. Here's a great suggestion for making the little dumplings: "Try putting the dough in a floured pastry bag (or a Ziploc with a corner cut out) and squeezing it out like toothpaste," says Rachel D. "Then slice off bits with a sharp knife to make dumplings. You can squeeze them right into the pot of boiling water!" You can make these with butternut squash, too.
---
---
Related: