Mmm, the sweet surprise of fruit complementing tender, savory meat. These meaty recipes marry sweet plums, peaches, nectarines, and apricots with savory pork and chicken. Together, they're a stone-fruit groove.
"When shopping for this recipe be sure to choose plums (or any other stone fruit) that are fairly firm so they keep their shape after roasting" - Chef John
"The sweet-yet-spicy peach glaze makes any pork chop amazing, plus it's quick and easy!" - Krazykhat
"These are absolutely divine. So simple and so beautiful. They look like they require so much more effort than they really do." - Carrot Top Christie
"A taste of the Mediterranean in one delicious baked chicken dish. This is a classic Chicken Mirabella recipe." - Teresa
"A zippy, sweet and spicy nectarine salsa goes really well with pork, particularly grilled pork, in this favorite summer recipe." - MICHELLE0011
"Sweet and spicy boneless pork chops made with a special sauce that includes peach preserves and white wine." - Virginia C.
"A pizza featuring ricotta, pancetta, and peaches. Garnish with extra sprig of thyme if desired." - Chef John
"My neighbor made this dish at a barbecue and I had to have the recipe. It is so easy and you will be surprised what a wonderful flavor the peaches give to the chicken!" -- SOMEONESWT
"This is a delectable chicken dish from Kozani, a city and region in northern Greece. The prunes and onion lend sweetness, while the paprika offers a smoky flavor." - Diana Moutsopoulos
"The combo of sweet prunes, salty bacon, and meaty sausages is delicious. This recipe is great with any fresh, large sausage. Sometimes I use sweet Italian, sometimes spiced Italian, bratwurst, knockwurst, or just local pork sausage. Serve in buns with all the usual fixin's." - Heather
"Pork is an excellent choice for family dinner. Stuffed with orange- and ginger-accented dried fruit, the glazed roast slices beautifully and appeals to all ages." - cpchef
"Pork cutlets are stuffed with peaches, jalapeno, and sausage and rolled into rollatini and grilled for a quick and easy weeknight dinner that looks gourmet," says Eric Adler.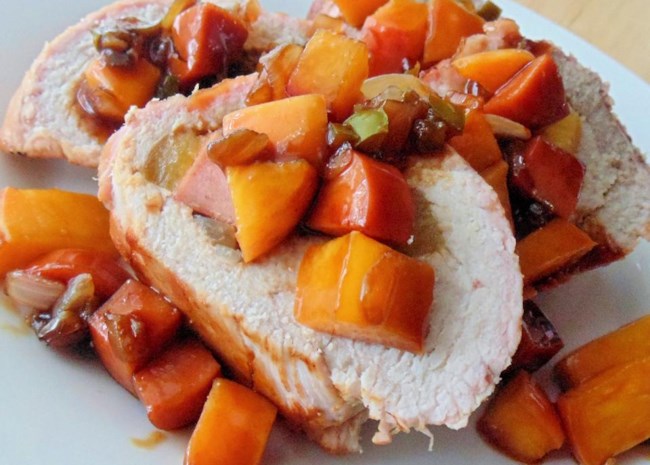 Photo by
Related:
---