Who has time to cook elaborate meals when you're juggling soccer practice, ballet lessons, and the school science fair project? Not you! But the family still needs to eat, right? To help you get dinner on the table quickly, we're sharing tips to make meal prep go faster, and we've handpicked 10 dinner recipes that slash prep time and the number of ingredients you need to make a winning weeknight meal. Because let's face it: If you're already run ragged by the back-to-school routine, you probably don't have a ton of time to spend grocery shopping either.
Tips to Make Meal Prep Go Fast
Stock your freezer with basics that will thaw in your fridge during the day (chicken thighs and breasts, sausage, and ground beef will all be ready to cook by dinner time).
Buy the pre-chopped veggies at the supermarket. No shame here in having someone else do the knife work in order to get dinner on the table faster.
Frozen bags of mixed vegetables (think peppers and onions) work great for quick stir-fries, and add a ton of flavor without lots of chopping time. (Plus, they're just as nutritious as fresh!)
Two words: Slow. Cooker. Find recipes with quick prep time and that need little by way of garnish when they come out of the slow cooker. In fact, we've rounded up 10 easy slow cooker meals that go from prep to pot in minutes.
Look for recipes that cook unattended so you can whip up a quick salad or side while they're cooking.
10 Quick Dinners With 5-Ingredients or Less
These recipes prioritize quick prep time and some favorite seasonal ingredients, and are all ready in time to feed hungry bellies on a typical school night. And as a bonus, many use ingredients you probably already have in your pantry or freezer. Dive right in: There's no time to waste around here!
The secret to this 16-minute homemade pizza is using jarred pesto and swapping out a traditional pizza crust for Greek pita flatbreads. You can chop two tomatoes and slice a few olives in the time it takes for your oven to come up to temperature, right? (Particularly if you take recipe reviewer Chef V's advice to up the oven temp from 350° to 400° for a crispier crust.) Maybe you'll even get as inspired by this recipes as Mommyluvs2cook did, saying, "Loved this pizza! Used a prepared crust and prepared pesto, but would love to try this again with everything homemade. YUM!"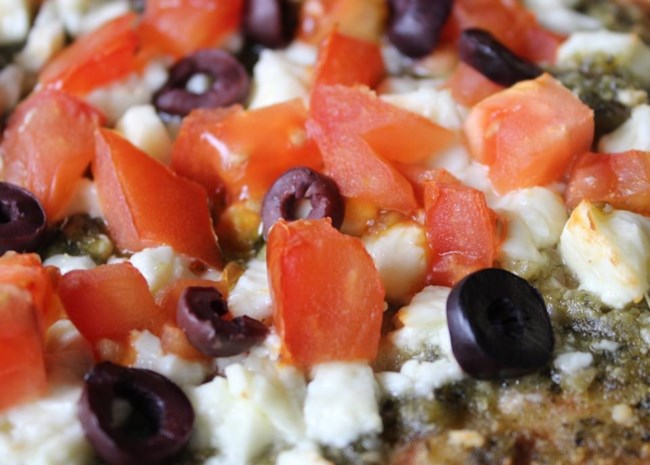 Photo by Mommyluvs2cook
More: Get tips to make homemade pizza that's better than takeout.
Sure, you could fry up some onions to add a homemade touch to this crispy chicken…or you could buy pre-made French-fried onions and get this meal on the table in 30 minutes. Take advantage of the 400° oven for the chicken to add a baking sheet of quartered Brussels sprouts or other fall vegetable to the meal. Chop veggies into equal-sized pieces (the smaller they are, the faster they'll roast), drizzle with a little oil, and sprinkle with salt for an easy, seasonal side.
Want to change things up a little? Recipe reviewer americanwitch says, "This was super easy to make. I did add black pepper to the crushed onion and it turned out great. Next time I will add some grated Cheddar (or Parmesan) to the crushed onion just to try something different."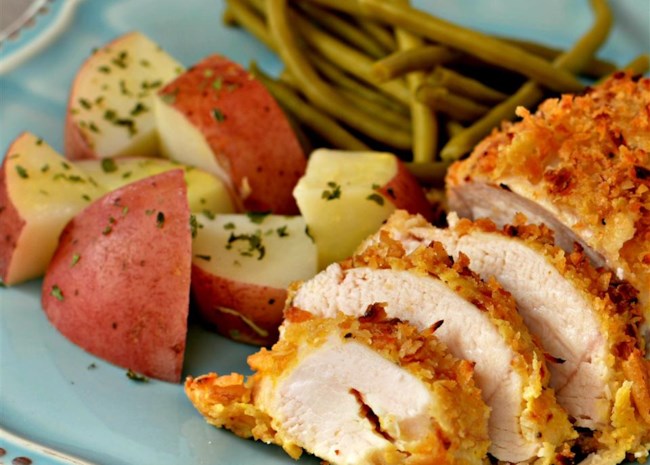 Photo by bd.weld
More: Get more chicken breast dinners that use 5 ingredients or less.
OK. You need to carve out 10 minutes of prep time in the morning, which means a little bit of thinking ahead in order to make this a fast weeknight dinner. But: bonus! It cooks all day while you're away, leaving you with just 15 minutes of work when you get home at night and have a ravenous crew to feed. (It's worth the effort, we promise.) Or take it from Allrecipes home cook Brenda, who says, "These ribs were really good. I was surprised, as the recipe was very simple and didn't take much time. My whole family really enjoyed these!"
If there's a fall-like snap to the air, you can follow Allrecipes home cook Laurie's lead and cook this fast and easy shrimp dish in your kitchen instead of out on the grill. She says, "We loved this recipe. Made a few changes, by adding Cajun seasoning to the mayo. We cooked under the broiler, 2 minutes on one side then 3 on the other." We say: This recipe is delicious, easy, and on the table in 25 minutes. What's not to love? (Hint: keep a bag of frozen uncooked shrimp in the freezer and a lemon in your fridge and you'll always have what you need to make this recipe on a busy school night.)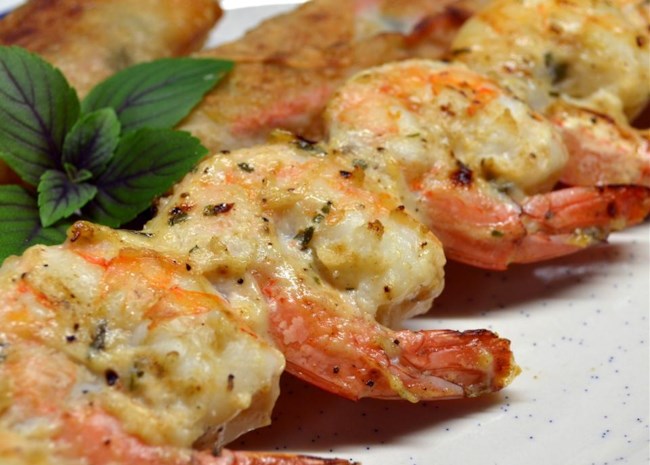 Photo by *Sherri*
More: These top-rated shrimp recipes are ready in 30 minutes or less.
This recipe has all the trappings of a fancy meal at an Italian restaurant—but has only five ingredients and is on the table in just over 30 minutes. Take it from Paula Viccaro, who says, "Excellent, tasty dish!! Really something different and interesting to eat! Like something you would order at a fine restaurant!" (Which made us wonder: why do we eat out, again?) Serve with a kale salad or other slightly bitter seasonal green to help make the balsamic flavor really pop.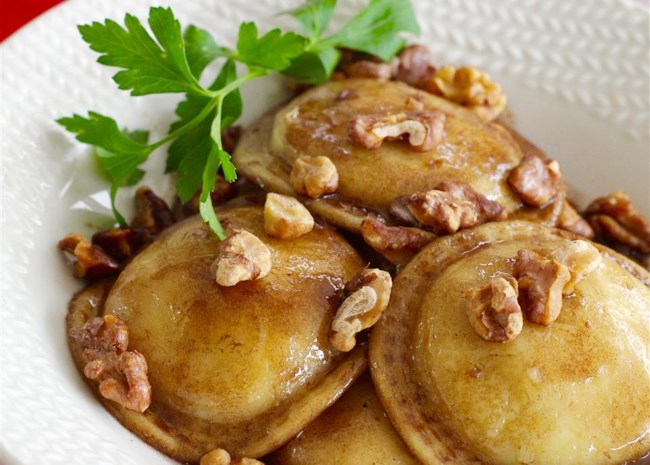 Photo by lutzflcat
Tacos are an easy dish for the whole family to get behind, and using chorizo adds a spicy flair that's a nice departure from chicken or steak. Keep a package of chorizo sausages in the freezer and you're just a quick thaw away from these tacos—or an easy sheet pan meal of chorizo and roasted veggies. Some Allrecipes members suggested dialing back the chipotle peppers in adobo sauce if your family isn't a big fan of spicy things, but Daniela Miller didn't change a thing, and says, "Fantastic recipe! A new family favorite. I changed absolutely nothing on this recipe. Also very easy to make."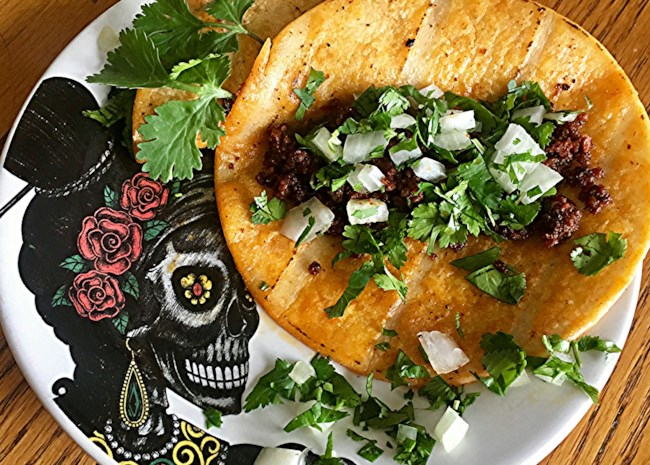 Photo by Yoly
More: Get 21 taco recipes that'll top what you get at the taco truck.
When you're looking for fast and easy, fish is a great dish to put on the menu. Even kids tend to like this fast and easy salmon recipe, which has a hint of a sweet-mustard flavor to it. Even better: if you're truly pinched for time and have frozen salmon in the freezer, you can thaw it out for same-day prep by placing it in a sealed plastic bag and running it under cool water.
More: These top-rated salmon recipes are ready in 30 minutes or less.
This one-pot wonder of a meal saves you time on the front end—only 10 minutes to prep!—and on the back end, when you only have one pot to wash. You can't get much easier than that. Save time and energy by buying pre-chopped peppers at the store, or do as MAMASPICE did and use frozen peppers to get this recipe on the table in a flash.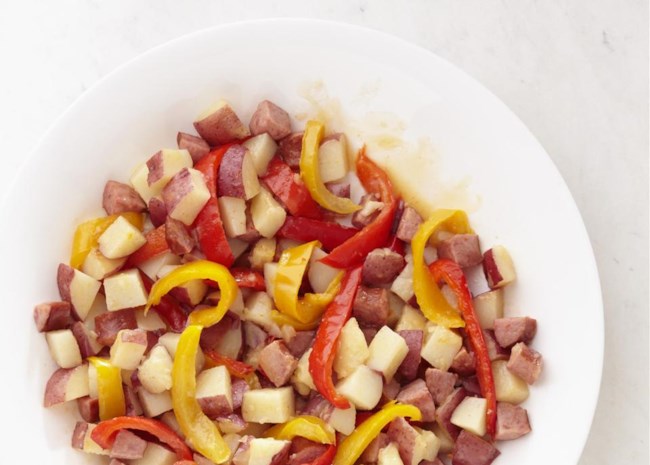 Photo by Allrecipes Magazine
More: These are the easiest one-pot pasta dinners you'll ever make.
If the weather lets you get out and grill, you'll want to get these turkey burgers on the grates! While the grill heats up, you can mix together the ingredients for a burger, then make a fast salad with whatever's left at the farmers' market (or your garden) to make a seasonal fall salad. Allrecipes member Bullfrog270 says this about the recipe: "So easy—just 5 ingredients. Both my 6- and 9-year-old sons love this." If by some miracle you have an hour to spare, form the patties and put them in the fridge to help them hold together better. If not, just mix and grill for a delicious weeknight dinner.
More: Discover our best ground turkey recipes.
Using a package of frozen stir-fry vegetables is the secret to getting this hearty and delicious vegetarian lo-mein on the table quickly. Allrecipes member MrsWifey/Mommy was a big fan of the short list of ingredients, saying, "This was VERY good for a fast supper. My pantry was bare, I didn't have any frozen stir-fry veggies but I had carrots, celery, mushrooms, and onions. It turned out VERY tasty & my whole family of six, plus a baby, polished off an 8-serving meal."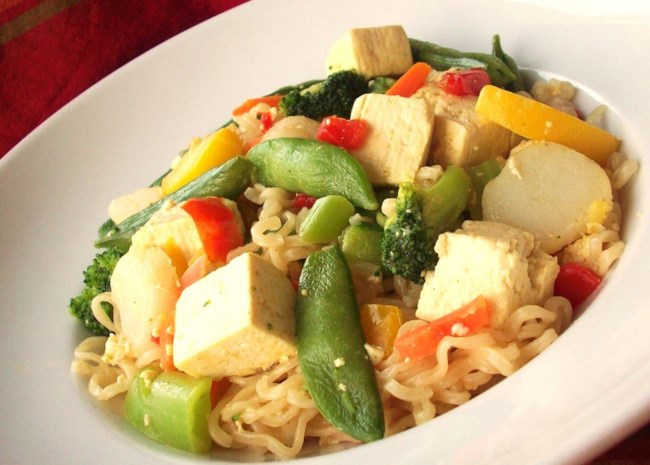 Photo by Cookinbug
More: Try these quick and easy Chinese dinners you can make at home.
Related