Breakfast might be the most imporant meal of the day, but it can feel like a huge challenge to get a nutritious, filling meal on the table when you're rushing around getting ready for the day—particularly if your coffee hasn't kicked in yet.
It's easy to just reach for a store-bought bar or frozen breakfast, but a satisfying home-cooked breakfast can be on the table in mere minutes with the help of one superstar ingredient: eggs. Scrambled, fried, poached, or boiled, easy breakfast eggs are tasty, versatile, and packed with protein to keep you feeling fuller longer.
We'll share time-saving tips for making breakfast eggs, and 10 quick and easy breakfast egg recipes to try—each of them ready in 15 minutes or less.
Tips for Easy Breakfast Eggs
Plan ahead: Pick out a recipe the night before so you're not scrambling (no pun intended!) to figure out what to eat in the morning. If you're feeling particularly motivated, make a breakfast meal plan for the week.
Prep ahead: Though most egg dishes are best eaten right after they're made, try to get any prep done ahead of time. Gather the ingredients you'll need and put them on the kitchen counter or at the front of the shelf in the fridge. Chop veggies, grate cheese, even pull out the pan you're going to use ahead of time—every minute counts in the morning rush!
Keep it simple: Weekday mornings are not the time to try difficult new techniques or cook elaborate meals—save those for lazy weekends. Instead, choose recipes with just a few ingredients that can be cooked in under 15 minutes.
Keep a stocked fridge and pantry: There's nothing worse than reaching for eggs only to realize you're all out! You don't need much for easy breakfast eggs; just one egg can make a satisfying breakfast. But some bread, veggies, or other extras can really bring it up a notch.
More: Explore our entire collection of top-rated breakfast egg recipes.
10 Quick and Easy Breakfast Eggs
Check out these 10 quick and easy egg breakfasts that you can have ready in 15 minutes or less. You'll be the champion of your own morning, every morning.
Whether you call this dish egg in a hole, egg in a frame, toad in a hole, or anything else, this fun twist on fried eggs and toast is sure to bring a smile to your face (and belly!). Though this recipe calls for cooking in bacon grease, many reviewers chime in to note that butter or olive oil work here, too. And, though recipe creator rosburn likes a runny egg, this speedy egg recipe can easily be customized. Cookies says, "I turn down the heat after I put the egg in and cover with a lid for a few minutes or until the white and most of the yolk is cooked. I sometimes scramble the egg before putting it in the hole (kids like it this way)."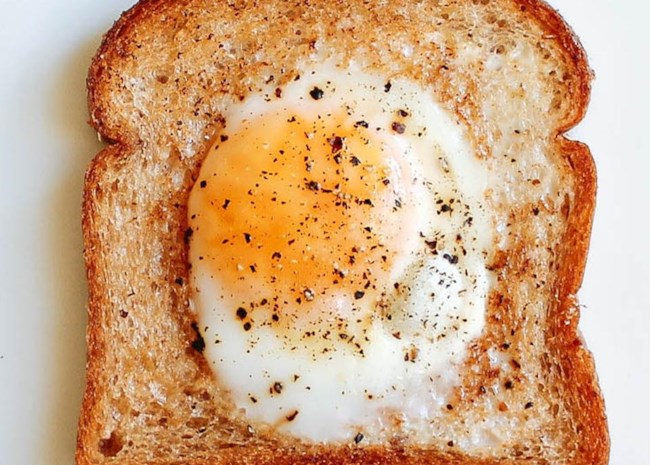 More: Here are 6 fun ways to eat egg in the hole.
Healthy, flavorful, and filling? This egg white omelet with avocado and feta cheese checks all the boxes—plus it comes together in just 10 minutes! Recipe creator Kimberly Coventry says, "This super-simple egg white omelet is loaded with protein and good fats to start your day off right!" Reviewers note that you can add other veggies you have around, and can use whole eggs as well with great results.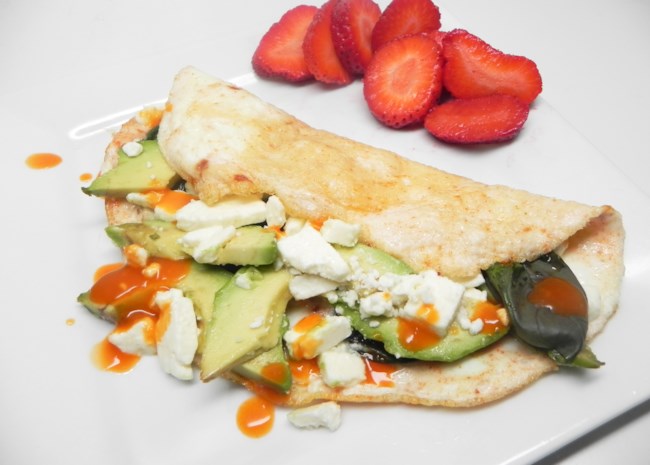 This recipe for Mexican breakfast tacos will have a restaurant-quality meal on your breakfast table in just about 15 minutes. With crumbled chorizo, scrambled eggs, Monterey jack cheese, salsa, and hot sauce, this flavor bomb will surely fuel your day. Merlethecat likes to add sauteed onions and peppers to the eggs and top with tomato and green onion, and also notes, "following the directions included in this recipe for warming the corn tortillas is important—just warming in the microwave or in foil in the oven does not do the trick!" To slash even more time off this speedy recipe, cook the chorizo the night before. You can reheat it quickly in the morning and set it aside to add to the scramble.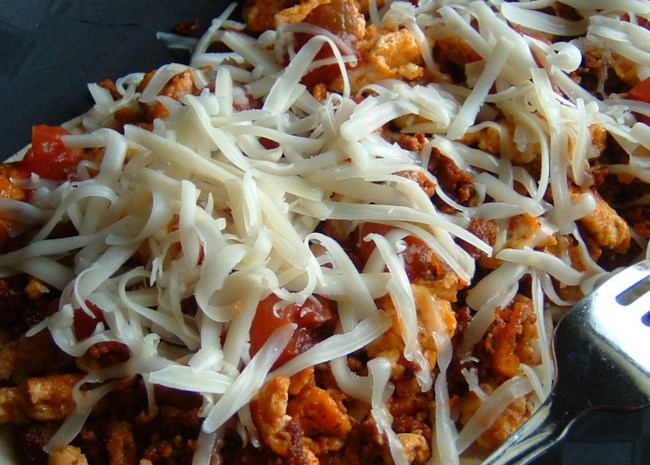 This outside-the-(egg) box recipe calls for grating Parmesan cheese into a skillet before adding whisked eggs so that the cheese forms a crispy exterior layer for an omelet. "The caramelized cheese formed a thin but protective layer and, since the eggs had never directly touched the pan, they were moist and tender," explains recipe creator Chef John. "This will also work whether you use one or three eggs, depending on the texture you're going for. Using a single egg is kind of a cool trick, since the cheese layer is almost as thick, and you can really appreciate the crispness even more." Reviewers love this recipe and suggest adding cooked meat and/or veggies into the middle before folding in half.
Video: Parmalet (Crisp Parmesan Omelet)
More: How to make fluffy, tender omelets.
As recipe creator Matt D says, this is "a quick breakfast if you're trying to avoid carbs." Containing just scrambled eggs, canned beans, sliced avocado, and salsa, there's very little prep required, yet this breakfast dish yields a whole lotta flavor—plus plenty of protein and good fats to keep your energy levels high. MCabrera75 says, "I seasoned the beans with green onion, cilantro, garlic, onion powder, and pepper and cooked them on the stove top. My daughter and I love black beans and really liked this for breakfast. It was filling and left us satisfied well into our busy day!" Some folks like to add shredded cheese and sour cream as well.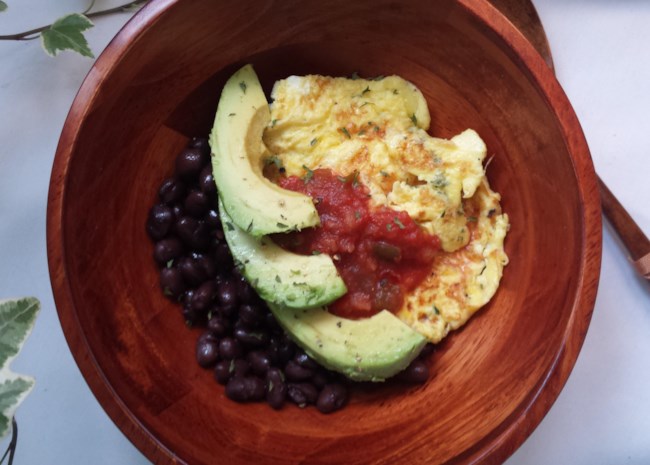 Sometimes the simplest recipes are the best. Nothing is easier than hard-boiled eggs—in theory, anyway. But it can be tricky to get them just right! Follow Chef John's fool-proof method (watch the video for some extra tips) to learn how to make hard-boiled eggs with soft, creamy yolks every time. Nancy Kashou Ormsby raves, "I was skeptical because I've tried two suggestions before and it never comes out the way I want. I tried this and PERFECTION. Thank you, thank you!!" These make a great grab-and-go breakfast on their own, can be packed for a midday snack or added to salads, and can be made ahead of time for a fuss-free morning.
Video: Soft Hard-Boiled Eggs
Do you really need a recipe for scrambled eggs? Allrecipes home cooks suggest that maybe you do—and that you should give this one a try. Recipe creator mimo1099 has tweaked this version to perfection—and reviewers agree! "'TO DIE FOR' scrambled eggs! Only one change next time ... double the recipe! Loved it, thank you..." says Paul Spagnolo. The secret? Cheddar cheese, a teaspoon of heavy cream, and ham (if you like) bring this quick breakfast staple to the next level.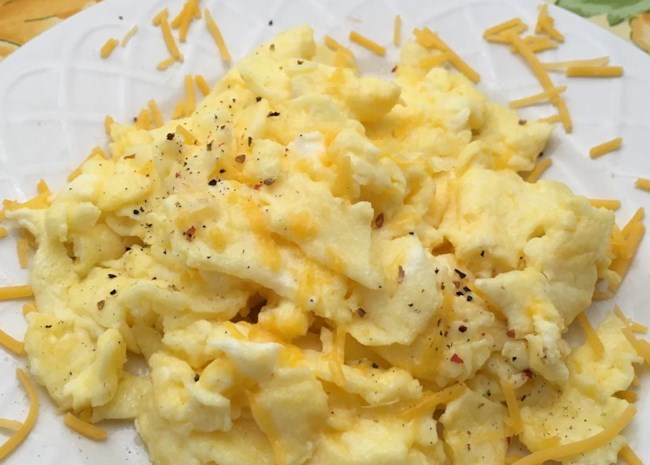 More: Get tips to make perfect scrambled eggs.
You read that right: this is a recipe for a pancake breakfast sandwich. Does it get any better than that? (We think not.) Also, since this utilizes leftover pancakes, all you have to do is fry an egg and warm up the ham and pancakes. Jillian says, "Simple and delicious! What a great idea for a quick and easy breakfast treat! I love the combination of sweet and salty. Whenever I make homemade pancakes, I make a ton—enough to freeze a few for a future date. This was a perfect reason to thaw a few and assemble these sandwiches."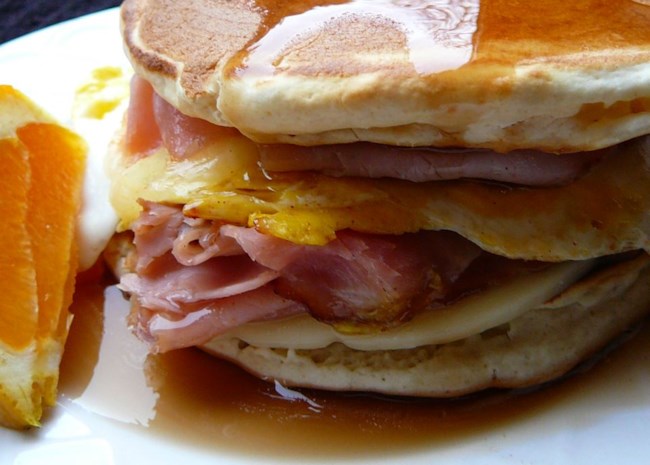 Egg in a hole may be classic, but for anyone who's gone paleo or is trying to watch their carbs or gluten, this variation using bell pepper slices instead of bread is the way to go. Plus the presentation in a pepper ring is quite fabulous! A number of reviewers suggest cooking the pepper slightly first. Peggy Finn says, "Super easy and fast! I made it just as written except I browned the pepper rings a few mins to soften them. It was delicious. The peppers were still a bit crunchy."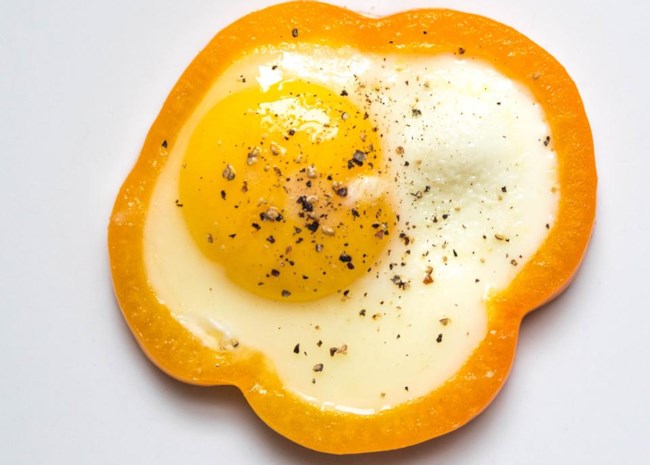 Feeling a little fancy but short on time? Whip up this ancient recipe for cloud eggs, which tastes just as dreamy as it sounds and is ready in just 15 minutes. Recipe creator Olenka explains, "this centuries-old recipe for cloud eggs was developed in France, and called Eggs in Snow, or Oeufs a la Neige. It's a show-stopping brunch dish that is actually ridiculously easy to make." Reviewer Jaclyn notes that it can be easily customized by folding crumbled bacon, tomatoes, shredded cheese, or other ingredients into the egg whites before cooking.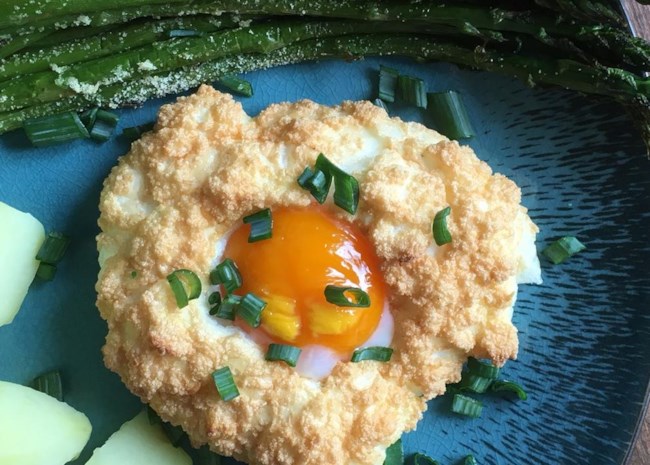 Related
These 10 quick breakfast wraps are ready to go in 15 minutes or less.
Here are 6 healthy breakfasts you can run out the door with.
Try make-ahead breakfast bites for easy eating on the go.