What makes rice noodle salads so amazing? Texture as much as taste. Done right, cold rice noodles are tender and chewy with just the right bite. They're essentially spring roll bowls: All the yummy wrapped-up goodness of spring rolls, set free into your bowl. Also, they're ridiculously easy to make. Here's how:
Pour hot water over them and let 'em soak, stirring now and then, as you prep the rest of the meal. They're ready in about 15 minutes.
When it's hot outside, cold noodle salads are even better. Top 'em with grilled chicken, pork, beef, tofu, or shrimp, and the kitchen stays nice and cool. Add a snappy dressing, and these salads are truly refreshing.
Chop up mixed herbs like basil, mint, and cilantro. And maybe some chopped lettuce, cabbage, carrots, or zucchini. Sprinkle over some chopped peanuts. Maybe a glass of chilled rosé on the side? Good thinking.
Top-Rated Rice Noodle Salad Recipes
"Cao lau is made with noodles, pork, and greens traditionally found only in the town of Hoi An, Vietnam," says Michael Kuhn. "This recipe approximates authentic cao lau with easier-to-find ingredients. Use fresh rice noodles about the same thickness of linguine."
Toss rice noodles with romaine lettuce, red bell pepper, red and green onions, cucumber, garlic, ginger root, jalapeno pepper, and fresh basil and cilantro. "With these noodle bowls, the real clincher is the sauce, and this one is quite good," says Buckwheat Queen. "Delicious."
"This Vietnamese-style noodle salad is my 'too hot to cook' staple," says AnnInLondon. "It is bursting with flavor and makes great use of leftover grilled meat or shrimp."
Watch Chef John make this spicy noodle salad with grilled chicken. In the video, he unveils his patented "chiffonwad" technique for chopping fresh herbs.
"This is a nice light and healthy meal, and very delicious," says BATCAVES. Cooked rice noodles mix it up with carrots, cucumbers, mint, and napa cabage, topped with a snappy dressing of lime juice, jalapeno peppers, fish sauce, and cilantro.
"A refreshing Asian-style cold salad with rice noodles, ground pork, cilantro, and veggies," says Lally. "Add crushed red pepper flakes to the dressing for extra heat."
"Very easy, fast, and delicious," raves Steph. "I served it on a bed of chopped lettuce -- a great addition to make this a full meal."
Fresh peaches are the surprise ingredient in this refreshing noodle salad! The sweet peaches combine with napa cabbage, grilled shrimp, fresh basil, and cherry tomatoes.
This simple noodle salad combines fresh herbs, rice vermicelli, cucumber, bean sprouts, and more, topped with grilled shrimp. Toss it with a tangy sweet and sour sauce for a simple and satisfying dinner.
"This is a classic Vietnamese dish that is so simple to make," says MommyFromSeattle. "Sauteed beef marinated in lemongrass and garlic and tossed with cold vermicelli noodles and fresh herbs. Great on warm days or it makes a quick, weeknight meal."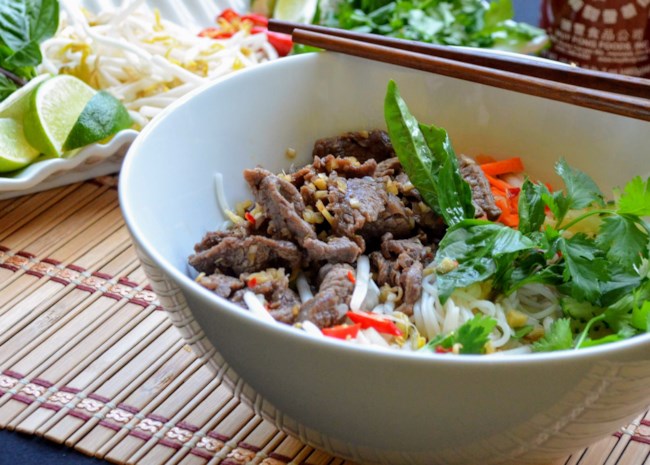 Photo by Kim's Cooking Now
---
---