It's hard to go wrong with nachos. Anything that starts with salty chips and melted cheese is practically guaranteed to be delicious! But beyond that basic combination lies a world of nacho options: choices of meats, cheeses, veggies, and other add-ons that allow you to express your creativity and create your own craveworthy plate. Here's how to make nachos at home, with tips to take your nacho game to the next level, plus some winning combinations to try.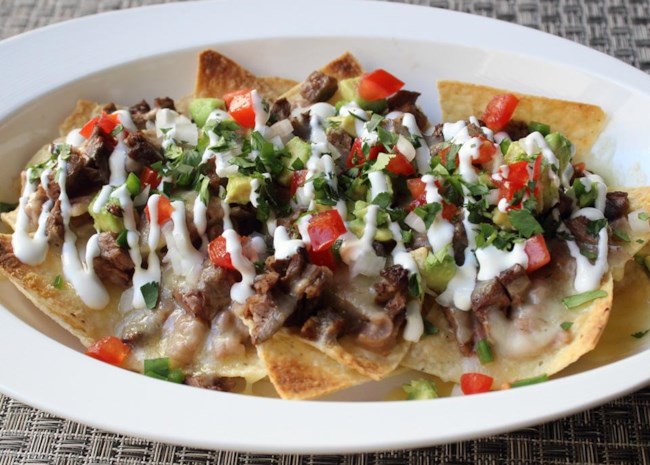 Super Deluxe Steak Nachos | Photo by
Nacho Chip Tips
Let's start with the foundation. The chips.
Make 'em sturdy. A thick corn chip is a great option -- it can stand up to warm and wet toppings without getting soggy. If you want an extra-colorful plate, consider using blue or red tortilla chips, which taste essentially the same as traditional chips.
Make 'em classic. Choose a lightly-salted tortilla chip, and be careful to avoid strong-flavored options, which can compete with the taste of the toppings.  (Note: If you're a fan of the strong-flavored chip, there are ways to make them into nachos. And if you don't even like tortilla chips, you can still make nachos! See recipes below.)
Choosing Cheese
Shred it yourself. Resist the urge to buy pre-shredded cheese; it's treated with stabilizers that don't perform well when subjected to heat. For the best, meltiest cheese, shred your own Cheddar or Monterey Jack (or a mixture of both). Many people swear by the taste and texture of processed-cheese products such as Velveeta; we don't judge! See how to make cheese sauce for nachos, with tips for getting the perfect consistency from your cheese sauce.
How to Make Nachos
Layer it twice. To keep your nachos interesting from top to bottom, layer your ingredients more than once. Start with the chips, then hot toppings, then cover with cheese, herbs, and veggies, then repeat the layer at least once before baking. Remember: Excess = success!
Keep it bite-size. Make sure your shredded chicken, tomatoes, and other toppings are all on the small side to keep this communal dish from getting too hard to handle.
Keep hot and cold separate. The best nachos feature a mix of cooked and fresh ingredients, such as grilled shrimp and cilantro. Yet it's best to keep hot and cold separate throughout the preparation process, so fresh herbs and green onions don't wilt from heat, and guacamole and sour cream don't liquefy. For best results, add these cold ingredients just before serving.
How to Make Nachos in the Oven
Keep it neat. Line your sheet pan with aluminum foil for super-easy clean-up.
Bake in a hot, preheated oven. And keep an eye on the chips. Bake your nachos until the cheese is melty and the edges of the chips just begin to brown. You can also use the broiler, which is faster but doesn't distribute the heat as evenly throughout the nachos.
Here's how to make loaded nachos. They're piled high with seasoned ground beef, refried beans, and cheese. Pop them under the broiler to melt the cheese and top with salsa, sour cream, and jalapeno peppers. "This makes a huge meal-sized tray of nachos with lots of good stuff," says Melanie. "You can adjust ingredient quantities to suit your preference. Serve with extra chips if required. Great for game day."
Winning Nacho Combos to Try
Check out these fun flavor combos. There's no wrong way to nacho - except to eat them with a knife and fork!
How to Make Nachos without Tortilla Chips
Ready for something different? Try these usual nachos -  which don't include tortilla chips!
Related
Try out your upgraded nacho skills on these 10 inventive nacho recipes.
Need more great nacho recipes? We have dozens!