We all know cabbage is good for us: loaded with fiber, vitamin C, and phytochemicals that may boost the body's natural detoxing process. It may even have cancer-fighting properties!
But cabbage is also just plain good -- yummy, time-tested comfort food. A fall favorite that's at its best in these quick, versatile cabbage recipes.
The Best Cabbage Recipes for Quick Healthy Dinners
Ready in 30 Minutes
You can make haluski, a comforting, hearty Polish dish featuring fried cabbage, bacon, and egg noodles. "Easy and very comforting. I loved the combo of flavors in that simple, good home cooking sort of way," says ONIOND.
Ready in 45 minutes
"This is one of easiest and most delicious ways you can cook fish," says Chef John. "The cabbage leaves not only keep the halibut moist, but also hold all your assorted garnishes and seasonings tight against the meat, which creates an even more intensely flavored result. The lovely aroma of cabbage will mask those fishy smells that usually linger in the kitchen. Garnish with fresh cilantro leaves."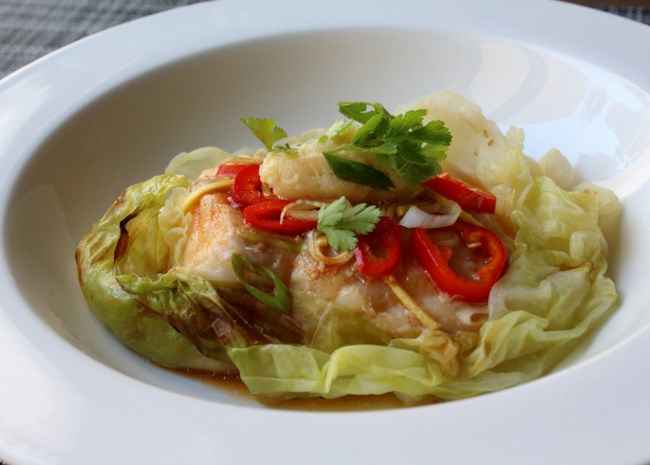 Photo by Chef John
Preps in 15 Minutes
In this super-simple recipe, a bag of slaw mix from the produce section mixes it up with ground beef and rice. "A delicious and easy recipe that has the taste of Cabbage Rolls," says Debby Allen.
Ready in 30 Minutes
"Very simple yet delicious. I like it so much that sometimes I eat it all by itself, like a salad with some yoghurt on the side. The spice comes from the green chilis," says SUSMITA.
Preps in 15 minutes
Not just for St. Patrick's Day anymore. "This is quick and easy. A no-fuss meal, that's great for a weeknight family dinner," says Trisheee.
Ready in 45 Minutes
Ground beef, cabbage, and tomatoes combine with red pepper flakes, garlic, and Italian seasoning. "A satisfying meal, nothing fancy, but just good, old-fashioned, home-cooked food," says lutzflcat.
Ready in 20 Minutes
"Looking for a quick meal? This one is fabulous. I recommend cutting the cabbage very thin," says Laura M.
Ready in 40 Minutes
Spicy pork sausage and ground beef simmer with cabbage in a vinegary tomato sauce. "This is a huge hit at potluck suppers. It just gets better the next day!" says Valerie.
Ready in 20 Minutes
"This is an authentic and simple Chinese recipe for a healthy vegetable dish" says Lynn Wheaton. "It's easy and fast to make."
Ready in 25 Minutes
"This Hungarian favorite is cabbage, onions, and egg noodles cooked in butter. So easy, so good," says rlecook.
Ready in 45 Minutes
"A low-fat, low-cal soup that's incredibly filling and delicious. I eat this at least once a week," says KLEENESTAR.
Ready in 30 Minutes
"A simple recipe for savoy cabbage and mushrooms I often make in the fall," says lilifee, "either as a side or as part of a vegetarian meal."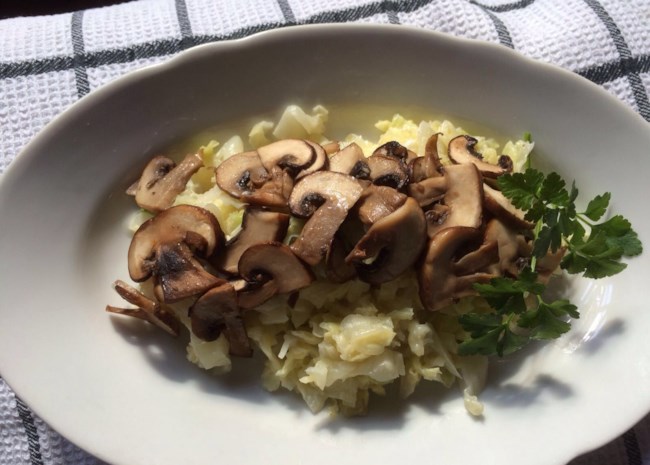 Photo by Marianne
"This simple vegan cabbage soup is perfect for a detox diet," says Fioa. "It's a tasty no-fuss recipe that takes 30 minutes to make in your Instant Pot®."
Ready in 30 Minutes
Shredded cabbage, bell peppers, carrots, garlic, and onions combine with strips of boneless, skinless chicken breast meat and udon noodles in this simple dish! "This delicious stir-fry is similar to yakisoba, but is made with thick, white udon noodles and tossed with a much simpler sauce," says Diana71.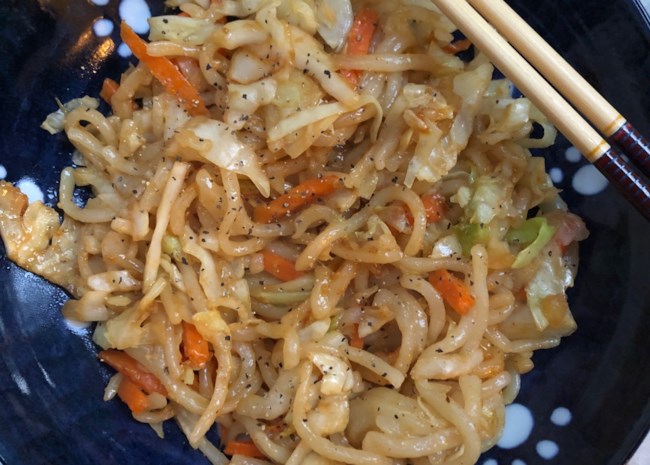 Photo by Diana71
---
---
Related: